Hollywood has produced some great comedic movies over the years. These flicks have helped us cope with personal predicaments such as job losses, heartbreaks, and even the loss of a loved one. It has also provided us with much-needed relief in the face of an increasingly bleak world. As we continue to make the best out of what life throws at us, here is a great selection of the funniest movies that are guaranteed to help you get through the rough times.
Best Funny Kids Movies Ever
Mary Poppins (1964)
All over the world, the name Mary Poppins is synonymous with the perfect nanny, and this reputation is down to the 1964 film. Based on a 1934 book authored by P.L. Travers, Mary Poppins follows an angelic nanny who effectively tames two mischievous kids and transforms their entire family. Mary Poppins holds a 100% score on Rotten Tomatoes and is widely regarded as Walt Disney's crowning achievement.
Finding Dory (2016)
You may have heard several neighborhood kids belting out tunes from this film. These tunes may have even gotten on your nerves at times. You should, however, not take offense seeing as it is the soundtrack of one of the most beloved kiddies movies ever. Released in 2016, Finding Dory tells the story of a fish who is determined to find her long lost parents. The Disney animation grossed over a billion dollars at the cinemas and also received several awards.
Toy Story (1995)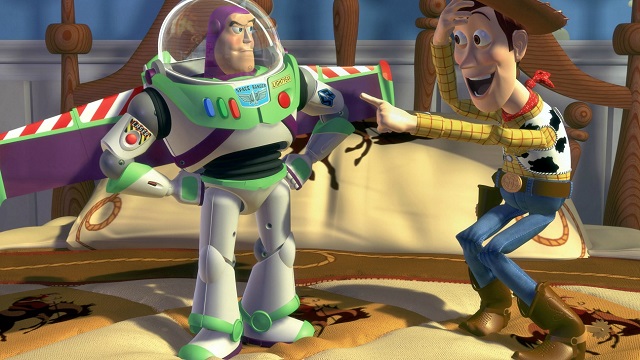 A rundown of the funniest children's movies would be incomplete without the mention of Toy Story. This evergreen film follows two toy figures, a spaceman and a cowboy doll, as they compete for their owner's attention. Featuring the voices of Tim Allen and Tom Hanks, Toy Story was both a commercial and critical success. It also received a special achievement Oscar award.
Chicken Run (2000)
It is not only human beings that desire freedom from their overlords. Even chickens entertain such thoughts, and that is the main theme of Chicken Run. Released in the year 2000, the animation fascinated audiences all over with its spectacular voice-acting and action sequences. It also won several awards as well. Chicken Run may be two decades old today, but we can guarantee that your kids will still cherish it.
Ice Age (2002)
When we think about lucrative film franchises, our minds immediately go to action movies such as Fast and Furious and James Bond. However, there is one kiddies franchise, which ranks amongst the highest-grossing in the world, and that is Ice Age. Based on a group of mammals struggling to survive the Palaeolithic ice age, the movie series has captivated the imagination of children all over the world. It has also grossed $6 billion, making it one of the most lucrative media franchises ever.
Despicable Me (2010)
Despicable Me is one film that will not just amuse your kids but will also teach them valuable life lessons. Featuring the voice of Steve Carell, the film tells the story of a supervillain who abducts three orphans in a bid to use them and carry out the biggest heist in human history. These kids, however, end up touching the villain with their love, and he emerges a changed man. This animated comedy film, no doubt, a must-see.
Best Action Comedy Movies
Spy (2015)
When a movie is headlined by the duo of Jason Statham and Melissa McCarthy, then you can bet that it would be funny and action in equal parts. Spy tells the story of an unassuming CIA analyst, who is forced to undertake fieldwork after an agent is compromised. Released in 2015, the film delivered several hilarious moments with even the normally-taciturn Statham rising to the occasion and showcasing genuine comedic chops.
Rush Hour (1998)
Rush Hour may be more than two decades old, but it remains a fan favorite to this day. This is thanks to its masterful pairing of Carter, a loquacious fast-talking American detective, and Lee, a reserved Hong Kong policeman. As the two work together to solve a kidnapping case, their cultural differences not only pose hiccups to their task but also produce several rib-cracking moments.
Beverly Hills Cop (1984)
Another oldie but goodie action-comedy movie is Beverly Hill Cop. Featuring the mercurial Eddie Murphy, Beverly Hill Cop chronicles the story of a detective who embarks on a quest to solve the murder of his best friend. The movie was both a critical and commercial success, emerging as the highest-grossing film in the United States in 1984. It also spurned two sequels, and in 2003, the New York Times named it amongst the best 1000 movies ever made.
21 Jump Street (2012)
When two young police officers are assigned to go undercover as high school students, they see the task as an opportunity to do-over their not-so-impressive high school days. The duo, however, gets more than they bargained for after they become embroiled with a relentless drug gang. 21 Jump Street featured the pair of Jonah Hill and Channing Tatum and was one of the most illegally downloaded movies of 2012. Now, we are not suggesting that you download it illegally, but it's worth seeing through the approved means.
Deadpool (2016)
Most superheroes dedicate themselves to being morally upright and saving the world, but that is not the case with Deadpool. This is undoubtedly part of the reason why it is one of the funniest comedies ever made. Featuring Ryan Reynolds, Deadpool tells the story of a mercenary who becomes disfigured as a result of a scientific experiment gone wrong. The mercenary subsequently uses his newly-gotten powers to exact revenge on those behind his predicament. Deadpool will keep you reeling with its profane but inoffensive humor.
Central Intelligence (2016)
Two of Hollywood's well-known pals and frequent collaborators, Dwayne Johnson and Kevin Hart team up to bring us this funny tale about two old high school friends who go on the run after they are wrongly implicated in a terrorist satellite codes deal. Featuring high octane action and several comical interludes, Central Intelligence impressed both the critics and moviegoers and we can guarantee that it will also impress you as well.
Funniest Horror Movies Ever Made
Zombieland (2009)
Zombieland revolves around four individuals who survive a zombie apocalypse in America. These unlikely companions subsequently embark on a road trip to find a location free from the zombie infestation. Zombieland featured the quartet of Jesse Eisenberg, Woody Harrelson, Emma Stone, and Abigail Breslin. It provided plenty of gory sequences that were expertly offset by some well-timed comic relief.
Gremlins (1984)
When a young man receives a strange creature as a pet and is given a set of instructions that he must dutifully follow, you can bet that he does not follow these instructions. What you, however, cannot foresee is the dark but deeply entertaining consequences of his omission. This is the story of Gremlins, and the film was both a critical and commercial success. It remains evergreen till this day and has since inspired several films about small monsters.
Shaun of the Dead (2004)
The film that gave us Simon Pegg (it should belong on any decent Funniest Movies list for that fact), "Shaun of the Dead" combines horror and zombies with all things geek in a slapstick romp through the zombie apocalypse. It combines comedy with horror, it's about a man who decides to turn his moribund life around by winning back his ex-girlfriend, reconciling his relationship with his mother, and dealing with an entire community that has returned from the dead to eat the living.
The Cabin in the Woods (2011)
This 2011 flick started like your typical horror movie. Five college students abandon their perfectly-secure life in the city to vacation in a remote cabin forest. They, however, encounter some unexpected monsters in the form of zombies. As the dead bodies pile up, the movie becomes even funnier as it pokes fun at the whole slasher/zombie genre.
What We Do in the Shadows (2014)
What We Do in The Shadows revolves around a collection of vampires, with varying superpowers, residing in the same flat. They subsequently get a human roommate and attempt to initiate him into their kind of life. What We Do in the Shadows received rave reviews with several critics variously describing it as a "great vampire comedy," "desperately funny," and "the best comedy of the year." Need we say more? I don't think so!
Scary Movie (2000)
The Scary Movie franchise is deliberately aimed at satirizing horror movies and as such, you can trust that it delivers the laughs in spades. Since its 2000 debut, the series has spurned about five films and has grossed nearly a billion dollars at the cinemas. It has also achieved cult status amongst moviegoers despite criticisms about its artistic value.
Best Romantic Comedies of All Time
There's Something About Mary (1998)
Featuring the likes of Cameron Diaz and Ben Stiller; There's something about Mary follows Ted, a young man who hires a private detective to locate his high school crush. Ted has this fantasy that he and Mary would ride off into the sunset, but his dreams are shattered when he discovers that a whole lot of other guys, including his private detective, are also in love with Mary. There's something about Mary was a box office hit. It also received praise for not sacrificing its plot on the altar of being funny.
Animal House (1978)
The all-time classic that set the standard for college shenanigans, "Animal House" is still on television today, and people still buy copies. One of John Belushi's most notable works, its quotes still live on today and it has inspired other movies such as the popular "American Pie" series. Animal House is the first on Bravo's 100 Funniest Movies, and in 2000, the American Film Institute ranked it No. 36 on 100 Years… 100 Laughs, a list of the 100 best American comedies. Back in 2008, Empire magazine selected Animal House as one of The 500 Greatest Movies of All Time. The film was also selected by The New York Times as one of The 1000 Best Movies Ever Made
The 40-Year-Old Virgin (2005)
This film features the misadventures of someone that has managed to keep it in his pants for 40 years only to find the pressure mounting when he meets a single mother. In addition to being a massive geek, Carell's character is put through dozens of bad situations that all go horribly wrong. Of course, it does offer a happy ending, and that's always a nice thing.
Groundhog Day (1993)
This movie is about Phil, a weatherman who finds himself living the same day over and over again. An apparent fallout of his selfishness, Bill experiences a character transformation after falling in love, and this helps him escape the loop. Groundhog Day won the British Academy Awards of 1993. In 2006, the movie was added to the United States National Film Registry after being deemed to be "culturally, historically, or aesthetically significant."
No Strings Attached (2011)
Lauded as one of the funniest movies to come out of late, this film features the hilarious twists and turns that casual sex life can throw up. Starring Ashton Kutcher and Natalie Portman, it follows two friends who make a pact to have "no strings attached" casual sex without falling in love with each other. It was released in the United States and Canada on January 21, 2011. The film grossed $70.7 million in the United States and Canada and $77.1 million in other territories for a worldwide total of $147.7 million. Certainly not bad for a $25 million budget movie.
Bridget Jones Diary (2001)
One of the classiest rom-coms ever made, Bridget Jones Dairy tells the light-hearted tale of a young British spinster who mostly spends her time journaling her heart desires and wishes. Things, however, heat up after Jones finds herself torn between two attractive men. Bridget Jones Diary has become a significant part of British pop culture. It has also spurned two successful sequels.
Best Family Comedy Movies
Home Alone (1990)
Family comedies don't come much better than Home Alone. This classic film follows Culkin, a troublesome boy who is mistakenly left behind by his family when they embark on a vacation. Culkin is initially happy to have free reign of the house but has a rethink after two burglars come knocking. There are many motivations for watching Home Alone. Even if you are not impressed by the several accolades it received, you would certainly be impressed by the fact that Donald Trump made a cameo appearance in the film.
The Muppets (2011)
The Muppets have been with us since time immemorial, but in this 2011 movie, we see them in an entirely new light. They join hands with humans to raise money to save the Muppet theatre from the machinations of an evil businessman who seeks to turn it into a drilling field. The Muppets featured the likes of Jason Segel, Amy Adams, and Rashida Jones. It provides refreshing humor, which is guaranteed to appeal to the whole family.
The Princess Bride (1987)
A movie with something for everyone, this classic tale of love and destiny is filled with laugh-out-loud moments that are clean enough for kids, but funny enough for the entire family. It is a classic fairy tale with swordplay, giants, an evil prince, a beautiful princess, her one true love, and a happy ending.
Monty Python's The Holy Grail (1975)
Any good top comedy movies list will have at least one contribution from Monty Python. The Holy Grail represents perhaps one of the best-known examples of bizarre British humor, and it leads to a stage production, Spamalot, that is still running for those who can't get enough. Monty Python and the Holy Grail is a 1975 British comedy film written and performed by the comedy group Monty Python (Graham Chapman, John Cleese, Terry Gilliam, Eric Idle, Terry Jones and Michael Palin), and directed by Gilliam and Jones. The film is rated #2 Best Comedy by ABC Primetime special and is ranked #40 on Bravo's "100 Funniest Movies". In 2000, readers of Total Film magazine voted Monty Python and the Holy Grail the 5th greatest comedy film of all time.
Airplane (1980)
Perhaps one of the best-remembered examples of the ludicrous and the slapstick, "Airplane" is stuffed to the gills with innuendos, plays on words, and the ever-popular slapping around of hysterical people on planes. This movie was a financial success, grossing over US$83 million in North America alone, against a budget of $3.5 million; it was voted the 10th-funniest American comedy on AFI's 100 Years… 100 Laughs list in 2000. It is also ranked sixth on Bravo's 100 Funniest Movies list.
Willy Wonka and the Chocolate Factory (1971)
This quintessential family flick tells the story of Charlie Bucket, a poor kid who wins a golden ticket to explore a chocolate factory alongside four other kids from around the globe. Released in 1971, Willy Wonka and the Chocolate Factory earned a perfect four-star rating from a famed movie critic, Roger Ebert. It has since achieved cult status and remain fans favorite more than forty years after its premiere.