American football is arguably the number one sport in the States. Over time, several men have played the sport at the highest level and marked their names in its history book. One of those men is Antonio Ramiro Romo, popularly known as Tony Romo. He's a former quarterback of merit who played in one of NFL's finest teams Dallas Cowboys for 14 seasons. During that period, he led them to several achievements and picked up a couple of personal laurels along the way.
Tony Romo's kind of career is quite unique because only a handful of athletes ever begin and retire on the same team. Since retirement, he has gone mainstream in broadcasting and has even taken up another sport; golfing. Talk about a smooth career switch. When you spot Romo on the golf course, he's not playing for pleasure. If anything, he's a recognized amateur golfer competing in tournaments. Beyond the thrill of winning more accolades, Tony Romo has increased his fortune incredibly. Let's show you how.
Tony Romo's Journey To The Big League

Although he is well known in football. His sporting history started in baseball; a game he played as a child. His diversion to football began in high school at Burlington High where he played as a quarterback; this role would continue well into his professional career.
Romo proceeded to Eastern Illinois University where he played three seasons of college football for the Illinois team between 2000 and 2002. There, he was named the Ohio Valley Conference Player of the Year thrice. This eventually led to his induction into the school's Hall of Fame.
Although he'd played football almost all his life, the money only started to pour in when he went mainstream.
Earning History As A Franchise Player
In 2003, he was signed by the Dallas Cowboys as a rookie free agent. That decision, analysts say, would be one of the smartest moves in the team's history. Not only did Romo establish himself as the team's best quarterback, his incredible efforts and skills led to career-high records in the team's history. In the fourteen seasons he played on the team, Tony Romo carted home $127,420,000 in salaries and bonuses.
As a free agent with the Dallas Cowboys in 2003, Romo received a $235,000 pay in his first year. The following year, his pay climbed by a little margin to reach $305,000. By 2005, Romo's salary did more than double as he received a $700,000 for that season.
Things took a quantum leap at the turn of 2006. That year, the quarterback signed a contract with Dallas Cowboys that saw him cart home a whopping $3,180,000. That figure would increase nearly six times by the next season. In 2007, Romo received a whopping $17.5 million in salary and signing bonus. Over the next five years, he was paid $6,500,000, $7,000,000, $8,500,000, $9,000,000, and $9,000,000 respectively.
Another turning point came in Tony Romo's earning streak in 2013. That year, the quarterback renewed his contract with Dallas Cowboys. A contract that saw him receive $26,500,000 in salaries and signing bonus. In his last three years there, Romo receive annual salaries of $13,500,000, $17,002,458, and $8,500,000 respectively. In 2015, he emerged number 67 of the world's highest-paid athletes according to Forbes.
All of that brings his basic salary, signing and restructure bonuses to $31,170,000, $38,810,000 and $48,965,000 respectively. But that is hardly all of it.
Other Streams Of Income
After retiring from active play, Romo's wealth of experience and incredible commentary on all things football caught the attention of major news channels across the United States. Not only was he offered a spot on CBS Sports, but he also became the highest-paid sportscaster alive. That puts his annual earnings at $4 million; a far cry from his active football days. But still enough for him to maintain a net worth of $80 million.
Sportscasting aside, Tony Romo is also an amateur golfer who has competed in the American Century Championship and the Eds Byron Nelson Championship. But that pales compared to the superstar that he is in the broadcast booth when he discusses football. His insightful commentaries and unique ability to predict what strategy teams had up their sleeves was legendary. In early 2020, Tony Romo signed a contract with CBS that would see him earn $17 million annually. This becomes the largest annual salary for any sports broadcaster in US history. Romo shares all that wealth with a few special people in his life.
What We Know About His Wife and Kids
Rony Romo has been married to Candice Crawford since May 2011. Born on Dec. 16, 1986, in Lubbock, Texas, Candice is a former beauty queen best known for winning the 2008 version of Miss Missouri USA and competing in the Miss USA beauty pageant.
She attended the University of Missouri where she graduated with a degree in journalism. Like most popular couples, she and Romo met on the line of duty. She was a sports journalist working for KDAF in the Dallas-Fort Worth area, covering a game he was part of.
The two began dating in 2009 and got engaged the following year on December 16. They tied the knot on May 28, 2011. Their union has been blessed with three lovely boys – Hawkins Crawford Romo (b. 2012), Rivers Romo (b. 2014) and Jones McCoy Romo (b. 2017). After the birth of their last son, Jones, Romo revealed that he would not mind having more children in a year or two. He added that having had three lovely boys, a girl would complement the "team" they're building together.
Candice has since balanced her motherly duties with her business life. Together with her husband, she runs an oil-spray business, Hawk + Sloane.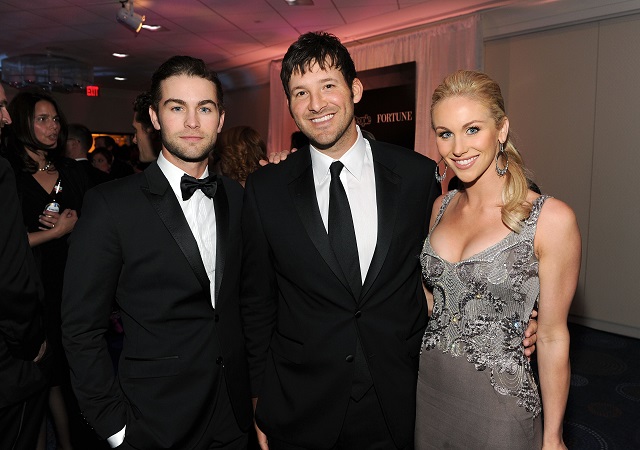 Candice Crawford has a more popular sibling you may have heard of; Chace Crawford. Chace appeared as Nate Archibald in CW's teen drama series Gossip Girl. He has also appeared in other productions, including The Haunting of Molly Hartley, The Covenant, and What to Expect When You're Expecting. In 2020, he appeared as William Monroe in the film Inheritance.