| Net Worth: | $140 million |
| --- | --- |
| Age/Date of Birth: | May 12, 1968 |
| Height: | 6 ft 3 in (1.91 m) |
| Ethnicity/Race: | White |
| Nationality: | American |
| Wife or Girlfriend: | Cathy Goodman (m. 2015). He was previously married to Cindy Dunbar (m. 1990, div 1993), Erin Lee (m. 1996 to 2004), Lhotse Merriam (m. 2006, div. 2011) |
| Parents: | Nancy (1925–2019) and Frank Peter Rupert Hawk (d. 1995) |
Tony Hawk, also known as "The Birdman", is an American professional skateboarder, businessman, and actor. Regarded as one of the most influential pioneers of vertical skateboarding, Hawk has achieved incredible feats in the sport, becoming the first skateboarder to complete the incredibly difficult 900-degree rotation.
Hawk successfully turned his talent to big business, establishing the skateboard company Birdhouse, his own Boom Boom Huckjam action sports tour, as well as his own video game franchise with Activision. Even years after retiring from competitive skateboarding, these businesses continue to ensure that Birdman doesn't fall from the elite class.
Tony Hawk is worth about $140 million. Here's all you need to know about Tony Hawk and how he built his wealth.
Tony Hawk As a Teenager
Anthony Frank Hawk was born on May 12, 1968, in Carlsbad, California, and raised in San Diego, California. He showed great athletic prowess in elementary school, playing baseball. A hyperactive child, Hawk would become extremely hard on himself anytime he encountered failure. His worried parents took him to see the school shrink only to discover that their son was a genius with an intelligence quotient (IQ) of 144.
So when Hawk found passion in skateboarding at the age of 8, his parents couldn't help but support him as they thought that extreme sports would be the perfect avenue for their son to expend his excess energy. They were right! Fast-forward to 6 years later and Hawk at the age of 14 was ready to go pro!
Skateboard Career and X Games 900 Break
Before you drool over Hawk's eye-catchy net worth, it is also important that you learn about his journey to stardom. Hawk went on to achieve incredible feats in skateboarding. For a whopping 12 years in a row, he was the National Skateboard Association world champion. However, in the early 1990s when skateboard's popularity took a dive, so did Hawk's earnings as he could barely earn from the sport.
Per Australia's #1 news site, Hawk, in an effort to make ends meet had to stage exhibition shows at car parks, edit videos for skate companies, and even take up a couple of odd jobs.
His money issues came to a halt with the inauguration of the X Games in 1995. X Games served as a mainstream platform for extreme sports athletes and Hawk made the most of the opportunity. He won gold at the inaugural event and quickly became a crowd favorite.
How He Became the Face of Modern-day Skateboarding
His prowess was able to restore popularity and interest in skateboarding. Teens began to idolize him as top brands filed up for an endorsement deal. Hawk won a total of 10 Gold, 3 Silver, and 2 Bronze medals at the X Games.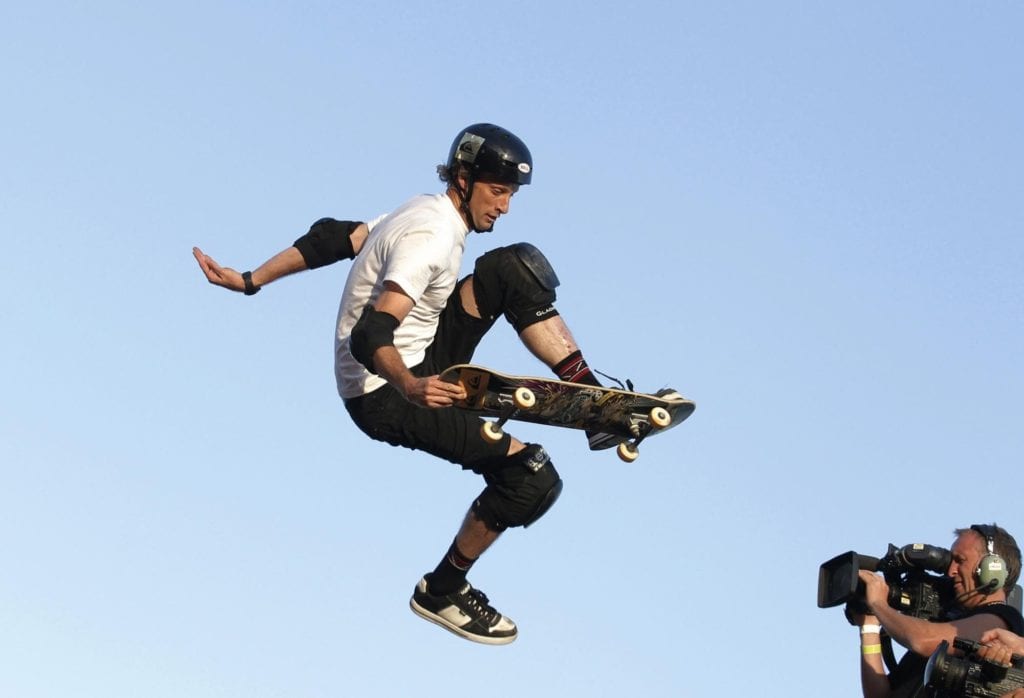 Hawk's big break came at the 1999 X Games when he became the first skateboarder in history to successfully land the extremely difficult 900-degree stunt. The stunt requires that the athlete makes 2½ mid-air revolutions with the skateboard. His success came at the 12th attempt and the feat launched Hawk and his career to unprecedented heights. He immediately became something of a sensation and a cultural icon.
2009 would become a year that set Tony Hawk apart from other professional skateboarders in no small manner. That year, he was inducted into the Skateboarding Hall of Fame, what's more, was that it was the inaugural ceremony for the Hall of Fame. So, it was as though Tony's feats made people realize there was a need for a Skateboarding Hall of Fame. In the same year, Hawk made history as the first person officially invited to skate in the White House. This was after former president Barack Obama invited him to do so in June 2009, during Father's Day celebration.
Anatomizing Tony Hawk's $140 Million Net Worth
Prize Money from Competitions Laid the Foundation for Hawk to Build His Wealth
For someone widely regarded as the most accomplished modern-day skateboarder and one of the best the world has ever seen, no one needs to be told Tony Hawk won dozens of competitions. From 1983, the year he became a professional skater, to 2003, the year he retired, Tony participated in numerous competitions and he won a lot of them, at least 64.
Although what he received is best known to him, and there are reasons to believe the amount involved was insignificant compared to what skateboarders make recently. One thing is certain though: what he made from prize money was his first major source of income and it laid the foundation for Tony Hawk to build his wealth.
His Game Franchise Became a Cash Cow that Generated $1.4 Billion 
Hawk parlayed his skateboarding breakthrough into business success. He began first by monetizing his fame via branding, a move that has long been the fastest moneymaker for celebrities. He partnered with Activision Blizzard to launch the game franchise, "Tony Hawk Pro Skater", which debuted in 1999.
The game became an instant success and quickly transformed into a series with a new edition being produced annually. It became one of the best-selling game franchises in the world with around $1.4 billion generated in sales. His contract with Activision expired in 2015 but the game franchise remains the biggest contributor to his net worth of $140 million.
Tony once shared that his life changed when he received his first royalty check from Activision which was $4 million. He earned about $6 million in royalties a year after that.
Tony Hawk Co-founded Birdhouse Skateboards
Birdman joined forces with Per Welinder to form the skateboard company, Birdhouse Skateboards in 1992. After his 1999 breakthrough, the company rapidly became one of the big players in the game. In addition to sponsoring some of the best skateboarders, it produces high-quality skateboards, apparel, accessories, and videos.
Birdhouse is still in business and thriving. It is one of the best teams in the sport and has been a major source of income for Tony and his partner.
Endorsement Deals, Clothing Line, and Other Range of Merchandise
Hawk was also able to establish a clothing line that made its way to Wal-Mart and Kohl's stores. In addition to that, he landed endorsement deals with the likes of Quiksilver, T-Mobile, Sirius, Nixon, among others.
Forbes, in 2009 estimated that Tony Hawk branded products grossed $200 million, while he personally earned $12 million making him the highest-paid action sports star of the year.
Birdman Has Made Good Money from Movies and TV Shows
Hawk began making TV and film appearances in the mid-1980s and became more frequent as his popularity surged. He has made cameo appearances in a number of feature films like "Jackass: The Movie", Vin Diesel's "XXX", "The Suite Life of Zack & Cody" and "Lords of Dogtown". He appeared in Season 3 Episode 18 of "CSI: Miami" as a skateboarder/game developer victim.
As of this writing, Tony has been a part of no fewer than 52 small and big screens project. We may not know what he has made from acting but we need no soothsayer to tell the amount involved is significant.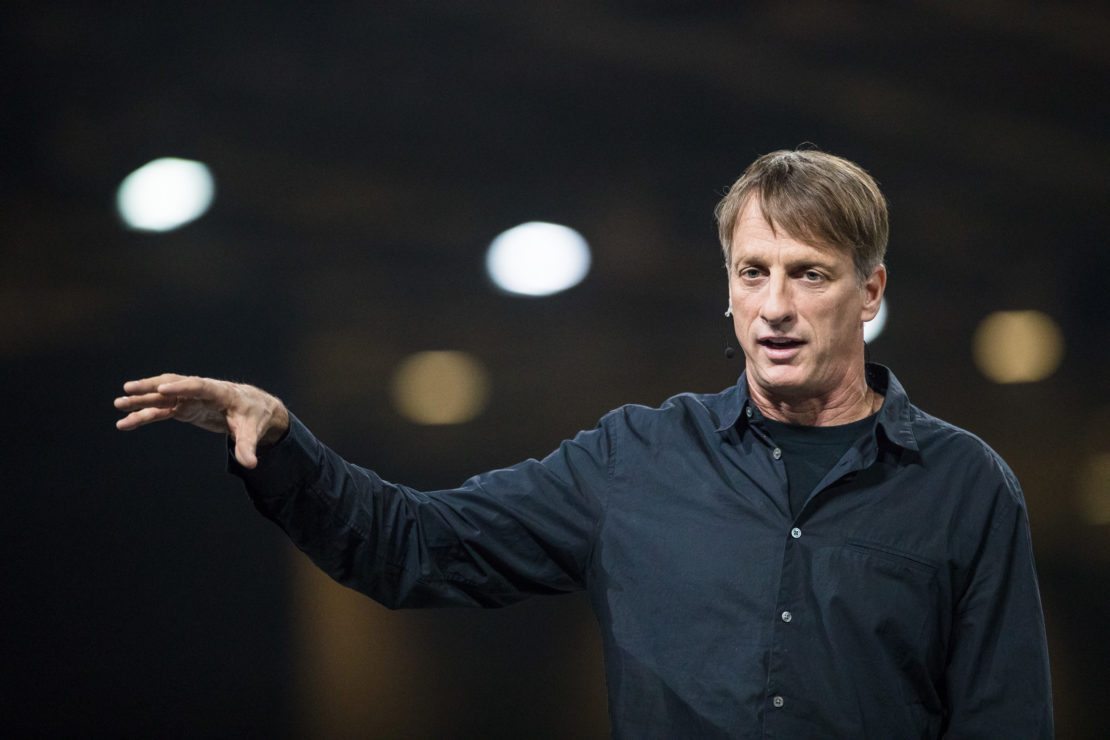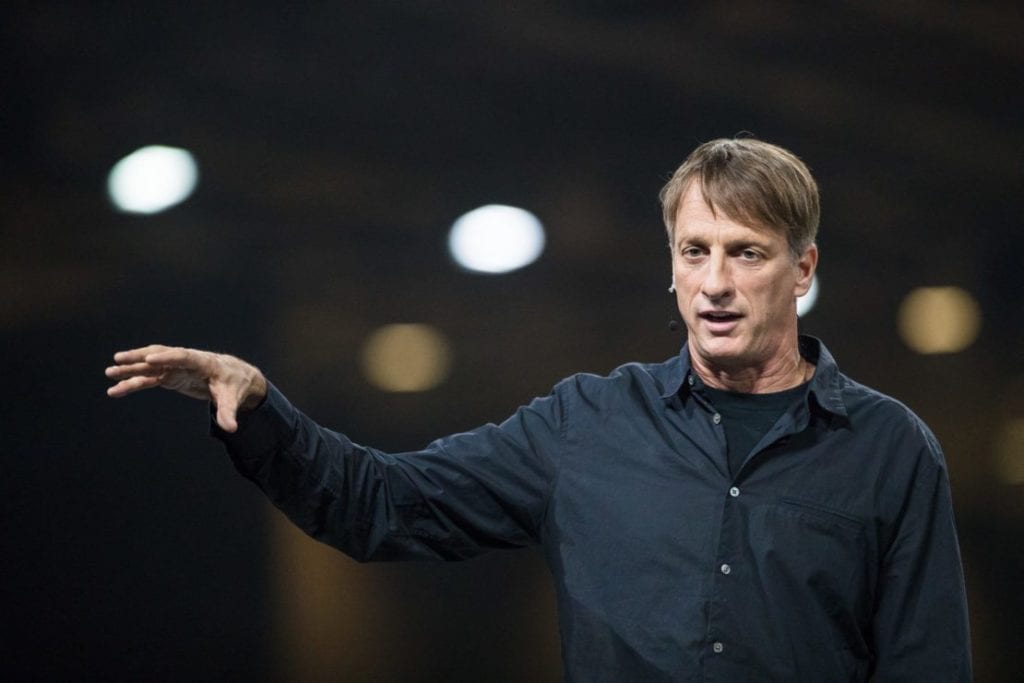 His YouTube Channel Is Another Stable Source of Income
Hawk in 2011 launched a YouTube Channel called RIDE Channel. It quickly became one of the best and most popular action sports channels on YouTube. On the channel, Hawk shares instructional videos for skateboarders and reviews products.
Over the years, the channel has grown to become a platform for skateboarding enthusiasts across the globe. It has accumulated over 1.71 million subscribers and more than 483.3 million views. The average YouTube channel receives around $3 – $5 per 1,000 views. A rough estimate based on that suggests that Tony Hawk has made several millions of dollars from his channel.
Is Tony Hawk the Richest Skateboarder?
Based on the foregoing, it is only natural that people have been wondering if The Birdman is the wealthiest skateboarder in the world. Well, according to various reports, Tony is not only one of the richest skateboarders but is leading the pack.
Below is a look at how his $140 million net worth compares to other prominent skateboarders across the globe.
Tony Hawk Net Worth – $140 Million
Stavros Niarchos Net Worth – $100 Million
Jamie Thomas Net Worth – $50 Million
Rodney Mullen Net Worth – $30 Million
Ban Margera Net Worth – $20 Million
Stefan Janoski Net Worth – $20 Million
Chad Muska Net Worth – $16 Million
Ryan Sheckler Net Worth – $16 Million
Eric Koston Net Worth – $15 Million
Tony Alva Net Worth – $15 Million
Birdman Invests in Real Estate and Spends His Money on Charities and Cars
Seen as an icon in the game of skateboarding, it is only expected that Hawk's impact is felt. Through his Tony Hawk Foundation, he has made donations worth millions of dollars to numerous causes like helping less-privileged kids and restoring dilapidated skateparks. Sometime in 2018, it was estimated that his foundation had spent $5.8 million supporting hundreds of skatepark projects.
Tony spends his money investing in real estate as much as he has acquired some fine rides over the years. It is said that he bought his first property when he was in high school. Years later, he took a $40,000 mortgage on the property which was used to finance his Birdhouse company. This is why he regards buying the house as one of the smartest investments he has made.
Tony owns a mansion worth millions of dollars in San Diego, California and his cars include a 2008 Yukon XL Denali, 1964 Chevy Corvette Sting Ray, and 2008 Grand Cherokee Jeep SRT8.
Why His Three Previous Marriages Failed
1st Wife: Cindy Dunbar (1990 – 1993)
2nd Wife: Erin Lee (1996 – 2004)
3rd Wife: Lhotse Merriam (2006 – 2011)
Hawk has quite an interesting love life. Interesting because unlike his professional career, Hawk hasn't had much success in his love life. The Skateboarding Hall of Famer has been divorced thrice!
Details of what led to each divorce have been hard to come by but Birdman once related that the root cause of the failures he experienced in his first three marriages was his jet-setting career. Based on what he said, travelling and prioritizing his time were big issues that troubled the relationships.
His first marriage was in 1990 when he tied the knot with Cindy Dunbar, a lady he dated in his school days. This union produced Hawk's oldest child Riley in 1992. After the couple got divorced in 1993, Hawk went ahead to take another wife named Erin Lee in the year 1996. Their union saw the birth of two boys, Spencer and Keegan. They were born in 1999 and 2001 respectively.
After another divorce in 2004, Hawk exchanged nuptial vows with his third wife, Lhotse Merriam in 2006. Hawk and Merriam gave birth to a daughter named Kadence Clover Hawk in 2008. To the media, their marriage lasted till 2011 when they made a divorce announcement, but to the couple; well, who knows?
Meet His Current Spouse and Kids
Cathy Goodman
Date of Birth: May 14, 1961
Occupation: Producer
Duration of Marriage: 2015 – Present
No of Kids With Hawk: Nil
Tony Hawk is married to his fourth wife Kathy Goodman whom he married in 2015 in Limerick, Ireland. The interesting thing about this marriage is that Kathy was the wife of Tony's friend and business partner, Matt Goodman. Matt has said he is happy for the two and doesn't feel betrayed as he had parted ways with Kathy for over a year before she started seeing Tony.
As a producer, Kathy is known for works like 2000's Red Letters, 1997's Digging to China, and 1994's Erotic Confessions. Tony and Kathy have no child together but they both have kids from their previous marriages.
Riley Hawk
Date of Birth: December 6, 1992
Occupation: Skateboarder and Model
Mother: Cindy Dunbar
Riley followed in the footsteps of his father to become a pro skateboarder. Also a model, he is the first child of Hawk and has been featured in his father's video games. Best described as a street skater, Riley went pro in 2013, the same year he was named Amateur of the Year by Skateboarder Magazine.
Spencer Hawk (Gupi)
Date of Birth: March 26, 1999
Occupation: Electronic Musician
Mother: Erin Lee
Happy Birthday Spencer (aka @gupimusic)!
Thank you for 20 years of laughs and entertainment… and all the great music. pic.twitter.com/45sUOIMtlR

— Tony Hawk (@tonyhawk) March 27, 2019
Spencer is the second son of Tony Hawk and the first child The Birdman had with his second wife. Now famed as an electronic musician called Gupi, Spencer has at least two studio albums and two EPs to his name. Gupi wants his father to stay away from his career so that his accomplishments wouldn't be linked to the older Hawk but that hasn't stopped Tony from being very supportive of what Spencer does.
Keegan Hawk
Date of Birth: July 18, 2001
Occupation: Undetermined
Mother: Erin Lee
Like fathers like sons? Most definitely
Tony [Keegan] Hawk &
Danny [Tavin] Way
Keegan is wearing my actual shirt from Animal Chin btw pic.twitter.com/JudZPuu5Db

— Tony Hawk (@tonyhawk) October 31, 2017
Keegan is the second child and son Tony Hawk had with his second wife. Apart from being one of his parents' children, much isn't known about Keegan and what career path he intends to tow.
Kadence Clover Hawk
Date of Birth: Sometime in 2008
Occupation: Undetermined
Mother: Lhotse Merriam
Kadence is the only daughter of Tony Hawk, she is also the only child he had with his third wife. It is too early to conclude on what she would do for a living but there are signs she might follow her father's footsteps. The Birdman is very fond of Kadence.
Miles and Calvin Goodman
Mile and Calvin are the kids Kathy had with her former husband, Matt Goodman. So, they are not Hawk's biological children but his step-sons. Beyond this, it is hard to tell anything else about Miles and Calvin.
Profile Summary
First Name:
Anthony
Last Name:
Hawk
Also Known As:

Tony, Birdman
Sex/Gender:

Male
Profession:

Professional skateboarder, actor, stuntman
Famous For:
Being the owner of the skateboard company Birdhouse, completing the first documented 900
Colleges/Universities Attended:

Jean Farb Middle School
Educational Qualifications:

Not available
Religion:

Non-religious
Birthday & Zodiac

Age/Date of Birth:

May 12, 1968
Zodiac Sign:
Taurus
Birth Place:

San Diego, California, U.S.
Nationality:
American
Ethnicity/Race:

White
Country of Residence:

USA
Physical Attributes

Height:

6 ft 3 in (1.91 m)
Weight:

171 lb (78 kg)
Eye Colour:

Blue
Hair Color:

Light brown
Other Body Measurements:

Not available
Relationships

Marital Status:

Married
Spouse/Partner:

Cathy Goodman (m. 2015) He was previously married to Cindy Dunbar (m. 1990, div 1993), Erin Lee (m. 1996 to 2004), Lhotse Merriam (m. 2006, div. 2011)
Family and Relatives

Father:

Frank Peter Rupert Hawk (d. 1995)
Mother:
Nancy (1925–2019)
Children:

Riley Hawk, Spencer Hawk, Keegan Hawk, Kadence Clover Hawk
Siblings:
Two older sisters, Pat and Lenore, and an older brother, Steve
Other Relatives:

Not available
Net Worth
Estimated Net Worth:

$140 million
Salary:
Not available
Source of Wealth:

Skateboarding, co-ownership of the skateboarding company, Birdhouse, his show tour, gamehouse series, film career