There may be thousands of journalist around the world but the likes of Tony Dokoupil will always stand out because he has been able to successfully choose his own niche in the world of journalism. The Miami-born, tall and jet-black haired American TV journalist has been living up to his dreams of becoming one of the much-talked-about TV personalities of his time.
Formally known as one of the best national reporters for news channels like MSNBC news and NBC News channel, Dokoupil now works as the CBS News correspondent.
Tony Dokoupil Biography
Dokoupil is a native of Miami. Although he has managed to keep information about his birth date secret, we know quite well that he is the son of Anthony Edward Dokoupil and Ann. Reports about his early years also show that he had a very rough childhood as his parents dealt with drug addiction. At the young age of seven, Dokoupil used to travel with his mother from Florida to Albuquerque just to find drug money that had been stashed away.
Until he was 10 years of age, Tony always had the impression that his father was a real estate businessman and not a drug dealer. His father provided everything he wanted – a lovely house, clothes and all the money he needed. He even went on vacation to places like the Caribbean. In addition to that, Dokoupil went to one of the best schools in his time, he even attended the same private school as the grandchildren of President George H.W. Bush. Towards his 10th year birthday, he was already aware of the business his parents were really into. His father later left them to be raised by his mother. Things worsened for the young boy as time went on, he dropped out of school and began to sell marijuana in Maryland where he relocated to with his mom.
Despite his rough path, Tony was able to enrol at George Washington University School of Business. There, he majored in Communication and marketing and graduated in 2003, with a BBA summa cum laude. Tony later went to Columbia University and graduated in 2005 with Masters in American studies after which he had a fellowship towards a PhD in media studies.
Tony Dokoupil's career in journalism started while he was studying at the University. His first place of work was at Newsweek's Periscope section where he got the chance to do some writing and edition work. About three years after, he got a bigger job as a senior writer for The Daily Beast and Newsweek. By 2013, he was already working for the NBC News. Three years after he joined the MSNBC as its correspondent. In 2016, Tony moved from the MSNBC to CBS channel News where he works as a correspondent.
Having worked for over a decade, Tony Dokoupil must have gathered enough wealth to take care of himself. His book titled The Last Pirate was released in 2014 and it traded quite well.
See Also: Biography of Noelle Watters, Wife of Jesse Watters (Fox News Channel)
Is He Married, Who is The Wife – Katy Tur?
It is usually said that one is lucky if he marries his best friend and one who clearly understands him, when you also marry that one who knows and understands your work, then your luck is doubled. Tony Dokoupil falls in the category of men with double luck being married to his girlfriend for a long time and an NBC news correspondent, Katy Tur.
Katharine Bear Tur who is also known as Katy Tur, is a famous journalist best known for anchoring MSNBC Live and reporting for reporting for various NBC news platforms like NBC Nightly News, The Weather Channel, Early Today, Meet the Press and lots more.
The couple first met each other in 2015, at the MSNBC makeup room. They first became best of friends and later started dating each other. On January 28 2017, they got engaged after Katy said yes to Tony's question in New York.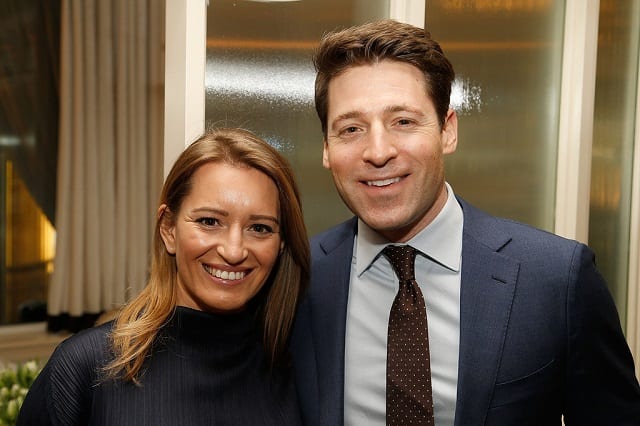 Katy who is of Jewish descent and a daughter to two well-known journalists- Marika Gerrard and Zoe Tur, officially tied the knot with her husband on October 27, 2017. The wedding ceremony was quite different from the usual. The ceremony was held in the middle of the desert in Utah with very few intimate friends and close relatives in attendance. The couple is yet to welcome children of their own. They might, however, be planning to have some in the nearest future.

Fact Check: We strive for accuracy and fairness. If you see something that needs updating,