Tony Dokoupil is an American journalist who stands out for his natural writing and storytelling abilities. Having worked at the very top media organizations across the globe,  like MSNBC, NBC, and CBS, the television broadcast journalist is indeed living up to his dreams as one of the popular TV personalities of his time. Since joining the CBS This Morning crew, Dokoupil has garnered much fame for his exceptional and facile broadcasting skills.
Meanwhile, Tony never came from a background that initially promised the kind of life he is living today. Born to a massive scale drug-dealing father, it will be quite an interesting business to take a look at how he made it to reputable stardom.
Tony Dokoupil's Background and Early Years
Born as Anthony Dokoupil in Connecticut in 1980, Tony grew up in Miami, Florida. Although he has managed to keep information about his exact birth date secret, we know quite well that he is the son of Ann and Anthony Edward Dokoupil. As earlier hinted, Tony Dokoupil had a very rough childhood owing to his dad's involvement in the drug business.
By the time Tony clocked six, his father had already abandoned the family to went deep into smuggling drugs. He would stash money for the family in pits and coolers and it was Dokoupil's job to get them. The later would travel with his mother from Florida to Albuquerque just to find the stashed drug money. His father would surface occasionally for a short while but from the time Tony clocked 10, he never showed up again.
How He Ventured Into Journalism
His unstable background notwithstanding, Tony Dokoupil managed to complete high school and subsequently enroll at George Washington University School of Business. There, he majored in Communication and Marketing, graduating BBA summa cum laude in 2003. Tony later went to Columbia University where he earned a Masters Degree in American Studies. Following this, he earned a fellowship to pursue a Ph.D. in media studies, although he didn't eventually take it up.
While still studying at the university, Tony interned at Newsweek's Periscope section where he did some writing and editing work. In 2007, he began working as a senior writer for the magazine which later merged with The Daily Beast. With the publication experiencing hiccups in subsequent years, Tony left in 2013 to start working as a senior writer for NBC News. Not long after, he became an MSNBC national correspondent.
The Report That Shot Him To Popularity
Tony Dokoupil's big break came in 2016 while he worked as an MSNBC reporter. It happened that Tony covered a story on armed ranchers who took over some portions of federal wildlife lands in the US state of Oregon. As part of the story coverage, Dokoupil conducted a live interview with the very fanatic spokesperson of the Oregon ranch occupiers, one Robert Finicum (a.k.a LaVoy) who swore he'd die for the cause (and he eventually did). The 10-minute interview which came off on MSNBC's Lawrence O'Donnell show went viral after the police shot Finicum dead, catapulting Tony Dokoupil to the broadcasting limelight. Prior to the incident, Dokoupil had mostly worked as just a writer and reporter.
Not long after this incident, CBS News hired him to work as their New York correspondent. Three years later (in April 2019), he rose to become a co-anchor on one of the network's biggest news program, CBS This Morning. Since joining the CBS This Morning crew, Tony Dokoupil has garnered much fame for his exceptional broadcasting talents. He has interviewed some high profile personalities including Hilary Clinton, Dolly Parton and Steve Martin.
See Also: Biography of Noelle Watters, Wife of Jesse Watters (Fox News Channel)
A Closer Peep Into Tony Dokoupil's Marital Life with Katy Tur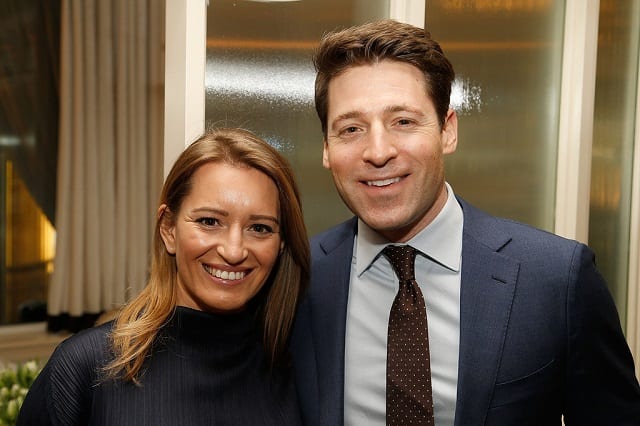 One is lucky if he marries his best friend – one who clearly understands him. But when you also marry that one who knows and understands your work, it becomes double luck. Tony Dokoupil falls in the category of men with double luck, being married to a friend and fellow broadcast journalist, Katy Tur.
Katharine Bear Tur popular as Katy Tur, is a famous journalist who has reported for various NBC news platforms like NBC Nightly News, The Weather Channel, Early Today, and Meet the Press. She currently hosts her own afternoon show, MSNBC Live With Katy Tur. Tur is also a published author. She released her book titled Unbelievable in 2017 which became a New York Times Best-Seller.
Tony and Katy first met each other in 2015 at the MSNBC makeup room while they both worked for the channel. They first became best of friends and later started dating each other. Just like Dokoupil, Tur played a central role in covering Trump's campaign. As the campaign came to an end, the duo became engaged in New York on January 28, 2017.
The couple subsequently tied the knot on October 27, 2017. The wedding was quite different from the usual as it came off in the middle of the desert in Utah with very few intimate friends and close relatives in attendance. The duo who secretly left New York for the occasion intentionally chose the spot in order to be away from any form of civilization that could bring in their normal city life – cell service, politics, press, and what have you. It was a nondenominational ceremony and the couple exchanged vows which they wrote themselves while their parents gave the nuptial blessing.
Tony Dokoupil has since been maintaining a lovely and smooth marital relationship with his wife, Katy Tur. The enviable couple welcomed their first child together, a son whom they named Theodore Dokoupil in 2019. Fondly called Teddy by his parents, the baby arrived on the 13th of April.
During the 2020 COVID-19 pandemic and lockdown, the very compatible couple filmed their individual broadcasts from the basement of their home while assisting each other in nursing little Theodore Dokoupil. Both Tony and Katy have confessed frankly how they wouldn't have been able to go through the demoralizing challenges of quarantine with anybody else!
Hidden Truths About Tony's Relationship With His Father, Edward Dokoupil
Growing up, Tony Dokoupil's father, Anthony Edward Dokoupil provided him with a lavish lifestyle where he got virtually everything he wanted. Young Dokoupil enjoyed rich kids privileges as his dad always took him on vacation to places like the Caribbean, Disney, and so on. In addition to that, Dokoupil went to some of the best schools in his time such as the Gulliver School in Miami. He even attended the same private school as the grandchildren of President George H.W. Bush.
All through his childhood, Tony always had the impression that his father was a real estate businessman and not a drug dealer. Although his father actually did real estate, it wasn't his main source of income. It was when he clocked 10 that he finally realized the actual business that afforded him all the luxury he enjoyed. That was after his dad disappeared and went into drug smuggling full-time.
After many years of not knowing his whereabouts, Tony Dokoupil started a search for his father. At that time, he was already a journalist and in his thirties. Dokoupil got the prompt to conduct the search in 2009 while writing a story about a Vietnam veteran jailed in Burma. The story had reminded him of his unclear knowledge of his father's actual history having always heard that he had a questionable past, but never knowing the extent. With the help of his access to court and police documents as a journalist, Tony ran a background check on his father and came across a 14-page document indicting him for importing 35,000 pounds of marijuana in 1986.
Dokoupil decided to document his findings in a memoir which he titled The Last Pirate: A Father, His Son, and the Golden Age of Marijuana. At the time Tony penned down the memoir which he published in 2014, he was very much angry with his dad. Although his disappointment with the old man hasn't completely vanished, it is no longer as much as it used to be as he later recognized how the former drug smuggler inspired his career. Since it was clear to him he doesn't take after his mum, Tony realized that he got his father's energy, with the difference lying in the fact that he decided to put his to positive tasks while his father did the opposite.