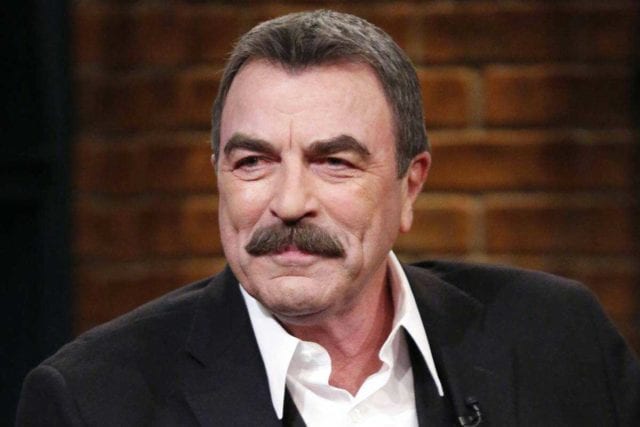 Tom Selleck is an American actor and film producer. After about a decade in the entertainment industry, Selleck got his big break in 1980 when he was selected to play the lead role of private investigator Thomas Magnum in the television series Magnum, P.I. He played the lead role in Three Men and a Baby which became the highest-grossing film of 1987.
In recent years, he is known for playing the role of NYPD Commissioner Frank Reagan in the CBS drama Blue Bloods for which he earns not less than $150,000 per episode. Selleck has starred in over 50 films and TV shows. He is estimated to be worth $45 million.
Who Is Tom Selleck? Before The Fame
Thomas William Selleck was born on January 29, 1945, in Detroit, Michigan. He ultimately grew up in Sherman Oaks, California. Selleck attended high school at Grant High School from where he graduated in 1962. A high school athlete, Selleck earned a basketball scholarship to attend college at the University of Southern California where he majored in business administration.
While playing for the varsity men's basketball team, USC Trojans, Selleck supported himself as a model. He appeared in commercials for soap and cologne brands as well as for Pepsi-cola. Upon the suggestion of a drama coach, Selleck also began acting. Throughout the 1970s, Selleck landed small parts in low budget movies, and TV series including Judd for the Defense, Myra Breckinridge, The FBI, A Case of Rape and a dozen others.
Selleck's Big Break with Magnum, P.I
However, Selleck didn't land his big break until 1980 when he was cast as the lead in the television series Magnum, P.I. The CBS crime drama became extremely successful, ranking among the top 20 televised programs in the country for its first five years. Magnum, P.I ran successfully for 8 seasons and 162 episodes.
For his role, Selleck won his first Golden Globe Award for Best Actor in a Drama series. He also won a People's Choice Award for Favourite TV male performer as well as an Emmy for Outstanding Lead Actor in a Drama Series.
He was awarded a bonus of $350,000 for the 8th and final season of Magnum, PI.
Film Success, Blue Bloods And Other Roles
Selleck's obligations to Magnum prohibited him from starring in other projects. As a result, he missed the chance to play the lead role of Indiana Jones in "Raiders of the Lost Ark". However, in 1982, he began appearing in made-for-TV films. Subsequently, he began appearing on the big screen.
His most notable movie while still filming Magnum was 1987 comedy film "Three Men and a Baby" which became the highest-grossing movie of the year, making $168.8 million from a budget of $16 million. A sequel to the film entitled Three Men and a Little Lady was released in 1990.
See Also: Burt Reynolds Biography
Selleck's other films during this period were Australian-American western film Quigley Down Under (1990), Mr. Baseball (1992), and ) and The Love Letter (1999).
In addition to the big screen roles, Selleck was also active on the small screen. He had a guest appearance on the hugely successful ABC series "Friends". Selleck played the role of Dr. Richard Burke for 10 episodes from 1996 – 2000. His role earned him an Emmy nomination for Outstanding Guest Actor in a Comedy Series.
Tom Selleck's other enduring TV role apart from Magnum is in the CBS drama series "Blue Bloods" which premiered in September 2010. The series has run successfully for 7 seasons, 149 episodes and counting. For his lead role as Frank Reagan, Tom receives not less than $150,000 per episode.
While he hasn't had much presence on the big screen, Selleck continues to bank from made-for-tv movies including the Jesse Stone film series which he began starring since 2005.
Commercials And Endorsements
Selleck started out earning peanuts from commercials, however, when he found fame in 1980, his paychecks for commercial gigs soared. In 1993, he lent his voice to AT&T for their "You Will" advertising campaign. He has also done a voice-over commercial for Florida Orange Juice. He became the national spokesperson for  American Advisors Group (AAG) in August 2016.
The Moustachioed TV star has lived in some upscale properties throughout his lifetime. His primary residence is a 60-acre avocado farm in Westlake Village, California. His other properties include; a ranch in Prescott, Arizona, as well as a luxury home in Burlington, Ontario, Toronto.
Who Are Tom Selleck's Wife, Children, And Family?
Selleck first got married in 1971 to model Jacqueline Ray. The marriage did not last as the couple divorced 11 years later in 1982. He had, however, adopted her son, Kevin Shepard, while they were married and have maintained a relationship with him.
Five years after his divorce, Selleck married British actress Jillie Mack. The couple has one child, a daughter Hannah Margaret Selleck, who was born in December 1988.
Is Tom Selleck Dead or Alive?
Tom Selleck was reported to have died in January 2018. It was, however, later found out that he was the latest victim in a string of fake celebrity death reports which started on Facebook before quickly spreading across social media.

Fact Check: We strive for accuracy and fairness. If you see something that needs updating,