Tom Segura has been hailed as one of the biggest names in the American comedy business and the evidence is there for all to see. On the standup circuit, the Ohio-born comic, writer, and actor has embarked on several sold-out shows across America and even beyond; driving fans crazy with his natural ability to turn an ordinary and average anecdote into a hilarious tale. Segura has indeed been one busy bee and all of his hard work has paid off as he now has a net worth estimated at $3.5 million.
On the TV screens, Segura has been no less successful. The bilingual comic has featured in several movies and TV shows including Countdown, Instant Family, Conan, The Late Late Show, The Late Show with Stephen Colbert, and Workaholics. He has equally launched no less than four successful stand-up specials on Netflix with two more slated to come up in the nearest future.
A Look at how Tom Segura accumulated his $3.5 Million Net Worth
He Charges as much as $30,000 per Stand-up Event.
Many comedians get their start in the industry through stand-up and Tom Segura is no different. The Ohio-native first began doing standup at various local comedy clubs after graduating from college. These gigs didn't pay much and so, he supplemented his income by taking on a variety of day jobs such as real estate agent. He eventually got his breakthrough after being hired as a scriptwriter for several reality shows.
Since then, Tom Segura has built a comedy enterprise comprising of several podcasts, acting gigs, and Netflix shows but he still remains faithful to his standup roots. The comic has performed at several comedy festivals in the world including the Just for Laughs Comedy Festival in Montreal, the Melbourne International Comedy Festival, the Las Vegas Comedy Festival, the South Beach Comedy Festival as well as the Hong Kong comedy festival. It is estimated that Segura charges at least $30k to do just one show.
His 2019 Take It Down Tour attracted 335,000 Attendees.
Another lucrative source of Tom Segura's net worth is touring. The renowned comic is not just content to perform on the set of other people's comedy festivals but has also taken to organizing his own shows as well. One of the most recent is the 2019's Take It Down Tour which saw him perform a mind-boggling 183 shows across 11 countries.
The shows were well received by fans and about 335,000 tickets were sold with prices ranging from about $40 to $60. Going by an average ticket price of $50, it means that Segura would have made a gross of $16,750,000 million from the show. Of course, not all of this amount would have gone to him as some would be subtracted to take care of organizational costs, booking fees, taxes, and the likes.
Tom Segura Co-Hosts One of The Most Popular Comedy Podcast in the World, Your Mom's House.
Even though some people are of the opinion that the world is now saturated with podcasts, many are still delving into that industry and are making millions from it. A good example is Tom Segura whose net worth has benefitted from his flagship podcast, Your Mom's House (YMH).
Launched in the year 2011, YMH is a collaborative venture with his wife, Christina Pazsitzky, and runs twice a week. The podcast features the couple having a no-holds-barred conversation on their private and family lives. This conversation is often interspersed with short user-submitted audio clips which the talented couple spin into hilarious bits.
Such a package means that YMH is now one of the most popular comedic podcasts in the world; attracting about 1 million listeners per episode. Such success has pushed Segura and his wife to develop other podcasts, such as Where My Mom's At, 2 Bears I Cave, Dr. Drew After Dark, and The Honey Dew, but YMH remains their most popular product and lucrative podcast.
It is estimated that podcasts make from $20-$100 per hundred thousand listeners (CPM). Going by one million listeners for each episode of YMH, it means that Segura and his wife make from $20,000 to $100,000 per episode. If you multiply this by two, given that they do two episodes each week, it means that the couple makes as much as $40,000 to $200,000 from YMH each week.
He Has Done Four Stand-Up Specials for Netflix including Ball Hog and Disgraceful
Tom Segura's $3.5 million net worth also comes from the stand-up specials that he has done for Netflix. To date, the Ohio-native has done about four stand-up specials for the streaming giants including Completely Normal (2014), Mostly Stories (2016), Disgraceful (2018), and Ball Hog (2020). He is also set to do at least two more in the foreseeable future as in February 2020, he signed a deal with the company for two additional specials.
One of these specials will be in Spanish as Segura is half-Peruvian and half-American, he is fluent in Spanish. The exact worth of this Netflix deal is not known but the company shells out as much as $50k to $20 million for one one-hour standup special depending on the reputation of the comic. The average price is pegged at $50OK though, meaning that Segura would have earned something in this region.
Segura Has Featured in Several Movies and TV Shows Including 2018's Instant Family
Segura has also utilized his comic chops to appear in several movies and TV shows. Some of them are Happy Endings, Comedy Central Presents Tom Segura, How to Be a Grown Up, Mash-Up, Conan, Countdown, and Instant Family. Instant Family is a 2018 comedy-drama about a young couple, Peter and Ellie, who take on the responsibility of fostering three children including one that is of teenage age. As you can imagine, this situation throws up some interesting parenting troubles but the couple ends up adopting the kids on a permanent basis.
Instant Family featured the duo of Mark Wahlberg and Rose Byrne while Segura portrayed Russ, the husband of Ellie's sister named Kim. The movie was quite a critical and commercial success and grossed $120.6 million on a budget of $48 million. There are no exact details of what Segura would have made from the film but given the average salary of Hollywood actors, his paycheck should have run into six figures.
Sources of Tom Segura's Net Worth 
Stand-up comedy – $30,000 per show
Take It Down Tour – $16.7 million est.
YMH podcast – $40k-$200k per week
Netflix specials – $500,000+(4x)
Acting gigs – N/A
The Comic Snapped Up an L.A Mansion worth $6.7 Million in January 2020
With a net worth of $3.5 million, Tom Segura can definitely afford to provide a comfortable life for himself and his loved ones and he is doing exactly so. The comic and his family presently make their home in an L.A. mansion which they purchased for $6.7 million in January 2020. Located in the posh neighbourhood of Pacific Palisades, the house boasts of three floors and covers 5,800 square feet. Other exquisite features include a rooftop deck with a panoramic 360-degrees view, games/media room, four-car subterranean garage, infinity-edged swimming pool, spa, outdoor kitchen, and grassy lawn.
Prior to this mansion, Segura and his family previously lived in San Francisco, specifically Woodland Hills. They purchased the 4619 square feet home in 2016 for about $1.6 million. It featured 5 bedrooms, 3.5 bathrooms, a grassy lawn, a rock-rimmed pool, spa, and a cozy fire pit with a built-in living area. With regards to wheels, Tom Segura loves fast cars but he tries not to overindulge in it. The comic presently drives a Lamborghini Aventador which has a starting price of about $417,000.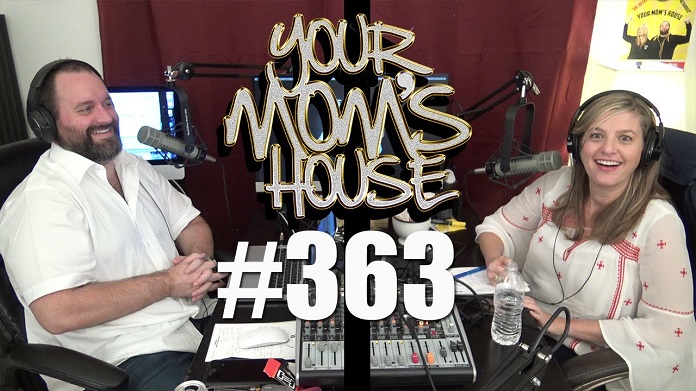 Is Tom Segura richer than wife, Christina Pazsitzky?
Tom Segura is by no means the only talented and renowned comic in his home. His wife of over a decade, Christina Pazsitzky is equally an accomplished comic in her own right. The Canadian-American has staged shows in several parts of the world including the Middle East and South Korea.
She has also done multiple stand-up specials including two for Netflix. They are Mother Inferior (2017) and The Degenerates (2018). Christina also has her own solo podcast, Where My Mom's At, in addition to co-hosting the famous YMH with her husband. All these activities have helped the lady acquire a net worth running into millions but the exact amount is yet to be determined. It is however speculated that she and her husband have a joint net worth of about $12 million.