Though Tom Hiddleston is an English actor who has been active in the entertainment industry since 2001, he shot to fame after his role as Loki in Marvel's Avengers and Thor film series. The actor has worked in many movies and also has countless TV series under his belt. Thus, he has garnered many awards including a Golden Globe Award for his role in the BBC series, The Night Manager.
Following his villain role in Marvel films, Hiddleston has become a prominent figure in Hollywood, and with that status comes a huge interest in his love life. Although he has kept things quiet since his high profile affair with music superstar, Taylor Swift, there is a lot to know about his dalliances.
Making Acting a Career Choice
Raised by a mom who works as an arts administrator and had been a stage manager, it's not surprising that Tom Hiddleston became passionate about arts in his formative years. As a result, he attended Pembroke College at the University of Cambridge; while there, he began making appearances in stage productions.
He whetted his acting skills at the Royal Academy of Dramatic Art and graduated in the year 2005. Before making his first cinematic appearance, Hiddleston had already gained a few acting credits, thanks to his roles in Stephen Whittaker's adaptation of Nicholas Nickeby (2001), Conspiracy (2002), and The Gathering Storm (2002).
The Highlights of His Illustrious Career
After graduating from the Royal Academy of Dramatic Art, Tom Hiddleston was cast in his first film role, playing Oakley in Joanna Hogg's feature film, Unrelated (2006). He starred alongside his sister Emma who played Badge in the movie. Afterward, Hiddleston had leading roles in Declan Donnellan's Cheek by Jowl's productions like The Changeling in 2006. In 2007, he appeared in West End theatre production of Cymbeline, a role which later scored him the Laurence Olivier Award for Best Newcomer in a Play.
While Hiddleston has over 27 credits to his name in movies, his voice roles include the voiceover for BBC's documentary on the Galapagos Island in 2006. He narrated the audiobook The Red Necklace by Sally Gardner in 2007, as well as Unity in 2015. Also, he provided the voice of Lord Booth in the 2018 animated movie, Early Man.
On the TV front, he has worked in Miss Austen Regrets, Suburban Shootout, Wallander, Henry IV, The Night Manager, and many others. The list of his popular theatre works cannot be complete without naming Coriolanus, Hamlet, and the hit Broadway play, Betrayal. The latter earned him Broadway World UK Award for Best Actor in a New Production.
Tom Hiddlestone's most famous roles have had him play Loki in Marvel's Avengers movies and Thor film series. He recently reprised his role as one of the MCU most loved villains, Loki in Avengers: Infinity War (2018) and Avengers: Endgame (2019). Currently, he is being cast in a titular role of Loki in an upcoming American web TV miniseries which is expected to be released in early 2021.
Tidbits About The Actor's Earnings and Awards
Tom Hiddleston has a net worth of $20 million. Spanning almost two decades, Hiddleston's career as an actor is no doubt a very successful one. He has been nominated for over twenty prestigious awards and has taken home more than ten of them.
Hiddleston won the Evening Standard Theatre Award for Best Actor for his role in Coriolanus in 2014; the Glamour Award for Man of the Year was awarded to him in 2012, and he also won the MTV Movie Award for Best Villain in 2013, this was for his role as Loki in Avengers. Later in 2017, the talented actor became a recipient of the Empire Hero Award.
A Detailed Look at Tom Hiddleston's Love Life
Tom Hiddleston currently lives in the Belsize Park area of north-west London. After his much-publicized affair with Taylor Swift in 2016, the actor has been secretive about his love life. Notwithstanding, he has been linked to several high profile ladies in the past and is currently rumored to be in a relationship with one of his co-stars in Betrayal. Below is a list of all the people the actor has dated.
Susannah Fielding
In July 2009, Tom Hiddleston kicked off a romantic affair with Susannah Fielding, an English actress. The two reportedly fell for each other on the set of a TV series titled Wallander. Soon after, they made the relationship public and were spotted together at social events.
However, in 2011, the actor and Susannah called off the relationship as both decided to focus on their careers which they have successfully built over the years, with Hiddleston gaining his breakthrough role of Loki in the same year the two parted ways.
Jessica Chastain
Later in 2013, it was reported that the Marvel star was romantically involved with Golden Globe Award-winning actress, Jessica Chastain. Although Jessica insisted that she only had a platonic relationship with Hiddleston, it was said that she met Tom Hiddleston's family in Britain while they were together as a couple. However, the two reportedly broke up after dating for a few months.
Currently, the actress is married to Gain Luca Passi de Preposulo, an executive for the fashion brand, Moncler; they welcomed a daughter in 2018.
Jane Arthy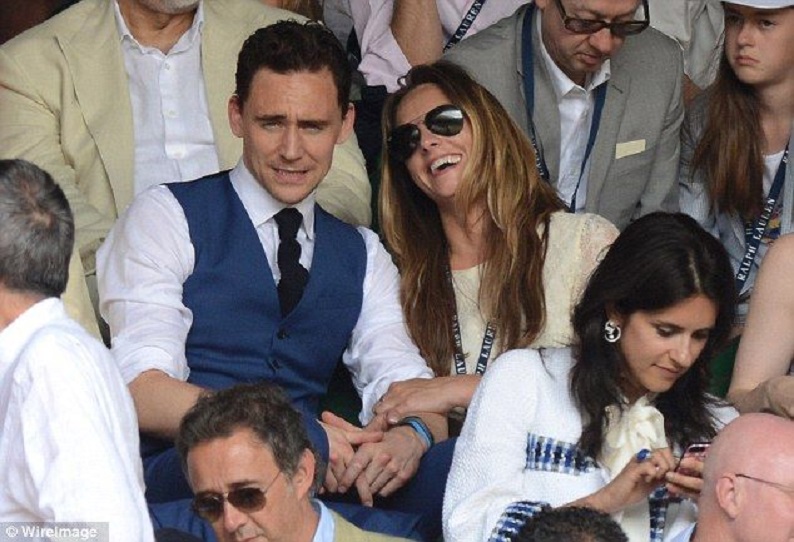 Tom Hiddleston and Jane Arthy were said to be an item in the year 2013 after the pair were spotted together at the Wimbledon Finals. Nevertheless, that was the only public appearance the actor made with the record producer. He has since stated that nothing serious happened between them.
Elizabeth Olsen
Elizabeth Olsen is an American actress best known for her role in Martha May Marlene. In 2015, she co-starred with Tom Hiddleston in I Saw the Light and as a result of the chemistry between the two during the press tour for the film, the gossip mill claimed Hiddleston and Olsen were dating. The actress, however, shut down the rumor by stating that she wasn't romantically involved with the English actor but had been friends with him for about four years and thus, do go out for dinner with him.
See Also: Gerard Butler Movies, Height, Career Earnings, Girlfriend
Taylor Swift
Tom Hiddleston got into a high profile affair with Taylor Swift in the year 2016. The two came in contact for the first time at the MET Gala held on the 2nd of May 2016 and instantly got connected as they danced together at the event. At the time of their meeting, Swift was in a relationship with Calvin Harris but eventually called it off in late May.
It was speculated that the eminent singer cheated on her ex-boyfriend with the movie star. But it didn't stop the pair from making the relationship public. Despite being dubbed Huddleswift by their fans who were quite elated with their relationship, the two called it quits in August 2016, after dating for three months.
Zawe Ashton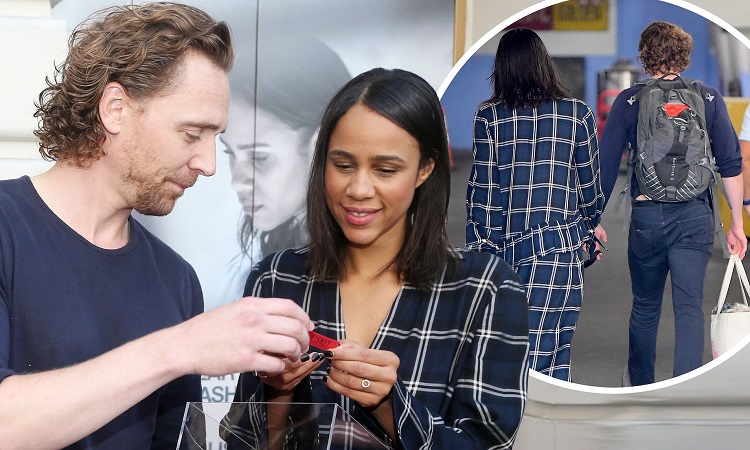 Recently, Tom Hiddleston has been rumored to be in a relationship with his Betrayal co-star, Zawe Ashton. The pair starred as man and wife in the hit Broadway play and is believed to have been dating for over six months. They have been sighted together at different locations which fueled the dating rumor. During the Easter of 2019, the supposed couple reportedly spent the holiday together.
Later in September 2019, Hiddleston and Ashton graced the US Open Tennis Championship and had been previously seen spending time at an undercover bar in New York called 18th Room. The pair, however, is yet to comment on the rumored relationship.