Tobin Heath is one of America's best professional soccer players, who was born in Morristown, New Jersey, U.S, on May 29, 1988, to the family of Jeff and Cindy Heath. Her love for soccer was developed at a very young age as she started playing at the age of 4 at the back of a YMCA.
The talented lady has a younger brother, Jeffrey, and two older sisters, Perry and Katie, who are also involved in sports with Christian groups, Athletes in Action and Champions for Christ.
Although her salary has not been disclosed, she is estimated to be worth around $1.5 million.
See Also: Yvonne Craig Biography, Body Measurements, Acting Career
Unlike many celebrities whose religious disposition is not known, Tobin Heath does not hide the fact that she is a proud and devout follower of the Christian faith.
Education and Career In Soccer
The successful soccer player whose full name is, Tobin Powell Heath, is a 2006 graduate of Ridge High School where she first started playing football.
Four-year letter winner and three-time Parade-All American in soccer, Heath played and won the 2003 Club National Championship for PDA Wildcats.
Read More: Zoella Bio, Beauty Blog, and House

The young star joined the University of North Carolina and did not play soccer in her senior year so as to train with boys and improve her game. She only missed a game for the Tar Hills in the midfield position to help UNC win the NCAA title scoring four goals with nine assists during her junior year. In her senior year, Tobin scored five goals with 10 assists and also became the runner-up for the MC Hermann Trophy.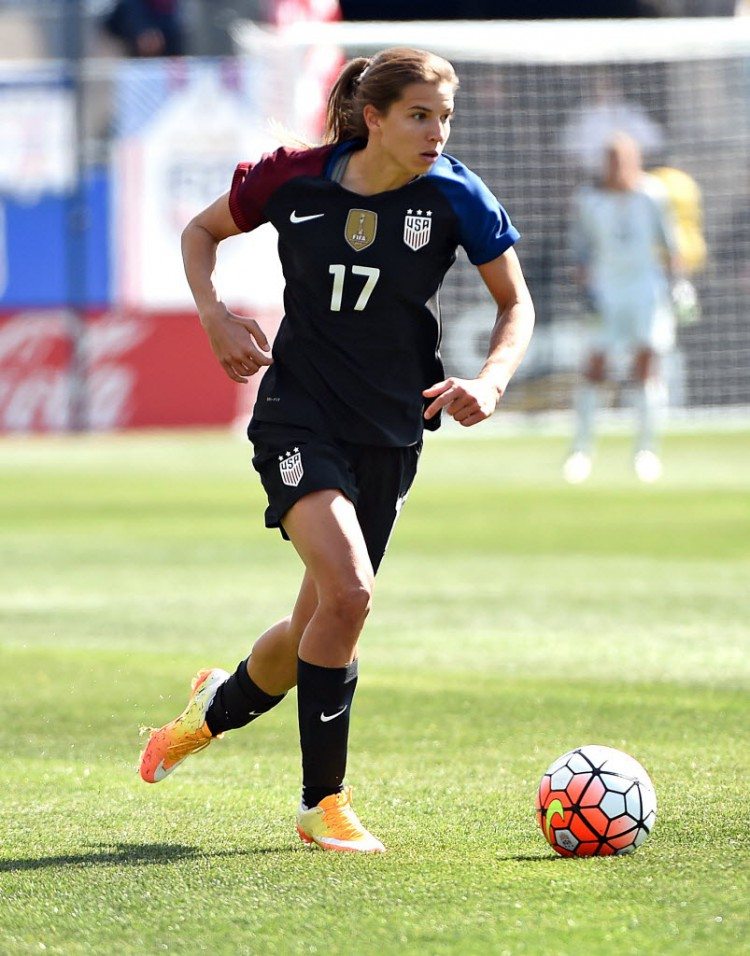 Best known for her skills in controlling the ball and guiding the game in the midfield, Tobin Heath was the first overall pick in the 2010 college draft for Atlanta Beat. She was traded to Sky Blue FC the same year and the team ended up fifth in the regular season. Subsequently, she moved to New York Fury and started only one game after suffering from an ankle injury. She signed with PSG to play in the French league in 2013 and became a prominent player in the team scoring five in 12 appearances. Considering her national team appearance, Heath played for the U-16, U-17, and U-20 team to join senior team in 2008.
Awards and Legacy
She won the 2008 Summer Olympics medal as a reserve midfielder while she was also named US Soccer Young Female Athlete of the Year in 2009. Her side ended up second in the 2011 World Cup with Heath's penalty being saved. However, she won gold at the 2012 Olympics and became an important player in the team who helped the likes of Alex Morgan, and Sydney Leroux to score goals through her assist.
According to the United States Soccer Federation, Miss Heath is "perhaps the USA's most skillful player", and she was voted the United States' best player in 2016.
Tobin Heath usually plays as a flank midfielder or the attacking midfielder. She currently plays professionally for the Portland Thorns FC of the National Women's Soccer League (NWSL).
Read Again: Will.I.am Bio, Cars, Songs
The sportswoman started the 2017 NWSL season nursing a nagging back injury which kept her away from playing. An announcement was made in May that she would take up a role within the team's Development Academy as the Youth Technical Director. The injury on her back lasted longer than they had expected and as a result, she was sent to Los Angeles where she was treated by her coaching staff. Following her full recovery, Tobin Heath was removed from the disabled list and added to the active roster on August 28th. She made her NWSL Season Debut on September 23rd vs Orlando at the 60th minute and made her first start on October 7th, in the NWSL Championship Semi-Final against Orlando.
Having carved a niche for herself in the world of soccer, Tobin has become very popular among lovers of the game. Her 16,000 and 308,000 followers on Twitter and Instagram respectively prove this.
Being a successful soccer player, she endorsed the Six Star Pro Nutrition which is a nutrition brand. She also worked with Procter & Gamble.
Aside from soccer, Tobin Heath who was named after her great grandmother's last name says she enjoys playing a multitude of sports, such as tennis and surfing, and enjoys being outside when given the time and opportunity.
Tobin Heath Abs
References have been made to Heath's sexuality and her abs is definitely an eye-catcher. Not necessary the manly six packs kind of abs, but a girly and sport-ified type. Tobin rarely makes a show off her tight abs; except for an occasional glimpse of the camera. At least she hasn't posed for an all abs photo shoot yet. Not even in her video lesson on how to improve the body stamina.
Quick Facts
Full Name: Tobin Powell Heath
Profession: soccer player
Playing Position: Midfielder
Height: 5 ft 6 in (1.68 m)
Nationality: American
Date of Birth: May 29,1988
Place of Birth: Basking Ridge, New Jersey, U.S.
Marital status: Single
Astrological sign: Gemini