A list of top Twitch streamers will never be complete without the inclusion of Timothy John Betar, better known by his alias TimtheTatman. The American is one of many pro gamers who have garnered huge fame by uploading their gameplay on the video streaming platform. Tim, however, sets himself apart from most other gamers through the fact that he has enjoyed repeated success and built a huge fan base that he calls Tatmanarmy. Thanks to this, he has been able to win a Fan Favorite Male Streamer/Gamer of the Year award.
Asides from his activities and popularity on Twitch, the gamer has also built a huge following on YouTube where his videos have garnered millions of views. It is easy to see why gaming enthusiasts get drawn to him as he has an amazing personality and sincerely cares about others as can be seen through the love he shares with his wife and his penchant for taking on charitable causes.
How TimTheTatman Began His Gaming Career
TimTheTatman was born in the United States on April 8, 1990. Like many other children, he developed a keen interest in playing video games from a very tender age. He played a wide range of games and found himself to be very good at them.
By the time he was in college, Tim, who adopted the online alias TimTheTatman, decided to take his gaming career to the next level by becoming a full-time professional gamer. He opened his first Twitch account in 2012 where he streamed live gameplay for video game lovers across the world. His unique style of play and charming personality brought so many fans to his channel, thus, bringing him into the limelight.
On YouTube, which he joined in 2013, Tim also uploaded gameplay videos as well as other funny videos. He is popular for playing games such as World of Warcraft, Overwatch, Global Offensive, and Counter-Strike. He has collaborated with other pro gamers such as Dr. DisRespect among others.
Before deciding to become a full-time gamer and streamer, TimTheTatman revealed that he was working over 40 hours a week while also streaming. In recent times, however, he has not had to work any other job as his career as a gamer has rewarded him handsomely. He currently has over 2 million subscribers on his YouTube Channel and over 4 million followers on his Twitch Channel.
How Much is TimTheTatman Worth?
The Twitch streamer has been doing very well in his gaming and social media career and has earned quite a substantial sum for himself. He receives a token of $4.99 from anyone who subscribes to his Twitch videos. He also takes home revenue from sponsorship Ads, donations, and endorsement deals with notable brands such as the Japan Audio Technica, Cyber Power, and Monster Energy, among others. Thanks to this, he has built himself into one of the biggest names in the video game streaming business with an estimated net worth of $6.5 Million.
The streamer also gets to add to his fortune through the sale of his merch which he makes available on various platforms on the internet. He sells everything from hoodies to jugs, T-shirts, and other gift items.
What all this means is that TimTheTatman can afford to live a lavish lifestyle as he is the third richest Twitch streamer, behind Ninja whose net worth is $10 million, and PewDiePie who has a net worth of $20 million. His fortune places him above other big names like NightBlue3 ($6 million), Syndicate ($5 million), and Shroud ($4 million).
Facts About Him and His Adorable Wife Alexis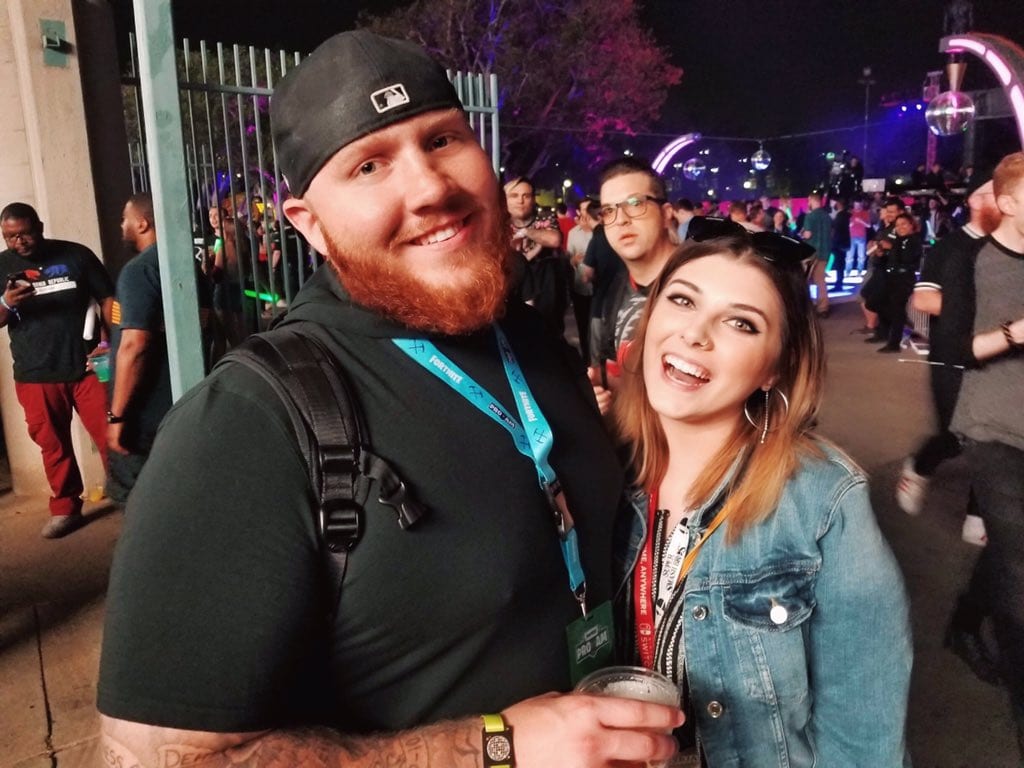 While TimTheTatman has become a famous internet personality, little or less is known about his love life and relationship history. As a matter of fact, he is one of those who enjoys striking a balance between their professional and personal life. Because of this, details are quite sketchy in regard to who he dated prior to 2016 when his bachelorhood came to an end.
Aside from Tim having a rather long and complicated relationship with the woman he came about to marry, he was known to have once been in a relationship with a woman whose name is simply given as Hanna. The two dated for a little while before they went their separate ways in 2014.
Before Hanna came into the picture, TimTheTatman had already known Alexis. In fact, they attended the same high school which was where he first met her and they fell in love. They dated for a while but according to the successful gamer, his immaturity came in the way and they parted ways.
The couple's paths later crossed for a second time when they were in college and they rekindled their love. You would think the two would remain together from then onwards but long-distance became an issue and they broke up again. By 2015, the two decided to give things a serious go again and Alexis quit her job and moved in with him. This proved to be the right move by the couple as they soon got engaged.
On the day Tim was proposing, Alexis guessed what was about to happen as he took her to a nice resort. But because it was very obvious what he was about to do, he ended up not proposing. Just when she thought she had guessed wrong, the gamer went on one knee and popped the question. The following year, in August 2016, they tied the knot in a small wedding in the presence of close friends and family.
After their wedding, TimTheTatman made it official via his channel as he introduced his amazing wife to his fans. Since then, he has featured her a couple of times in his videos. In 2019, the couple added to their family by welcoming a son named Brewer. Tim took to social media to introduce his little one to the world, revealing that Alexis spent three days in the hospital before the baby arrived.