The American teen web TV series 13 Reasons Why was incredibly successful, all thanks to the roles played by its main characters including Dylan Minnette, Katherine Langford and of course, Timothy Granaderos. Outside the show's high graphic depiction and mature content, the Netflix drama series has received positive reviews for its storyline and actors performances.
Timothy's apt portrayal of Montgomery de la Cruz, the bully in the Netflix drama series is just one of the many TV roles he has played which have earned him wide acclaim from the audience. He can also be remembered for his appearance in other TV shows like Runaways, In The Vault and T@gged, among others.
His outstanding performances in these shows have not only earned him some mind-blowing fan base on various social media platforms but has also increased people's curiosity about his personality. To answer some of your questions about this young talented actor, here are some interesting facts you need to know.
Timothy Granaderos Bio
Timothy Granaderos is a native of Portage, Michigan, he was born on September 9, 1986, and he says he is half Filipino. He is a middle child born to his parents – Tim and Christine Granaderos. He grew up along with his two siblings including Alyson Granaderos who is a makeup artist, and a younger brother whose name is given as Wil Granaderos.
Although there are no details of what school Timothy Granaderos attended, we are sure he did attend high school. After graduation, he moved to the Michigan State University where he was famous as a D1 soccer player. The actor revealed that he began playing soccer from his early years. Aside from that, there are no further details about his early years and family background.
Movies and TV Series
Timothy Granaderos joined the show business as a model for prints and ads, then later he got a job as an assistant producer on the short film Committed. His first television role as a professional actor was in a procedural forensics crime drama series, CSI: Crime Scene Investigation which aired fifteen seasons from October 2000 to September 2015. He starred alongside famous actors and actresses like Laurence Fishburne, George Eads, Ted Danson, and Jorja Fox.
He also appeared in the comedy series Liv and Maddie that started airing in 2013. The following year, he scored a role in the drama film We Are Your Friends which was directed by Richard Silverman. The film, which has the likes to top stars like Zac Efron, Wes Bentley, and Emily Ratajkowsk, among its cast, garnered positive reviews and grossed over $11 million at the box office. The actor also starred in the TV show, Lab Rats and Rosewood.
2016 marked a great year for Timothy Granaderos as he strives to reach a recognizable height in the entertainment industry. He got his first major role, starring along with the likes of Lulu Antariksa, Katelyn Nacon, and Lia Marie Johnson, in the psychological thriller web series, T@gged. Later in the same year, he made his big hit in the industry with his role as Montgomery de la Cruz in the Netflix series, 13 Reasons Why.
His character role in the TV series is known for bullying his fellow students at Liberty High. Although Tim originally auditioned for the character role of Justin Foley (played by Brandon Flynn) in the teen drama series; nevertheless, he was not selected. Instead, he was given the role of Monty deal Cruz, the bully with several controversial sexual assault scenes. In the show's second season, his character terrorized some individuals testifying at Hannah Baker's trial. In 2018, the series received mixed reviews from both the audiences and critics following its high mature content and graphics.
 See Also: Wells Adams – Age, Girlfriend & Facts About The Tv Actor
Personal Life
One unfortunate thing that happens to most actors is being judged by the roles they portray in films. For Timothy Granaderos, his role as Montgomery de la Cruz in the Netflix 13RW seems to have affected people's thoughts about him. Some of the fans of the series even went as far as sending him hateful messages and death threats. Behind the scenes, Timothy is actually a loving young man who places much importance on family and that is why he is attached to his parents and sibling even though he speaks less of them in the public.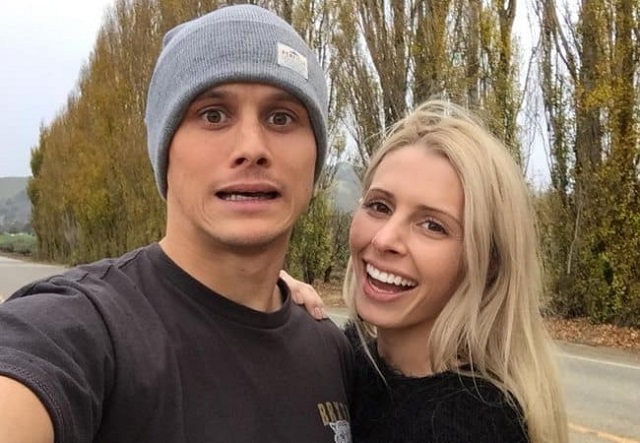 Aside from his family, Timothy Granaderos shares his love life with his girlfriend named Katie Dixon. Although not much is known about Tim's girlfriend, we see much of her in most of the photos he posts both on Instagram and Twitter. While the actor hasn't said anything about his future life with her, he prefers keeping his private life out of the public.