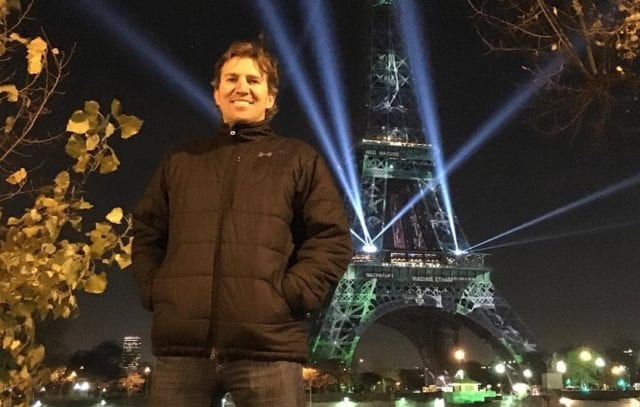 Thomas Vonn is fairly known in the world of alpine ski racing for being a part of the US team. He has however come to be more famous in the public domain as the husband of Lindsey Vonn who just like him is also an alpine ski racer. The two were together as a couple from 2007 to 2013 when their marriage came to an end. Despite the fact that Thomas has remained in the dark, he has attracted a lot of attention. Here is all to know about him.
Who is Thomas Vonn and How Old is He?
It was on December 3, 1975, that Thomas Vonn was born in New York City, New York. Unlike his former wife, there is not so much that is available about Vonn in the public domain. However, it is known that he got his education from St. Lawrence University in Canton, New York, from where he graduated in 2001.
As an alpine skier, he has gone to various competitions but has not recorded much success. He represented the United States at the 2002 Winter Olympics in the Men's super-G. He ended in the 9th place at the event. That was his best finish at an international competition. His career only lasted from 1999 to 2005 when he finally decided to retire. Next, he chose to coach his wife in the sport, helping her to clinch the gold medal at the 2010 Winter Olympics.
In 2015, Thomas Vonn became the coach of the Caymanian alpine ski racer, Dean Travers. According to his Instagram profile, the former US ski team member is now an alpine technical director at Northwood school as well as a ski coach.
Net Worth
As regards his net worth, there is not much that is known in that regards because the former alpine ski racer has decided to keep all about himself and also his earnings away from the public. However, from all indications, he is doing well for himself as a ski coach as well as with his other engagements.
His ex-wife, on the other hand, has a net worth that has been estimated at $6 million. She made her fortune from her career as a ski racer. When they were still together, Thomas and Lindsey lived in a home worth $1.1 million.
Other Facts About Thomas Vonn, Lindsey Vonn's Ex-husband
1. How Thomas Vonn met his wife

When Thomas first met his wife, she was only 16 while he was 25. They met during the Olympics at Salt Lake City. With up to 9 years age difference between them, they were still able to get things to work for them before finally getting married on September 29, 2007.

Only 4 years after becoming man and wife, the two announced that they were getting a divorce in 2011. By 2013, they were officially divorced. Their marriage did not produce any child.

2. Who is Lindsey Vonn?

As noted, Thomas became more famous thanks to his marriage to his ex-wife, Lindsey Vonn. She was born and named Lindsey Caroline Vonn on 18 October 1984 in St. Paul, Minnesota. She was brought up by her parents, Linda Anne and Alan Lee Kildow. Of Norwegian descent, she started skiing when she was only 2 years old and was later taught by her grandfather.

See Also: Will Proctor – Bio, Age, Facts About Ainsley Earhardt's Husband


Looking at her career achievements, Lindsey Vonn has two silver medals and a bronze which she won at the Junior World Ski Championships. Also, she has three Olympic medals to her name, winning a gold medal and a bronze at the 2010 Olympic Games in Vancouver and then in 2018, she won another Bronze at the event in Pyeongchang. She has 2 world championship gold medals, 3 silver medals, and three bronze.

3. Their relationships after divorce

Since the end of their relationship, Thomas seems to have moved on to date Shauna Kane, based on pictures shared by the two on social media. Although it is not known if they are married, it is known that they have a son, Henrik Vonn.

On her part, Linsey has dated legendary golfer Tiger Woods and after they walked their separate paths, she got into another relationship with NHL star, P.K. Subban.

4. His Height and Bodyweight

Thomas Vonn is a man who has a very good height and an athletic build. He stands at a height of 6 feet 0 inch. That said, his bodyweight still remains unknown.

Fact Check: We strive for accuracy and fairness. If you see something that needs updating,