Stunning, spectacular, mesmerizing, dreamy, captivating… are just some of the adjectives that describe this artistic wonder created by Duffy London. The Abyss table is just one of the many exclusive designs of the company which is renowned for creating pieces that play with the concept of gravity, geometry, illusion and now depth.
The mastermind behind the design and owner of the company is the uber-talented Christopher Duffy. Read what he said about his inspiration for the piece; "I was looking into sheets of thick glass at my glass manufacturer's factory, and noticed how the material darkened as they added more layers the same way the sea does as it deepens. I wanted to use this effect to replicate a real piece of the earth's seabed. Like a mythical power had lifted a perfect rectangle straight from the earth's crust to use as his personal ornament."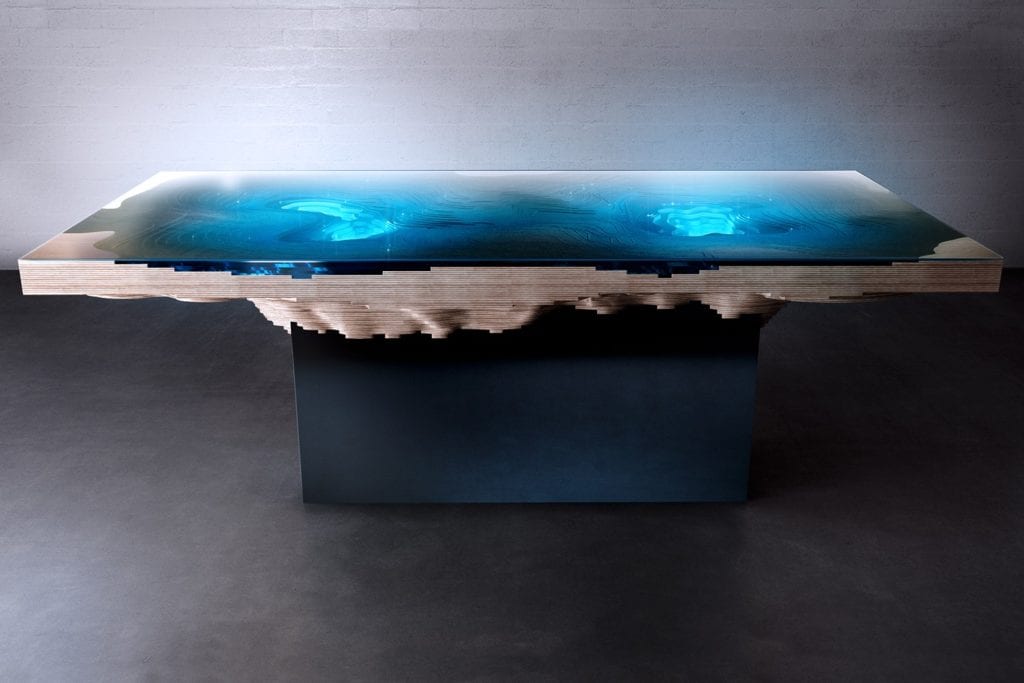 Chris brought his imaginations to reality with the help of his team of artisans at his east London studio. They experimented with multiple layers of sculpted glass, Perspex and wood, arranged like a 3-D representation of a geological map. The wood used is a high-grade wood from Forest Stewardship Council managed forests and other controlled sources. Made completely by hand, the entire invention took a year to complete.
See Also: The World's Most Expensive Baby Crib 
The Abyss collection debuted with a coffee table, which is a more detailed depiction of the designers imaginations- it actually looks like an entire ocean lifted from its base and placed on dry land.
The dining table replaces the broad base with a rectangular wood, creating enough room for the diners to stretch their legs as they stare into the deep waters and enjoy the mesmerizing effect when it appears to stare back at them. The illusion is even more enthralling when the lights in the depths of the "sea" is turned on. You've never seen anything more beautiful.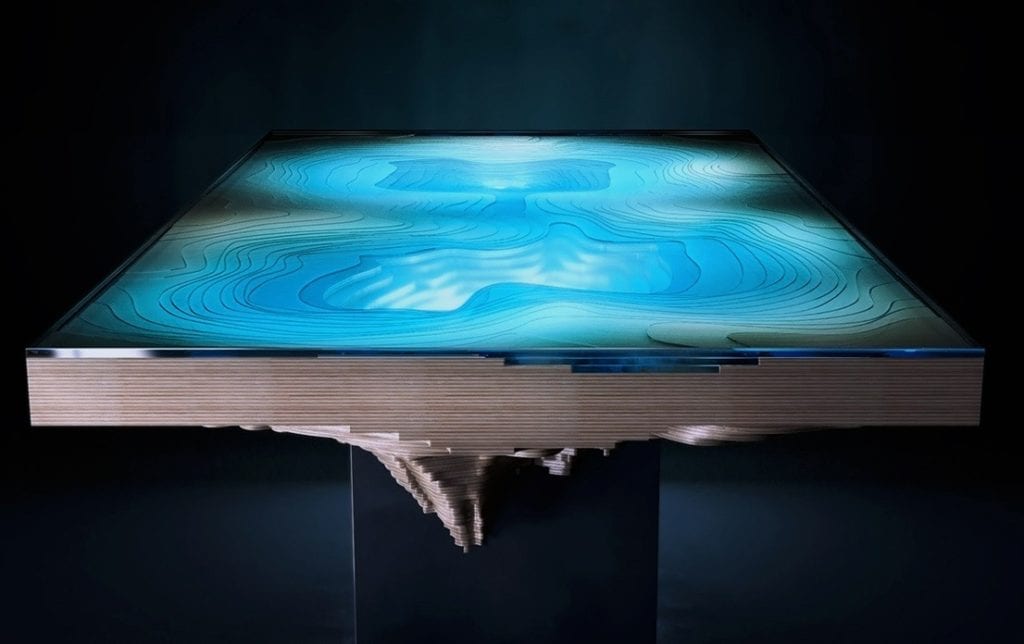 The Abyss dining table measures 150 cm in length, 75 cm in width and 40 cm in height. If you love this piece half as much as I do and have got pockets as deep as the ocean then head to Duffy London and grab one at $40,598, you may have to hurry though, because only 25 of this remarkable piece was created. However, you'll have to wait between 16-20 weeks for delivery, but for a piece this stunning the wait is totally worth it.