Gone are the days when Africa was synonymous with poverty, civil strife, starvation, and disease-ravaged children. Even though the continent still has its fair share of challenges, it has nevertheless made great strides in the areas of education and healthcare. Even in the entertainment and sports industries, several African countries have churned out stars that have gone on to mesmerize the world with their limitless talent.
When it comes to emerging technologies, African countries are also not left out as many of its innovators are employing tech to provide solutions across various fields such as finance, agriculture, healthcare, forex, and trade. The African startup ecosystem now secures hundreds of millions of dollars in funding each year thus proving that the whole world believes that the continent is the next frontier of development.
Such a reality has had a positive impact on several African countries with the result that some of them now rank amongst the fastest growing economies in the world. Many of them have been able to lift millions of their people out of poverty and now have GDPs that can compete with their peers in other parts of the globe.
Did You Know: Africa is home to 30% of the world's mineral reserves, 8% of the world's natural gas, and 12% of the world's oil reserves; the continent also has a whopping 40% of the world's gold and up to 90% of its chromium and platinum.
These are 10 Richest African Countries with the Highest GDP
10. Tanzania ($59 billion)
Currency – Tanzanian Shilling
GDP per capita -$1,159
Gross National Income – $60.82 billion
GNI per capita – $1,080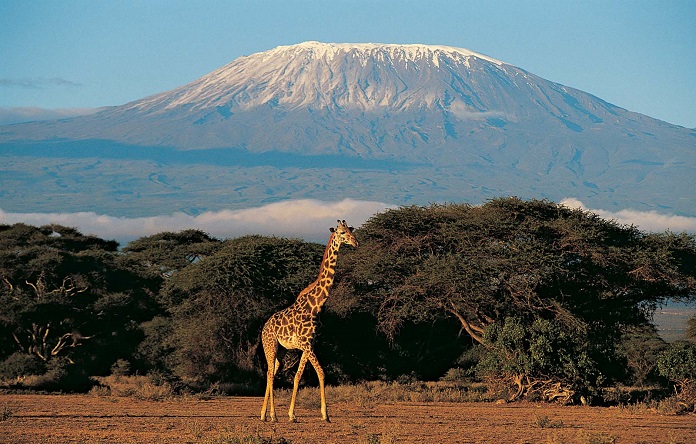 Occupying the tenth spot on the list of the richest countries in Africa by GDP is the east-African nation of Tanzania. Back in 1995, the country was languishing as one of the poorest on the continent but then-president, Benjamin Mkapa, developed an audacious agenda to take it from a low to a middle-income country in the next ten years. Fortunately, this vision was bought by Mkapa's successors and so, rather than jettison it like typical African leaders would have done, they kept on pursuing it. They diversified various aspects of the country's economy including mining of gold, and manufacturing of items such as textiles, ceramics, tools, and simple machinery. They also engineered growth in service industries such as telecoms and banking. These visionary leaders also leveraged on the fact that Tanzania was bordering about six countries, including Rwanda, Burundi, Zambia, Uganda, and DR Congo, and so improved their transportation and delivery networks. All these resulted in steady economic growth for the country and they were able to achieve their target of becoming a middle-income country in just five years rather than the ten years originally forecasted.
Key Exports
Gold
Coffee
Cashew nuts
Gemstones
Textiles
Key Imports
Machinery
Transport equipment
Petroleum products
Chemicals
Major Tourist Attractions in Tanzania
It comes as a surprise to learn that tourism is not one of the major revenue earners for Tanzania as the country boasts of some enviable natural attractions. They include:
Mount Kilimanjaro
Lake Tanganyika
Lake Victoria
The Kalambo Waterfalls
9. Ghana ($66 billion)
Currency – Ghanaian Cedi
GDP per capita – $1884.30
Gross National Income – $67.51 billion
GNI per capita – $2220
One would ordinarily expect Ghana to rank much higher on the list of the richest countries in Africa by GDP but alas they could only manage the ninth position for the year under review. This however does mean that the country is performing poorly economically as they experienced consistent economic growth from 2010-2019, put at an average of 6.8%. Such growth should have normally impressed economists but this is not so as it was largely driven by the export of minerals such as gold and crude oil production. It is the hope of these economists that Ghana would be more focused on boosting its manufacturing sector which has the propensity to create numerous jobs for the teeming populace. Sadly, that industry is beset by several internal and external bottlenecks. Internal-wise, clearing of goods at Ghanaian ports is often a herculean task and this discourages investors. External-wise, the manufacturers have to cope with harassment and unscrupulous officials at various ports and routes in the West-African sub-region. All these negatively impact the economy of several countries in the sub-region including Ghana.
Key Exports
Key Imports
Petroleum
Equipment
Food products
Major Tourist Attractions in Ghana
Some of the most popular tourist spots in Ghana not only bring joy but also offer an insight into the dark ages of the slave trade. They are:
Wli waterfalls
Lake Volta
Cape Coast Castle
Labadi Beach
Kakum National Park
8. Kenya ($89 billion)
Currency – Kenyan Shilling
GDP per capita – $2,075
Gross National Income – $91.28 billion
GNI per capita – $1,750
The largest contributor to Kenya's gross domestic product is the services, industry, and manufacturing sector which accounts for about 75%. Under this sector, you find companies involved in cement production, oil refineries, beer production, grain milling, sugarcane crushing, fabrication of consumer goods, telecommunication, etc. The second-largest contributor to Kenya's GDP is the agricultural sector which contributes about 22%. Much of this comes from forestry and fishing. The country also earns a lot of revenue from the export of tea, coffee as well as horticultural produce. Given the above reality, the Kenyan economy was adversely affected by the covid-19 lockdown of 2020. Key foreign exchange-earners such as flowers, fruits, and vegetables could not bring in much income as major markets in Europe and other parts of the world were shut down. The shutdown also occasioned contractions in the food services sector as well as transportation and manufacturing. This caused the Kenyan economy to shrink for the first time in 12 years but the country hopes to rebound soon enough.
Key Exports
Flowers
Fruits and Vegetables
Cement
Fish
Coffee and Tea (Kenya is the world's largest exporter of the black variety)
Key Imports
Petroleum products
Motor vehicles
Resins
Plastics
Transportation equipment
Iron and steel
Major Tourist Attractions in Kenya
Tourism is a major revenue earner for Kenya with some of its popular attractions including the:
Maasai Mara National Reserve
Lake Nakuru
Buffalo Springs
Tea plantation at Kericho
Coffee plantation at Thika
7. Ethiopia ($94 billion)
Currency – Ethiopian Birr
GDP per capita – $858
Gross National Income – $95.11 billion
GNI per capita – $850
While most of the richest countries in Africa by GDP rely on minerals to boost their economy, Ethiopia is one of the notable exceptions. The oldest independent country in Africa draws half of its GDP from agriculture. The agricultural activity in the country is divided into three categories. First are the subsistence smallholder farmers who produce staple grains and pulses such as wheat, barley, oats, corn, sorghum, peas, lentils and beans. Second is the production of cash crops such as coffee, oilseeds, sugarcane, coffee, and beeswax. The third level of agricultural activity in Ethiopia is subsistence livestock farming by families who keep large herds and migrate in accordance with seasonal vagaries. Ethiopia has been touted as one of Africa's potential economic growth zone and part of the reason for this is its supposed social stability. Sadly, that stability is now under threat as an internal armed conflict sprang up in the Tigray region in November 2020. The federal government in Addis Ababa termed it an insurgency and shut down internet and telephone communications in that region before sending in its forces to quell the uprising. Thousands of people were displaced from their homes while many were killed. One does not need to a soothsayer to know that this does not bode well for the country's reputation as an investment destination.
Key Exports
Coffee
Khat
Gold
Leather products
Oilseeds
Cut flowers
Livestock such as camel, sheep, goats, and cattle
Key Imports
Food products
Fuels
Machinery
Transport equipment
Chemical products
Major Tourist Attractions in Ethiopia
You would never run out of things to see in Ethiopia. The country boasts of several natural and man-made tourist attractions such as:
Blue Nile Falls
Ancient City of Aksum
Danakil Depression
The Rock-Hewn Churches of Lalibela
Simian Mountains National Park
The Fabled City of Gondar
Mount Entoto
6. Angola ($100 billion)
Currency – Kwanza
GDP per capita – $2974
Gross National Income – $97.01 billion
GNI per capita – $3,050
The Angolan economy has suffered many shock waves since the country came into existence as a Portuguese colony in the 15th century. First was the protracted war for independence which eventually became successful in 1975. Following that independence, there was a mass exodus of skilled foreign workers back to their country of origin and Angola was left struggling to fill the gaps as the natives lacked the education to take over the abandoned roles. This impacted the economy negatively and things were further complicated after a civil war broke out almost immediately after independence. This war raged intermittently for several decades, up until 2002, and predictably led to a collapse of the country's economy. Food items were scarce and large portions of the population had to rely on food aid in order to get by. It was indeed a long journey back from that grim reality to the status of one of the richest countries in Africa and what aided it is the country's petroleum industry. It was largely allowed to operate with little government intervention and this gave investors the impetus to put their monies there. The Angolan industry now generates abundant wealth but sadly that wealth is concentrated in the hands of a few rather than spread amongst the populace. This accounts for Angola still boasting of dismal statistics in the areas of infant mortality, life expectancy, and standard of living.
Key Exports
Hydrocarbons
Diamonds
Coffee
Fishes
Timber
Sisal
Key Imports
Consumer Goods
Transport Equipment
Mechanical and Electrical Products
Construction Materials
Machinery Parts
Major Tourist Attractions in Angola
Dala Waterfalls
Maiomb Forest
Tunda Vala Volcanic Fissure
Porto De Luanda Dilolo Lake
The Arch Lagoon
The Lobito Harbor
5. Morocco ($120 billion)
Currency – Moroccan Dirham
GDP per capita – $3,204
Gross National Income – $118.06 billion
GNI per capita – $3,190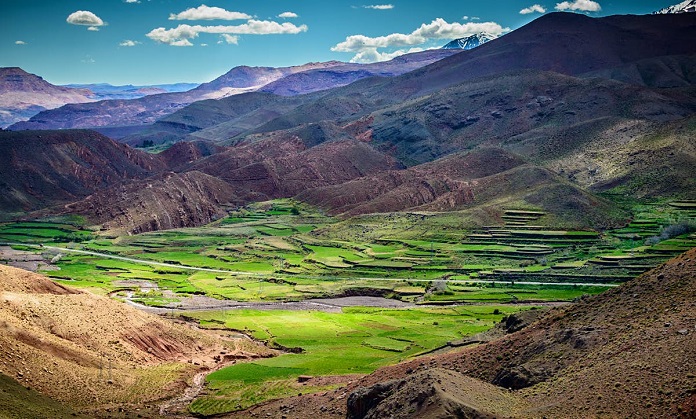 One of the three North African states which make it to the list of the 10 richest countries in Africa by GDP is the kingdom of Morocco. The country's economy has witnessed commendable strides ever since it decided to liberalize some of its major sectors. Prior to 1993, many crucial economic activities were domiciled in the hands of the government and this discouraged several foreign investors from committing their funds to the country. The country's economic fortunes consequently suffered and they decided to pursue economic reforms as well as privatization of state-owned enterprises. That move has largely worked as Morocco has witnessed progress in the fields of agriculture as well as manufacturing (processing raw materials for export and producing consumer goods for the domestic market). Other industries that have also witnessed a boom include tourism, telecoms, information technology, and the textile industries. There is still room for improvement though. Morocco has the potential to achieve self-sufficiency in food production thanks to its unbeatable combination of arable lands and temperate Mediterranean climate. They have however not achieved this yet as they have to deal with several issues such as drought which occurs in the country once every few years.
Key Exports
Citrus fruits
Wines
Fertilizers
Canned Fish including Tuna and Sardine
Vegetables
Textiles and Clothes
Key Imports
Crude Oil
Food commodities such as grain and flour
Industrial equipment
Major Tourist Attractions in Morocco
The country touts itself as a cheap, exotic, and yet safe place for visitors to explore. Some of its notable spots include:
The Bahia Palace
Jardin Majorelle Exotic Gardens
Hassan II Mosque
The Roman Ruins At Volubilis
The high Atlas Mountains
The Draa Valley
4. Algeria ($178 Billion)
Currency – Algerian Dinar
GDP per capita – $3,948
Gross National Income – $170.72 Billion
GNI per capita – $3970
No country in the world escaped the harsh economic effects of the covid-19 pandemic but that of Algeria was quite severe. This is due to the country's failure to diversify its economy when it had the chance. Once upon a time, the Algerian economy was heavily reliant on proceeds from agriculture. However, following the discovery of oil in the early 60s, the country turned its sole focus to the exportation of hydrocarbons such as petroleum and natural gas. Successive governments pledged to move the economy away from its heavy reliance on hydrocarbons but that promise was never really fulfilled and so when the covid-19 pandemic struck in 2020, the country felt massive shock. The shutdown in transportation and other energy-driven sectors meant that demand for crude fell, and with it, the price per barrel. This negatively impacted the country's revenue sources leading to currency depreciation, inflation, and negative growth. Sectors such as services, freight, and the construction sector were also paralyzed leading to massive unemployment. The country is now on a keg of gunpowder as many have warned that failure to take drastic measures to address the situation may result in riots and religious extremism.
Key Exports
Petroleum and Natural Gas Products
Phosphates
Vegetables
Dates
Tobacco
Leather Goods.
Key Imports
Consumer goods
Industrial Equipment
Foodstuffs
Major Tourist Attractions in Algeria
If you are looking for a place that is rich with history, then Algeria is perfect for you. The country boasts of several UNESCO world heritage sites including:
Tipasa (a Phoenician and later Roman town)
Djemila and Timgad (ruins of Roman civilization)
M'Zad Limestone Valley
Tassili n'Ajjer Mountain Range
3. Egypt ($280 Billion)
Currency – Egyptian Pound
GDP per capita – $3,020
Gross National Income – $270.17 billion
GNI per capita – $2,690
Another North African state that makes it to the list of the ten richest countries in Africa by GDP is Egypt. This beacon of ancient civilization boasts of one of the truly diversified economies on the continent and draws its revenue from several sources such as agriculture, media, petroleum, natural gas, and tourism. With regards to petroleum and natural gas products, Egypt has a developed energy market comprising of coal, oil, natural gas, and hydropower. Substantial coal is mined in the north-east Sinai region while oil and gas are produced in the western desert regions of the Gulf of Suez and the Nile Delta. When it comes to media, Egypt's music, literature, and cinema are popular in the Arab world and beyond. Tourism is also another major revenue earner for the country thanks to its renowned heritage. It is estimated that about 13.6 million tourists visited the country in 2019, generating $12.270 billion in the process. When it comes to agriculture, Egypt's success is a result of hard work rather than luck. 96% of the country's total land area is desert while the remaining 3% is fertile land. Of course, no matter how rich and fertile that 3% is, it cannot meet the needs of the population not to talk of exporting. This motivated the country to embark on a massive irrigation project. They invested in canals, drains, dams, water pumps, and barrages, and the effort has paid off. They have been able to reclaim large tracts of desert land. The country also produces enough yield for export and agriculture now employs about ¼ of the total labor force
Key Exports
Cotton (raw and yarn)
Agricultural products such as rice, onions, garlic, and citrus fruit
Petrol and petroleum products
Key Imports
Raw materials
Mineral and chemical products
Machinery and electrical apparatuses
Transport equipment
Major Tourist Attractions in Egypt
Egypt is one of the most favored tourist destinations in the world thanks to its array of rich historical sites such as:
The Giza Necropolis
The Gulf of Aqaba Beaches
Valley of the Kings
Great Sphinx of Giza
Karna Temple Ruins
Abu Simbel Temples
2. South Africa ($350 billion)
Currency – Rand
GDP per capita – $6,001
Gross National Income – $353.53 billion
GNI per capita – $6,040
South Africa may have had a chequered past but it has largely overcome this to become one of the richest countries in Africa. Even though the country still grapples with economic disparities as well as sporadic racial tensions, it has made great strides and is now classified as a newly industrialized country by the World Bank. Part of what has fueled this achievement is its manufacturing and agricultural sectors. Another big contributor to South Africa's GDP is mineral resources. The rainbow national is the world's largest producer of gold and has several mining companies that employ a significant portion of the labor force. Other minerals that the country exploits profitably include diamonds as well as coal which is used for electricity supply. The latter has fetched the country criticism as many argue that it contributes to climate change which is affecting several parts of the world. South Africa is one of the highest emitters of greenhouse gasses in the world but it has pledged to move away from coal and focus on renewable sources of energy. They have also committed to the 2015 Paris Climate Accord as well. The country's president has however made it clear that cutting down on emissions would be balanced with the overriding priority of eliminating poverty and eradicating inequality.
Key Exports
Gold
Diamond
Base Metals
Agricultural Goods Including Meat, Fish, and Fruits
Military Equipment
Coal
Key Imports
Chemicals
Chemical products
Motor vehicles
Major Tourist Attractions in South Africa
Just like Egypt, South Africa is another country that is a favorite for tourists. Major attractions include:
Kruger National Park
Cape of Good Hope
Robben Island
Boulders Beach
Victoria and Alfred Waterfront
1. Nigeria ($410 billion)
Currency – Naira
GDP per capita – $2,230
Gross National Income – $407.93 billion
GNI per capita – $2,030
Nigeria may be the richest country in Africa by GDP but it still has a lot of untapped potentials which if utilized would enable it to become the giant of Africa indeed. Prior to the discovery of oil in the country in the 60s, its economy largely depended on agriculture, including cash crops such as peanut, palm oil, and cocoa, and did quite well. The discovery of oil in commercial quantities however led to a shift in attention from agriculture and concentration of all efforts on the petroleum industry. This reality subsists to date and petroleum now accounts for about 40% of the country's GDP. While it is a substantial revenue earner, it leaves the country's economy at the mercy of the unpredictable international oil market. Anything that happens in that market affects the economy often leading to recessions as well as other negative indices. Another industry that has suffered neglect as a result of the focus on petroleum is the mining industry. Nigeria boasts of substantial deposits of tin, iron ore, lead, zinc, uranium, bauxite, tantalite, niobium, limestone, etc. but this has been largely ignored and clandestine private miners now have a field day with them. It is not all doom and gloom for the country though. The technology sector is doing quite well with a thriving tech ecosystem which has led to several startups such as Paystack and Interswitch (online payment platforms) and Bolt (ride-hailing app). Another thing that brings much hope to Nigeria is that it boasts of a youthful population that can drive the economy.
Key Exports
Crude oil
Cocoa beans
Rubber
Key Imports
Machinery
Transport equipment
Textiles
Chemicals
Foods
Consumer goods
Major Tourist Attractions in Nigeria
Tourism is another underutilize sector of the Nigerian economy. Nevertheless, the country boasts of attractions such as:
Ankara Game Reserve
Lekki Conservation Center
Zuma Rock
Tarkwa Bay Beach
Obudu Mountain Resort
Coconut Beach
Did You Know: Of the entities doing business in Africa, companies that are based in Africa or local African offices of international companies
report larger increases in revenue and profitability
than their internationally-based or located peers.
Did you also know that African foreign direct investment in Africa nearly tripled from 2006 to 2016
10 Richest African Countries with the Highest GDP
1. Nigeria – $410 billion
2. South Africa – $350 billion
3. Egypt – $280 billion
4. Algeria – $178 billion
5. Morocco – $120 billion
6. Angola – $100 billion
7. Ethiopia – $94 billion
8. Kenya – $89 billion
9. Ghana -$66 billion
10. Tanzania – $59 billion