Teri Hatcher has been many things over the years: an NFL cheerleader, a singer, a Youtuber, a writer, and an actress. Back in the 90s, she was practically a sex symbol thanks to her immense beauty and curvaceous figure. The brunette actress built an impressive career for herself in Hollywood, starring in all kinds of movies and television shows such as the James Bond film Tomorrow Never Dies, Lois and Clark: The New Adventures of Superman, Seinfeld, Jane by Design, Planes and Planes: Fire and Rescue, Spy Kids, and Desperate Housewives. With the numerous roles she has been able to land as an actress, Teri Hatcher's net worth is quite robust.
Alongside her acting talents, Teri is beloved for her down to earth nature as many fans find it easy to relate to her. She is one of the few celebrities who have chucked plastic surgery and other medical procedures in favor of natural beauty and aging gracefully. Teri also lends her voice and resources to various causes and charitable efforts, especially those focused on helping the homeless. Here is all you need to know about Teri Hatcher's net worth, her decades-long career, and the reason she is such a big deal.
Teri Hatcher's Background Details
Born Teri Lynn Hatcher on the 8th of December 1964, in Palo Alto, California, the actress had a pretty comfortable upbringing. Her father, Owen Walker Hatcher was an electrical engineer and nuclear physicist, while Esther Hatcher, her mother worked as a computer programmer for Lockheed Martin.
Growing up, Teri loved to partake in activities like dancing and fishing. She took ballet classes at the San Juan School of Dance. She attended Sunnyvale Middle School and Fremont High School where she served on the cheerleading team and was very popular amongst her mates. Moving on, she enrolled at De Anza College, California to pursue a degree in mathematics and engineering. However, she dropped out in the middle of her third year to focus on acting.
Teri was also a student at the American Conservatory Theater. When she turned 20, she joined the Gold Rush, the cheerleading team behind the San Francisco 49ers.
The Main Reason She Is Famous
The main reason Hatcher is famous goes well beyond her acting career alone which began quite by accident. While in college, Teri had accompanied a friend to an audition for the show The Love Boat, but she caught the eye of the casting crew and they gave her the role of Amy, a dancing mermaid. She appeared on the show from 1985 to 1986, after which she landed other roles in MacGyver, Karen's Song, and Capitol.
A string of guest appearances followed in TV series like Star Trek: The Next Generation, Night Court, Tales from the Crypt, Summer Playhouse, Murphy Brown, L.A. Law, The Exile, and Quantum Leap. Teri got her big-screen debut in the movie The Big Picture, which led to more significant roles in other films including Tomorrow Never Dies, Madness in the Method, Soapdish, 2 Days in the Valley, Sundown, Coraline, Tango & Cash, Dead Girl, and Fever.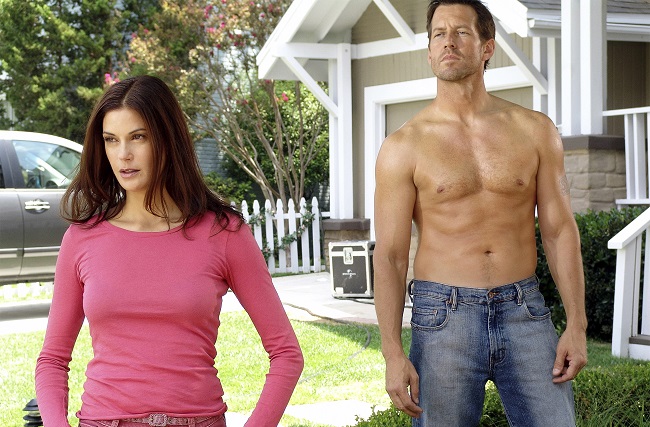 While her roles in these films and TV shows helped create a great amount of buzz around Teri Hatcher, the main reason she is famous is because of her part in the beloved drama series Desperate Housewives in which she plays Susan Meyer. Teri picked up several accolades and honors for her work on the series including a Primetime Emmy Award nomination, three Screen Actors Guild Awards, and a Golden Globe Award.
See Also: Christel Khalil, Stephen Hensley's Ex-Wife: Meet Her Son And Parents
What Is Teri Hatcher's Net Worth?
As of 2019, Teri Hatcher's net worth is estimated to be $50 million. This figure is not surprising considering her career has spanned nearly four decades during which she was able to land various coveted roles that rewarded her with big bucks.
The bulk of Teri Hatcher's net worth comes from the salary she earned for starring in Desperate Housewives. In the beginning, she pulled in $375,000 per episode on the show, which was then increased to $400,000. After another negotiation in the final season of the series, Teri's salary was given another boost so she earned $440,000 per episode. The actress has also secured a couple of endorsement deals which have helped to fatten her bank account.