A businesswoman with strong roots in car racing, Teresa Earnhardt sprung to the limelight following her marriage to a NASCAR legend. She is better known as the woman in whose arms Dale Earnhardt found love for the third time. Teresa and Dale's union was quite remarkable because it became the seven-time NASCAR Cup champion's longest marital commitment until his tragic demise in 2001. Find out lesser-known facts about Dale Earnhardt's widow and the businesswoman who is now devoted to keeping her late husband's legacy alive.
Early Life of Dale Earnhardt's Widow
A North Carolina native, Teresa Houston was welcomed into an affluent family on October 29, 1958. She was raised in her hometown and had a decent upbringing as her father, Hal Houston was a successful businessman and a car racing enthusiast. There is little or nothing known about Teresa's mom Betty Houston who lived mostly low profile. It is also uncertain if Teresa is an only child or has siblings.
Teresa was a very active and athletic student during her high school days at Bunker Hill High, North Carolina. She played various sports, including basketball and was on the school's team. Though the name of the tertiary institution she attended has not been disclosed, it is common knowledge that Earnhardt is a college graduate with a specialization in commercial art and interior design.
Building the Dale Earnhardt, Inc. Legacy
As a co-founder of Dale Earnhardt, Inc. (DEI), a NASCAR organization, Teresa served in the capacity of a leader during the 1998, 1999, 2004 and 2005 Busch Series championships. She also repeated the role in 1996 and 1998 on the platform of Craftsman Truck Series. She founded DEI with her husband in 1998 and has recorded many successes under the organization.
Unfortunately, what would have been a happy moment for Teresa's who clinched her debut win as a team owner at the 2001 Daytona 500 turned grim after her husband was killed in a crash when the race was about to end. Teresa already secured her first win after Michael Waltrip drove the #15 Chevrolet to victory at the 2001 race. However, her husband's death didn't stop DEI from running the various activities they were involved in, although it wasn't long before things fell apart.
Things began to take a downturn when in 2008, Teresa's stepson Dale Earnhardt Jr. left the Dale Earnhardt Inc. due to failure to reach an agreement on his stand in the company. His exit prompted big sponsors like Budweiser and the United States Army to pull their sponsorships for the company. This ultimately led to a merger with Chip Ganassi Racing. The merger which took place in November 2008 rebranded the company name to Earnhardt Ganassi Racing. They won the 2010 Daytona 500 but in 2014, Ganassi bought over the company, making him the sole owner while Teresa went back to Dale Earnhardt Inc and other Earnhardt establishments.
Teresa Earnhardt's Family Life with Dale Earnhardt
There is a dearth of information about Teresa and Dale Earnhardt's romance from the outset. However, it is no secret that she is the NASCAR legend's third and last wife. The couple exchanged marital vows on November 14, 1982. Their marriage was Dale's longest as they remained together as man and wife until the NASCAR driver tragically passed away in February 2001. Dale Earnhardt died in a crash on the final lap of the Daytona 500, at Daytona International Speedway.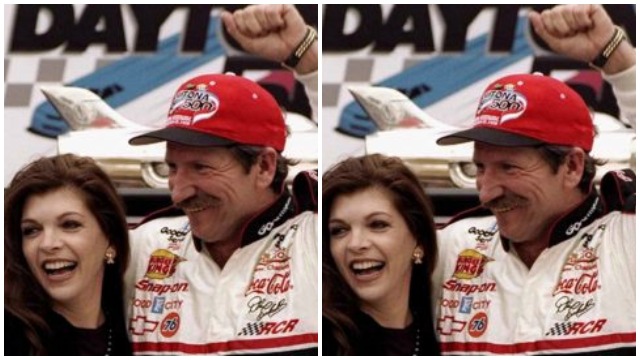 Prior to Dale Earnhardt, there are no records of Teresa Earnhardt's dating history. On the other hand, her famous husband had two failed marriages before Teresa. Dale Earnhardt's first wife is Latane Brown. The erstwhile couple who tied the knot in 1968 were married for just two years before their eventual split in 1970.
The NASCAR legend soon moved on and found love in the arms of Brenda Lorraine Jackson, who was the daughter of NASCAR fabricator, Robert Gee. Interestingly, Brenda's father built cars for various racers and one of his clients was his son-in-law, Dale. They exchanged nuptial vows in the year 1971 but like his previous marriage, the union was also short-lived and lasted for only six years. The couple officially parted ways in the year 1977.
While Brenda moved on and remarried Willie Jackson, a Norfolk firefighter, Dale also found love in the arms of Teresa Houston. Unfortunately, in April 2019, Brenda Jackson passed on following a long battle with cancer. She was aged 65.
Who are Teresa's Children?
Teresa and Dale Earnhardt's union produced a daughter, Taylor Nicole, who was born in 1988. Through her only daughter, Teresa is a grandmother to Sage, Taylor Nicole's daughter who has a special spot on their social accounts.
Teresa Earnhardt was also a stepmother to Dale's children from his previous marriages. The late NASCAR driver and his first wife, Latane Brown had a son, Kerry. His second marriage with Brenda Jackson also produced two children – Kelley King and Ralph Dale Earnhardt Jr.
Teresa Earnhardt's biological daughter, Taylor is the only Earnhardt child who is not involved in auto racing. She is a professional rodeo competitor and dedicates herself to charitable causes with the Dale Earnhardt Foundation, a non-profit organization devoted to helping children, as well as wildlife preservation, among other causes. Taylor Earnhardt is married to Brandon Samuel Putnam, who owns a Charlotte-based grading and trucking company called Hi Tech Inc.
Teresa Earnhardt's stepchildren followed in the footsteps of their father. Kerry Earnhardt is a retired NASCAR driver who helps oversee his son, Jeffrey Earnhardt's racing career. Dale Jr. who drives for Hendrick Motorsports is one of NASCAR's most popular drivers. Kelley Earnhardt Miller is best known as the co-owner and general manager of JR Motorsports alongside her mother Brenda Jackson.
See Also: Everything About Kasey Kahne's Girlfriend – Samantha Sheets
Teresa Endeavors After Her Husband's Passing 
In her prime years, Teresa Earnhardt was more than a celebrity spouse but also a successful businesswoman. She was her late husband's business partner and continued to run his company Dale Earnhardt, Inc. (DEI). Although Dale initially had plans of leaving DEI for his son, Dale Earnhardt Jr., his unexpected demise eventually left Teresa at the helm of affairs. The situation caused a strained relationship between her and her stepson Dale Earnhardt Jr. During its heydays, DEI was one of the more dominant teams in NASCAR. However, in November 2008, DEI merged with Chip Ganassi Racing to form Earnhardt Ganassi Racing.
Teresa Earnhardt now mostly devotes her time to the Dale Earnhardt Foundation which is dedicated to keeping her late husband's legacy alive.