Without any doubt, it is a truly beautiful thing to see two popular celebrities love each other. Having won massive followers and admirers, celebrities who are in love with each other apparently pull a lot of attention to themselves as fans watch carefully to see how their idols will co-exist with one another as romantic partners. Some times, these celebrities are called 'power couples', especially if they are both very famous persons who command a lot of influence in their various fields of endeavor. However, it is on record that many celebrity couples do not last long together in marriage. In fact, a long list of examples abounds if one decides to search for divorced celebrity couples. Over the years, many celebrities have left their fans absolutely devastated when news of their split emerged. One of such celebrity couples who made some waves with their relationship and divorce is Téa Leoni and David Duchovny.
Téa and David are both American movie stars who fell in love with each other, dated and tied the knot as husband and wife. They lived for many years together as man and wife until the whirlwind of life tore them apart. But how did they met in the first place and what led to the eventual divorce? Could they have saved their marriage if they tried harder; did they have any kids while their marriage lasted? We will let you know about all of these. Just read on…
Background Details of Téa Leoni and David Duchovny
Téa Leoni whose real name is Elizabeth Téa Pantaleoni is a fine American actress who has been hailed as one of the truly talented actresses of her generation. She was born on the 25th day of the month of February in the year 1966; her place of birth was in New York City. It is noteworthy that apart from being an actress, she is also a producer and is renowned for her versatility onscreen. Having kick-started her acting career since the late '80s, she is considered a veteran who has contributed a lot to Hollywood.
The actress is now best known for her portrayal of Julie Mott in Bad Boys, an American buddy cop action film which made a lot of waves in 1995. She is also known for her work on The Naked Truth, a sitcom in which she played the role of Nora Wilde across 55 episodes from 1995 to 1998. Leoni has also starred in many other high-profile movies and TV series, bagging award nominations and winning some. In the process, she has raked in a lot of money and has become very popular around the USA and beyond.
On the other hand, David Duchovny is also an American movie star who has achieved a lot of fame around the USA and abroad. The famous actor was born on the 7th of August 1960. Apparently, David is a multi-talented man; he is not just an actor but is also a film producer, writer, novelist, singer-songwriter, and director. Having also kick-started his acting career since the late '80s, the actor is a veteran who commands lots of respect for his works on the American movie scene.
As an actor, he is now best known for his portrayal of Fox Mulder, an FBI agent on The X-Files, an American science fiction drama TV series. He is also known for his work on Californication, a comedy-drama TV series in which he played the role of Hank Moody, a writer. Over the years, he has starred in many more movies and series, winning so many awards including two Golden Globed
How Did Téa Leoni and David Duchovny Meet?
Téa Leoni and David Duchovny met during the budding stages of their stunning acting careers in 1997. According to reports, the former couple met while they were both auditioning for the same guest spot on The Tonight Show, a popular American talk show. Sources say they first met through a pre-interview dinner which was organized by The Tonight Show. After this meeting, Téa and David picked interest in each other and got talking. Soon, they kick-started their relationship.
The couple did not make their romance a hidden thing as they were often seen together in public places such as the carpet events and at public stores where they were often seen holding hands and displaying other forms of affection openly. From what we gathered, they courted for about eight weeks during which they publicly showered each other with immense love and affection, charming fans with their romance.
Finally, Téa Leoni and David Duchovny tied the knot as husband and wife on May 13, 1997. Their wedding ceremony held inside the garden of the Grace Church School in the city of New York and was very private. In fact, the event was so private that it was only attended by very few people including close friends and some family members. Some of the people resent at the wedding included Téa Leoni's parents and siblings. David's mother and siblings were also present to witness the event; his brother Daniel Duchovny was the best man.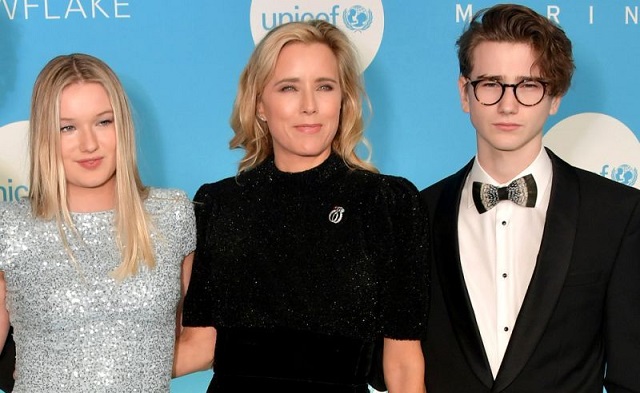 The marriage between Leoni and Duchovny produced two children; their first child, a girl called Madelaine West Duchovny was born on April 24, 1999. A few years later, they welcomed their second child, this time a son they named Kyd Miller Duchovny. He was born on June 15, 2002. During the marriage, the family lived at the Upper East Side, a neighborhood in the borough of Manhattan in New York City.
What Led To Their Divorce After 17 Years?
Téa Leoni and David Duchovny remained married and lived as a happy celebrity couple for many years, earning the deep admiration of fans. While they were married, fans often hailed their union as one of the true examples of what a Hollywood marriage should look like. This was mainly because both movie stars were deemed very respectable and also very homely.
However, in 2008, several years after their wedding day, the couple started experiencing problems and their union eventually collapsed like a loose pack of cards. On the 15th day of October in 2008, the couple issued a statement through their individual lawyers that they had separated. In fact, the statement revealed that they had even separated several months before the announcement was made. This announcement stunned their many fans who initially thought the coupe was living very happily together.
The main reason for the separation of the couple was attributed to David Duchovny's much-publicized sex addiction. The actor was reported to be a sex addict who found it really hard to control his urge for sex. As a matter of fact, on the 28th of August 2008, some months before their separation was revealed, David had announced to his many fans and admirers that he had checked himself into a rehabilitation facility for treating sex addiction.
As the story goes, the actor's addiction caused a serious strain on his relationship with his wife and children. Many tabloid reports claimed that David was cheating on his wife with different women to satisfy his sex addiction. However, this has not been proven. At first, Téa Leoni was willing to stay in the marriage and help her husband overcome his addiction. Reports even have it that it was Téa who made him check into the rehabilitation facility. Sources revealed that she gave him an ultimatum to either get treated or get a divorce so he sought treatment. But then, this was not enough as the couple separated after some time.
Nonetheless, soon after the news of their separation emerged, another news emerged that the couple had reconciled. Téa Leoni and David Duchovny actually reconciled publicly and resolved to make their marriage work. After their reconciliation, they were seen in public many times and seemed like the perfect couple they were before. They were hailed for their tolerance for each other by their many fans.
Read Also: Britney Spears' Net Worth and Spending Habits: How Much Is She Worth Today?
Sadly, despite their renewed love for each other, the couple could not sustain their romance as they split again in 2011. A report by CNN on 29th June 2011 confirmed that the couple had separated for the second time years after their reconciliation. Initially, fans thought they may have divorced, but in 2012, David Duchovny explained that he was still married to Téa Leoni even though they were separated. Eventually, Téa officially filed for divorce from her husband in June 2014. Their divorce was finalized by August the same year as the couple agreed to settlement terms, ending their union after 17 years of marriage.
It is noteworthy that despite their divorce, Téa Leoni and David Duchovny are still friends and have often been seen together having good times during their family reunion with their kids. In 2018, the two were spotted enjoying a jet ski ride during a family holiday in Barbados. Photos of the former couple emerged on tabloids showing them having a great time.