Age/Date of Birth:

December 13, 1989
Height:

5 feet, 9¼" (176 cm)
Ethnicity/Race:

White
Nationality:
American
Wife or Girlfriend:

Joe Alwin
Parents:
Father: Scott Kingsley Swift
Mother: Andrea Finlay
Net Worth:
$400 million
In case you don't know much about her, Taylor Swift is an American singer-songwriter who is famous for telling personal stories about her love life and exes through her songs. The award-winning artist has since revealed that most of her songs refer to her real-life experiences.
Taylor Swift was born on December 13, 1989, and she grew up in Wyoming, Pennsylvania before moving to Nashville, Tennessee at the age of 14. It was in Tennessee that Taylor began her career in music after signing with Big Machine Records. During this time also, the then-budding singer earned popularity as the youngest songwriter working with Sony/ATV Music house.
In 2006, Taylor became more famous after releasing her self-entitled album. Her third single entitled "Our song" won her an award as the youngest artist to write as well as perform the best song on the country songs chart. At just 19 years of age, she won the 2008 Grammy award for the Best New Artist. All this to say that Taylor Swift has had a very successful professional life.
Though she continues to find success professionally, she has not had the same measure of success in her personal life and of course, this caught the interest of fans and the media alike. Taylor's love life is almost as popular as her career and though she has had her ups and downs, the American musician has never given up on the idea of finding love.
Dissecting Her Love Life And Past Relationships
Joe Jonas – July to October 2008
Taylor Swift was in a relationship with her fellow singer-songwriter Joseph Adam Jonas (popularly known as Joe Jonas) between July and October 2008. Going by publicly available records, Jonas, who is said to have inspired the Swift songs Forever Always and Last Kiss, is Taylor Swift's first love. Thus, Joe merits the first slot herein on this list of Taylor Swift's exes. Jonas is four months older than Swift, having been born on August 15, 1989.
Joe Jonas came into prominence as a member of the famous pop-rock band Jonas Brothers which he formed with his brothers Kevin and Nick. They became popular through their association with the Disney Channel TV network.
Lucas Till – March to April 2009
Taylor Swift dated the actor Lucas Daniel Till for about a month in 2009. Taylor didn't write any song about Lucas and he confirmed that he broke up with her because he prefers her as just a friend than a lover.
Born on August 10, 1990, Lucas is about nine months younger than his ex-girlfriend Taylor. As an actor, Lucas Till is noted for having played significant roles in such screen projects as the Fox medical drama House, M.D., the 2013 psychological thriller Stoker, the 2008 zombie comedy Dance of the Dead, the 2009 American teen musical Hannah Montana: The Movie, and the 2016 action comedy film Monster Trucks.
Taylor Lautner – August to December 2009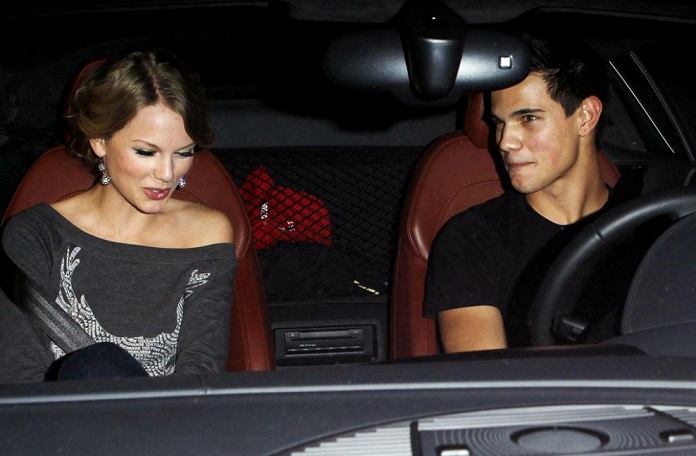 The next on the list of her famous exes is Taylor Swift's namesake, the actor and model – Taylor Daniel Lautner. The two were together for the last four months of 2009. Thus, it was Lautner who inspired Swift's song Back to December.
Born on February 11, 1992, Lautner is about three years younger than his namesake and ex-lover. He starred as Jacob black in the highly-grossing romance series The Twilight Saga. He has also played minor roles in hit projects like the FOX sitcom – The Bernie Mac Show, Scream Queens, and a voice role in Nickelodeon's animated action-adventure series Danny Phantom, among others.
John Mayer – December 2009 to February 2010
After her relationship with Taylor Lautner, she was seen with the far older John Mayer who inspired her song Dear John. Mayer would pass as the first of Swift's exes who was up to a year older than her when the relationship took off. He was actually twelve years older. In Dear John, Taylor revealed that she had expected better treatment from an older lover but it never happened.
Mayer whose career kicked off in 1998, is a proud winner of seven Grammys from 19 nominations.
Cory Monteith – April to May 2010
The late Canadian singer and actor Cory Alan Michael Monteith is another name on the list of Taylor Swift's exes. However, although this is very much in the media and the rumor mill, it appears it was just a passing fling since neither of the singers was ever explicit about the said relationship.
Cory, who died of a toxic combination of heroin and alcohol in July 2013, is best remembered for portraying 'Finn Hudson' in FOX's musical comedy-drama Glee.
Jake Gyllenhaal – October 2010 to January 2011
Yes, Taylor Swift also dated Jacob Benjamin Gyllenhaal, better known as Jake Gyllenhaal. An actor and a producer, Jake is the son of the film director Stephen Gyllenhaal and the screenwriter Naomi Foner. Reports have it that it was Jake who inspired We Are Never Ever Getting Back Together and All Too Well by Taylor Swift. She has also made comments to the effect that Jake was an unreliable partner. So, it appears that her relationship with the actor was a particularly negative one.
Born on the 19th of December 1980, Jake set sail professionally as a kid actor at the age of 11 with leverage from his parents' connections in the industry. Today, he has an impressive filmography that cuts across films, TV, theater, and music videos. He also has a couple of production credits.
Eddie Redmayne – October 2011 to January 2012
The English actor, Edward John David Redmayne OBE is another star rumored to have had a brief relationship with the iconic singer Taylor Swift. But, there isn't enough evidence to be absolutely sure about this. We can't also make out any song the story-telling singer may have dropped in this regard.
Redmayne is probably most famous for starring in the stage production of John Logan's play Red between 2009 and 2010. Another role that garnered him fame is his role as 'Colin Clark' in the 2011 biographical drama film My Week With Marilyn.
Zac Efron – February to March 2012
Between February and March 2012, while Taylor Swift and Zac Efron were promoting the Dr. Seuss movie The Lorax in which they both starred in, people began to see them in affectionate poses which led fans and the media to speculate about the nature of their relationship. Well, as the speculation swelled around them, they both denied it; as a result, Zac Efron cannot officially be counted when talking about Taylor Swift's exes.
The California-born actor-singer, Zac Efron has been making waves since 2002, growing an impressive filmography; as a result, he is also heavily nominated and awarded.
Conor Kennedy – July to October 2012
One of the most remembered romantic moments in the life of Taylor Swift seems to be the one she had with Conor Richard Kennedy. Conor may not have achieved any notable personal clout in any field, but his unique charm that attracted the singer may not be unconnected to the fact that he comes from the famous Irish-American political family, the Kennedys. He is the son of the famous environmental lawyer and radio host, Robert Kennedy Jr. Swift and Kennedy were said to have broken up due to long-distance issues.
Harry Styles – December 2012 to January 2013
Harry Edward Styles is yet another English singer who has certainly made this special list of Taylor Swift's past relationships. Although the media began to follow their relationship from December 2012 when they were first spotted together, their relationship had already been in the rumor mill as far back as April of the same year. Then, as if this was an indication that the media might have a hand in splitting celebs in love, just a month into the earliest media reports of Taylor Swift being with Styles, a quarrel broke out between the couple, causing their eventual breakup the following month.
Harry was a member of the famous boy band One Direction. His career with the band took off in 2010 after he auditioned for X-Factor.
Calvin Harris – March 2015 to July 2016
There's yet another Brit on this list of Taylor Swift's exes. He is Calvin Harris, a Scottish disc jockey and singer. Taylor Swift is said to have met the Fly Eye Records owner at the Brit Awards of 2015 via a mutual friend. Today, they are said to have broken up because Calvin was jealous of her success.
Tom Hiddleston – June to September 2016
It appears that the singer, Taylor Swift, has a special place in her heart for British dates. Days before the world stopped seeing her with the Scottish DJ, Calvin Harris, following their breakup, Swift was seen dancing at the Met Gala with the serial award-winning English actor Tom Hiddleston. Then, after her breakup with Calvin, it became obvious that Taylor and Tom were dating as they were seen canoodling at a beach in Miami. A whirlwind romance followed and many people hoped it would take them to the altar when the news broke that they were visiting each other's parents and family members.
However, that promising romance fizzled out after four intense months. Many people think that it was Hiddleston who inspired Swift's song Getaway Car.
Taylor Swift's Current Boyfriend Seems Here To Stay
Having had her love life picked apart and analyzed – probably more than any other entertainment star alive – and having dated a string of high flyers, her current boyfriend is yet another British entertainer, the actor Joe Alwyn.
Young, bubbly, and handsome, Joe Alwyn is an actor who is known for his role in the critically acclaimed The Sense of an Ending, among others.
Born on February 21, 1991, in Crouch End, London, Joe Alwyn graduated from the National Youth Theatre, the University of Bristol, as well as London's Royal Central School of Speech and Drama.
According to trusted sources, Taylor Swift and Joe Alwyn have been dating since 2016, after her break up with Tom Hiddleston. The two are said to be very serious in their relationship, although they have done all they can to keep it as quiet and away from the media as possible.
Their relationship has continued to grow from year to year. In an effort to keep their relationship away from the media, Swift has often been seen in disguise when she goes to visit Joe in London. Their love is obviously still going strong even after many years – which is, well, unprecedented in the dating history of Taylor Swift. Unsurprisingly, and especially considering how long they've been together, there are rumors making the rounds that the two are getting married soon.
See Also: 7 Things You Didn't Know About Ed Sheeran and Taylor Swift's Friendship
Exploring Taylor Swift's Family Background
Beyond Taylor Swift's exes and personal relationships, fans are also curious about her family members. Taylor Swift's father, Scott Swift, was a financial advisor, born on March 5, 1952. He graduated from the University of Delaware in 1974 and went on to become a stockbroker, like his father and grandfather before him. He established The Swift Group, a financial advisory group that is part of Merrill Lynch.
Taylor Swift's mother, Andrea Gardner Swift (née Finlay), was a mutual fund marketing executive before she became a homemaker. Born on January 10, 1958, she has made appearances in some of Taylor's videos.
The singer's parents got married on February 20, 1988. They also have a son, Austin Swift, who happens to be an actor, and who is already finding his way in the limelight.
Although many do not know this, it was Taylor Swift's maternal grandmother, Majorie Finlay (nee Moehlenkamp), who inspired her to become a singer. Majorie who lived from 1928 to 2003 was an opera singer by profession. Majorie's husband (that is, Taylor Swift's maternal grandfather) Robert Bruce Finlay served in the US Army. Bruce's father and mother (that is Taylor Swift's maternal great-grandparents were named Lance George Finlay (1876 – 1951) and Eleanor Mayer respectively. The family was originally from the UK which might explain Taylor Swift's attraction for British partners.
Profile Summary
First Name:
Taylor
Last Name:
Swift
Also Known As:

Swifty, America's Sweetheart, Aly, Tails, T, Tayter Tot, TayTay, T-Swift, The Poet Laureate of Puberty, T-Fugly, T-Swizzle, Tay
Sex/Gender:

Female
Profession:

Singer, songwriter, and occasional actress

Famous For:
Her shinny guitars, and her second album, Fearless, released in 2008. She is also known worldwide as
one of the best-selling music artists of all time, the highest-earning female musician of the 2010s, as well as one of the most successful touring acts ever.

Colleges/Universities Attended:

Wyndcroft School, West Reading Elementary Center and Wyomissing Area Junior/Senior High School, Pennsylvania, USA. She also also attended Hendersonville High School in Tennessee, USA, and Aaron Academy.
Educational Qualifications:

Diploma
Religion:

Christianity


Birthday & Zodiac

Age/Date of Birth:

December 13, 1989
Zodiac Sign:
Sagittarius
Birth Place:

West Reading, Pennsylvania, U.S.
Nationality:
American
Ethnicity/Race:

White
Country of Residence:

United States of America
Physical Attributes

Height:

5' 9¼" (176 cm)
Weight:

69 kg (152 pounds)
Eye Colour:

Blue
Hair Color:

Blonde
Other Body Measurements:

Bust: 35, Waist: -26, Hips -35
Relationships

Marital Status:

Dating
Spouse/Partner:

Joe Alwin
Family and Relatives

Father:

Scott Kingsley Swift
Mother:
Andrea Finlay
Children:

None
Siblings:
Austin Swift (Brother)
Other Relatives:

Not Available
Net Worth
Estimated Net Worth:

$400 million
Salary:
Not available
Source of Wealth:

Music, endorsement deals, Merchandise sales.
Trivia Questions and Answers