One quick look at Taylor Russell would have you mistake her for popular singer, Rihanna. However, that facial resemblance is where the similarities between the two stars end. While the former is a rising actress who is greatly enhancing her status and personality in the entertainment industry through hard work and great dedication, the latter is a music powerhouse who has won several Grammys and has dropped many bestselling albums. Relationship wise, Riri has been involved in some high profile and sometimes controversial romances but Russell has largely deemphasized that part of her life in favor of her career, a career that can be traced back to her childhood.
How Old Is Taylor Russell?
The Hollywood starlet was born on July 18, 1994, and is currently 28 years old. She was born in Vancouver, Canada while her ethnicity is mixed, i.e. Caucasian and Black.
Taylor Russell's Biodata
Full Name: Taylor Russell
Other Names: Taylor Russell Canaday, Taylor McKenzie
Date of Birth: July 18, 1994
Age: 28 years old
Height: 5 feet 5 inches (1.65 m)
Weight: 55 kg (121 lbs)
Body Measurements: 32B-25-34 inches
Famous For: Lost In Space, Waves, and Escape Room
A Look At Her Mixed-Race Family Background
Taylor Russell hails from a family of five. Even though their names are not available, it is known that her mother is Caucasian while her father is black. It is also known that the actress is a middle child and has two brothers. Taylor's family moved about a lot during her childhood as their actor father kept on getting roles in far-flung rotations. The young girl, therefore, spent the first six years of her life in Vancouver before moving to the city of Toronto. In Toronto, she spent about three or four years before going back to Vancouver.
These movements had far-reaching implications on Taylor due to the different composition of each city. Vancouver was largely Caucasian and Taylor found herself being singled out for her curly hair and dark skin. Toronto, on the other hand, was largely mixed-race and black but the young girl still found herself being rejected because she was not black enough. All these resulted in identity issues for the actress and she is determined to contribute her own part towards driving the conversation.
Taylor Russell's Career Start in Canada
Taylor split her formative years between the Canadian cities of Vancouver and Toronto and fell in love with ballet as a child. She also loved watching movies as well but her primary passion remained ballet. She, therefore, took classes in that direction and aspired to become a ballerina. All those dreams, however, came crashing after she sustained some injuries to her knees.
Following this development, Taylor Russell started seeking other career interests and recalled her love for movies. She also remembered that she had a talent for memorizing and recalling lines and so, started taking acting courses. She eventually secured the services of an agent and made her debut with the bit part of Mean Girl #1 in the TV series, Emily Owens, M.D. in 2012. Following this debut, Taylor spent the next two years appearing in various Canadian productions including Blink and If I Had Wings. She subsequently moved out to L.A. in 2014 in search of better opportunities.
Becoming a Breakout Star in Hollywood
In Los Angeles, Taylor Russell landed minor parts in several movies and TV series including The Unauthorized Saved by the Bell Story, Pants on Fire, Strange Empire, Falling Skies, Before I Fall, and Suspension. She finally got a breakthrough role four years later and this was in the Netflix series, Lost in Space. Lost in Space revolves around a family of space colonists who land on an unknown planet after a crash. They, therefore, spend their time fighting off alien foes while plotting their journey back home. In the series, Taylor portrayed the role of eldest daughter-cum-medical doctor, Judy Robinson. Her performance propelled her to the limelight. It also opened up the door for other projects most notable of which is the 2019 drama, Waves.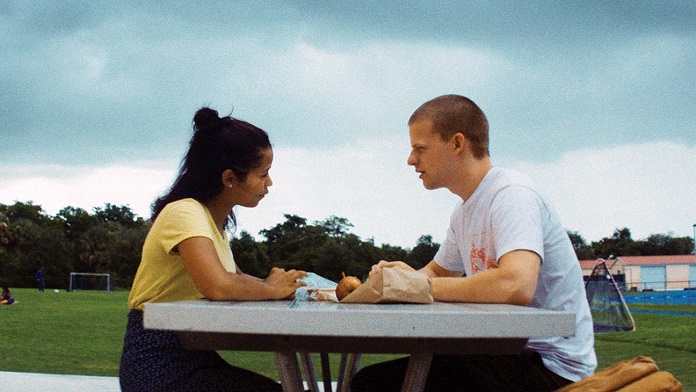 Waves revolve around an African-American family which is left reeling after their son, Tyler, is sentenced to prison for accidentally causing the death of his girlfriend. In the movie, Taylor portrayed the role of Emily, Tyler's younger sister who finds unlikely comfort in the arms of her boyfriend. Her performance fetched her critical praise. It also led to several awards including Gotham Independent Film Award for breakthrough actor, the virtuoso award at the Santa Barbara International Film Festival as well as a nomination for the Independent Spirit Film Award. The movie itself was also a critical and commercial success, grossing $2 million at the cinemas.
Here's How Taylor Found Love on Set
Russell is quite generous when it comes to talking about her work, however, when it comes to her love life, the Canadian native clamps down. There are no detailed accounts of her past relationships. It is possible that she may have dated in her teen years but that remains a subject of speculation. Meanwhile, Taylor is currently in a relationship with her Waves co-star, Lucas Hedges. Just like his girl, Hedges is another young lad who is making waves (pun intended) in Hollywood. Still, in his mid-twenties, he has featured in acclaimed movies such as Lady Bird and Manchester by the Sea. He has also nabbed several accolades including an Oscar nomination for best supporting actor.
Taylor and Hedges most presumably first met on the set of Waves. They then sparked dating rumors after they were spotted kissing at an NFL game in Madison Square Garden in December 2018. Since then, the couple has yet to formally acknowledge their romance but all evidence points to the fact that they are an item. For instance, they were spotted sitting together at the Gucci Cruise 2020 Fashion Show in Rome in May 2019. Russell also referred to his girlfriend, Taylor, during an interview with The Hollywood Reporter in 2019. Given all the above, it is quite obvious that this is a classy couple who are genuinely into each other and not interested in publicizing their love.
Asides Hedges, another great love of Taylor's are books. The actress is an avid reader and once started a book club on the set of Lost in Space. This, however, turned out to be a futile effort as she wound up being the only member in the club. Taylor has not let this discourage her in any bit but spends all her spare time reading. She can read as much as three books at the same time and this is because her mood varies with each period of the day. The actress might prefer to read a grounding text in the morning and then a fantasy in the afternoon. For night-time, she resorts to a book that can impact her sleep and thoughts during the night.