Fame caught up with Tavior Mowry at a very young age. Many anticipated this as he is a sibling to popular entertainers – Tia and Tamera Mowry, the famous television star twins and Tahj Mowry who has earned abundant public admiration as an actor and dancer. Nevertheless, it is imperative to point out that the major bulk of Tavior Mowry's popularity came from him being a former talented footballer who played for the University of California, Davis, as well as his works in the music industry.
A Sneak Peek Into Tavior Mowry's Celebrity Family
Tavior Mowry was born to ex-veteran parents Timothy and Darlene Mowry on the 5th of July 1993 in Fort Irwin, California, United States. He is the last child in a family of 6. Tavior has twin sisters Tia and Tamera Mowry and a brother Tahj Mowry. His parents are of the middle class and he was able to have access to most of his wishes during his childhood days as they lived a comfortable life. His family is said to have come from a mixed ethnic descent of English and Afro-Bahamian.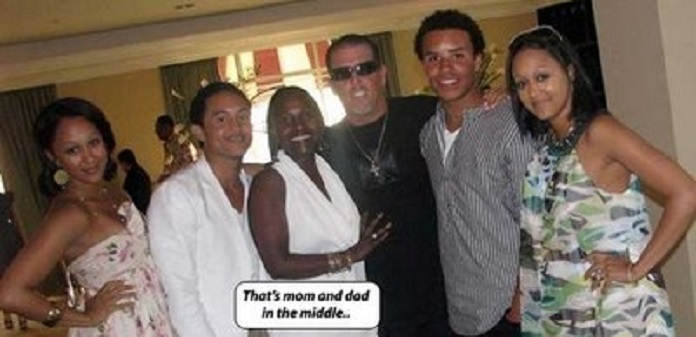 The former athlete grew up being surrounded by a family composed of celebrities. Consequently, people tend to wonder whether Tavior's stardom was just as a result of his famous family members rather than his talent as a former footballer and equally a music producer, as he was born into the world of already rising stars. His brother who is 7 years older than he is and his sisters who are 15 years older than him were already into the world of acting and pageantry before he was born and had already made a name for themselves and their family.
Although, prior to his birth, his family was already famous, now, the music composer added to his fame through his works in the entertainment industry. Below are more details about his parents and siblings.
Timothy and Darlene Mowry
Tavior's father Timothy Mowry was born on January 4th, 1957 in Miami, Florida United States. His mom, on the other hand, was born Darlene Renée Flowers in the Bahamas, United States on October 25th, 1956. The two met while attending high school in Miami and eventually became lovers. After completing their high school education, the lovebirds tied the knot in 1975.
Following their service in the United States Army, the two were stationed at Gelhausen, Germany after their marriage, as Timothy was a first sergeant while Darlene served as a drill sergeant. There in Germany, the couple welcomed their twin daughters, Tia and Tamera Mowry before moving to California, where their daughters began their careers in showbiz. Consequently, Darlene Mowry started working as their manager, while Tim served as a custody officer in Glendale police department during such time.
After staying married for 40 years the couple signed the divorce papers in the year 2015 and the reason for the split remains private till now. Subsequently, Tim began dating an Asian girl known as Nana, while Darlene has kept her love life on the low down. Beyond working as her kid's manager, Tavior Mowry's mom has also served as the producer of many TV films including Seventeen Again (2000), The Proof Point (2001), and Double Wedding (2010). The Mowry family still share a strong bond to date despite the divorce.
Tamera Mowry-Housley and Tia Mowry-Hardrict
Tavior Mowry's sisters, Tamera and Tia are gorgeous actresses and TV personalities who rose to prominence following their teen roles in Sister, Sister, Twitches and Twitches Too. The two were born in Gelhausen, West Germany on July 6th, 1978 and Tamera Mowry is two minutes older than her twin sister. They are graduates of Pepperdine University. They gained mainstream recognition in 2011 when they starred in a reality TV series, Tia & Tamera, that follows their lives. After airing on Style Network for three seasons, the reality show ended in 2013.
Their acting credits include True Colors (1992), Sister, Sister (1994-99), Detention (1999-2000), Seventeen Again (2000), Bratz (2005-06), The Game (2006-12, 2015), Double Wedding (2010), among many others. Currently, Tamera serves as a co-host of syndicated daytime talk show, The Real, a role she has been playing since 2013. While Tia has been starring as Cocoa McKella on TV series Family Reunion since 2019. The two received NAACP Image Awards for Outstanding Lead Actress in a Comedy Series for their roles in Sister, Sister, as well as Nickelodeon Kid's Choice Awards for their roles in the same ABC/WB sitcom.
Regarding their personal lives, Tia Mowry has been married to American actor and executive film producer, Cory Hardrict since April 2008. The two met on the set of Hollywood Horror and eventually got engaged on December 25th, 2006. Tia gave birth to her first child, a son named Cairo Tiahna Hardrict in June 2011, and later welcomed a daughter, Cree Hardrict in May 2018.
Tamera Mowry, on the other hand, exchanged vows with award-winning journalist, Adam Housley who serves as Fox News correspondent, on May 15th, 2011 after dating for close to six years. They are proud parents of two kids – a son named Aden John Tanner Housley (born in November 2012) and daughter, Ariah Talea Housley (born in July 2015).
Tahj Mowry
Tahj is an American singer and actor best known for his role as TJ in the TV series Smart Guy. He was born in Honolulu, Hawaii, the United States on May 17th, 1986, and is a graduate of Pepperdine University. He featured alongside his sisters in Sister, Sister, and Seventeen Again. Other of his acting roles include The Proof Point (2001), Kim Possible (2002-07), Desperate Housewives (2007), and Baby Daddy (2012-17).
As a music artist, Tavior Mowry's brother dropped his first single "Flirt" in April 2015 and four months later, he released a six-song Extended Play titled "Future Funk". He has gained several award nominations as a result of his amazing acting skills and they include Young Artist Awards, NAACP Image Awards, and Teen Choice Awards nominations.
How The Former Athlete Makes His Money
Although several sources have estimated that Tavior Mowry is worth between $1 million and $1.5 million, he hasn't made his present earnings public and his net worth is yet to be deduced. Nevertheless, Tavior ought to have accumulated an impressive fortune for himself through his collegiate football playing career and equally, his successful works as a music producer and composer.
He began his football career while attending Westlake high school. He was one of the best players on his school's football team and his outstanding performance of having rushed 3,278 yards, and done 43 touchdowns merited him the All-Marmonte League honoree twice. His good records gained him entrance into the University of California, where he attained a Bachelor's Degree in Sociology in the year 2015 and also, was on the football team.
Tavior was known to play on the offensive, at the position of the running back for the Golden Bears. He was his team's star player before his promising career and dream of becoming a professional American footballer was ruined by a career-ending injury. While at the University of California, the former athlete played only four games in the 2012-13 season as a result of an injury set back. However, he registered 17 carries, 15 rushing yards, and 87 all-purpose yards.
Read Also: Understanding Zaza Pachulia's Family Life And His New Role With Golden State Warriors
Then in the next season, Tavior stepped up his performance on the field, as he played in nine games and recorded 53 carries, 37 rushing yards, and 184 all-purpose yards. Afterward, the highly-skilled running back never played football again after sustaining a grievous injury. He, however, tried to earn a living by working as a wine salesperson in California, but later decided to ply his trade in music, following in the footsteps of his older siblings who have established themselves in the entertainment industry.
Tavior Mowry then enrolled in Recording Connection Institute, where he studied audio engineering. He was equally tutored by Zach Philips before kick-starting his career as a music producer and composer. Within his short stint in the music scene, Tavior has been associated with well-known music artists including Jessie Ware, Talib Kweli, and The Kooks. He, currently, formed a collaboration with Hyde Street Studios and often uploads his works to SoundCloud.
Asides working as a music producer, Tavior is an instrumentalist who can play the guitar, bass, piano very well. Undoubtedly, he has gathered substantial earnings from his works over the past years.