Every vlogger or YouTube fan would readily attest to the fact that it's really a big deal to churn out a video each day of the week. But so big a deal as it is, Tati Westbrook has consistently been doing so for over half a decade now. An American social media star, makeup artist, vlogger, and entrepreneur, Tati is best known for her YouTube channel Tati, formerly GlamLifeGuru. The gorgeous YouTuber first started as a Hollywood makeup artist before giving it up so she could focus on her social media career. Luckily enough, Tati quickly earned a massive breakthrough by simply sharing beauty tips and reviewing beauty care products on her YouTube channel.
Aside from her YouTube career, the beauty enthusiast is equally a wife and mother. Read on to learn more about Tati Westbrook's career and personal life, her net worth, earnings, and other interesting facts.
Tati Westbrook's Life Before Her Internet Fame
Born as Tatiana Aleksandra Krievins on the 14th of February 1982, Tati Westbrook knew she was made for the spotlight from a very young age. One of her parent's four daughters, Tati grew up alongside her sisters in Seattle, Washington City, United States; the same place she was born.
But coming from a middle-class family, and worse still, a broken home, Tati never got the opportunity to go to college and achieve her dream of becoming a famous professional. However, having a mother who worked as a talent manager, she was exposed to the stage from childhood. She started off as an actress and dancer, performing in several musicals, shows, and other social events. Tati also starred in the 1987 movie, Unsolved Mysteries.
At 13, a talent manager discovered Westbrook and took her to Los Angeles where she featured in numerous commercials. Growing up, however, Tati returned to her hometown of Seattle where she jumped from one job to another to make ends meet.
Westbrook's YouTube Breakthrough And Career Highlights
While moving from job to job, Tati gradually developed a passion for makeup and soon started getting some freelance jobs in the area. After a while, she decided on pursuing a career in makeup. For a start, she worked as a makeup artist in Hollywood before she decided to teach other women simple makeup tips via social media. In the wake of the aforementioned, Tati opened a YouTube channel called GlamLifeGuru in 2010.
On her channel, Tati mainly streams her makeup tutorials comprising beauty tips, trends, makeup skills and first impressions videos. At first, she never intended to join social media full-time but after a while, her popularity began to increase. As a result of that, she decided to resign from her other jobs which also included working as a stylist and image consultant in order to focus on her YouTube career.
In addition to makeup tutorials, Tati also reviews products for different companies and provides her fans with first-hand reviews on quality and pocket-friendly beauty care products. One interesting thing about Tati's reviews is that she often presents luxury products side by side their low-budget (drugstore) alternatives thus, carrying everyone along. Be it affordable or high-end, the makeup guru also ensures she makes unbiased reviews as well as recommends only products of good quality to her viewers.
Today, Tati Westbrook's channel has grown to become the most-viewed beauty YouTube channel in the globe, with close to 10 million subscribers (precisely 9.8m) as of 2020. So far, Tati has uploaded over a thousand YouTube videos which have altogether pulled up close to a billion and half views. Speaking in a March 2019 interview, Westbrook revealed her channel gets from 25 to 30 million views in a month!
Owing to her massive success, Tati Westbrook has landed endorsements deals with numerous notable beauty and fashion product companies. Her channel has also featured in several mainstream fashion magazines including Cosmopolitan, Glamour and Allure, among others. She has as well received several accolades including the Breakout Beauty Star of the Year and Allure Beauty Blogger of the Year awards.
How Tati Makes Her Money, And How Much She Is Worth Now
Since hitting success and stardom on YouTube, Tati Westbrook has become really glued; in fact, addicted – to both makeup and YouTube! Alongside her YouTube fame also comes massive financial gains which have earned the social media star an impressive estimated net worth of $6 million as of 2020. But how exactly does the beauty guru make her cash? We'll tell you right away!
Social Media Traffic
Tati Westbrook has indeed struck gold through the monetization of the daily traffic on her social media platforms. Her YouTube videos reportedly garner approximately 880,000 views per day, a number that generates a daily income of at least $1,600 based on a $2-$5 income for every 1000 monetized view. In addition to her YouTube channel, Tati also makes significant cash from her other social media accounts, namely: Instagram, Twitter, and Facebook whereon she also boasts millions of followers. The star's social media cash comes from ads, paid content, and several other business deals on the platforms.
Halo Beauty Vitamins and Tati Beauty
Considering the honesty and originality reputation she has earned among her fans, Tati Westbrook decided to give back with something quite rewarding. The makeup expert came up with the idea of creating a collection of hair, skin, and nail boosting vitamin supplements. She launched the line of organic beauty care supplements which she called Halo Beauty Vitamins in March 2018. Interestingly, Tati never raised capital to do so. She had enough money from YouTube to put the venture in place. While the brand has witnessed a significant level of success, is not yet known how much Tati earns from the business. In 2019, the social media influencer went ahead to launch her own beauty company called Tati Beauty which has since been doing tremendously well.
Acting/Screen Appearances
Westbrook's social media fame has also earned her numerous screen jobs which have all contributed to building her worth. The YouTuber has featured as a beauty correspondent in over a hundred episodes of Amazon's web series, Style Code Live. She has also worked as an actress in a number of films/TV series including Greek and Brides of Beverly Hills.
Brand Endorsement Deals
Tati Westbrook earns a great deal of cash from her endorsement deals with several big companies. Among the big names she has worked for are Urban Decay, Kylie Cosmetics, Nars, OFRA, Tarte, Chanel, and Too Faced. The expert beauty products reviewer also receives payments and sponsorship from the brands she evaluates and promotes on her social media pages.
Is Tati Westbrook Married?
Just as her blossoming YouTube career, Tati Westbrook is also successful in her love life. The social media star is happily married to a North Carolina native, James Alexander Westbrook. The pair initially met online. They, later on, met in person on  January 11, 2010, exactly two years before they became engaged (same day in 2012).
After their engagement, it took five more years before the couple walked down the aisle. Their wedding took place on their first meeting anniversary – January 11, 2017. The lovely event saw the couple's friends and family members as well as prominent celebrities such as James Charles and Nikki Philippi in attendance.
Just like Tati, James Westbrook is also into media business. James has taken up several media jobs including working as a cinematographer on movies such as White Awake, Rumble, and A Monster Called Charles, etc. Mr. Westbrook has also worked with entertainment companies and talent agencies such as Hollywood Entertainment Partners Inc. and Motion Pictures. Tati often takes to social media to gush about her husband, James.
Are Tati and James Westbrook Still Together?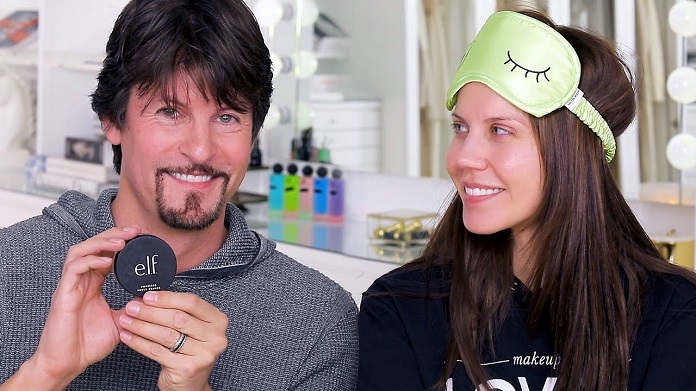 As of January 2020, Tati and James Westbrook have been married for three years and been together for a decade. The couple has been living together at their Los Angeles home in California. Tati however, announced a relocation to Seattle on twitter late in 2019. The tweet sparked speculations that she is breaking up from James. Mrs Westbrook however, trashed the separation rumors in another tweet, assuring curious fans that she made her Seattle move with her husband.
Among other challenges, Tati and Jame's relationship has faced the problem of infertility as the couple are yet to have children together. Unfortunately, Tati has endometriosis alongside some other fertility issues that are stress-related. The successful YouTuber told her viewers early in 2019 that she will be devoting the year to working on her health and trying to conceive. Indicating that she will make less YouTube videos in order to give herself some rest time, Tati revealed that the demands of her career has put so much strain on her health over the years. In accordance with her decision, the vlogger has since been posting two videos a week – on Mondays and Thursdays, as against five – one every weekday. The passionate internet star is, however, yet to share how much this step has improved her health.
Also Read: Markiplier Wiki, Girlfriend, Net Worth and Salary Brother, Is He Gay?
While waiting to have their own kids, the Westbrook home is not completely void of a child. James has a son, Taylor Westbrook from a previous relationship. Interestingly, Tati maintains a good relationship with her stepson and has featured him in several of her videos. She is also enjoying a love-filled life with her husband who has as well featured several times on her YouTube videos.