Age/Date of Birth:

27 years old (26 July 1995)
Height:

5 ft 6 in (1.68 m)
Ethnicity/Race:

African-American
Nationality:
American
Wife or Girlfriend:
N/A
Parents:
Mother: Tilwanda Newell
Father:
Net Worth:
Under Review
Are there Black Jews? That's one of the many exciting questions people have come to ask about Tarik Cohen since he was drafted by the Chicago Bears to play in the NLF. Several meanings have been attached to the phrase – Black Jews – over the years but it predominantly means Black people who are Jews and yes, there are Black Jews.
The Jewish community has become very diverse due to factors like intermarriage and adoptions. As such, several people of African heritage are also Jewish, like the famous Canadian rapper, Drake. Is the Chicago Bears running back one of such people; is Tarik Cohen Jewish?
An Inside Look At Tarik Cohen's Family Background
His Surname Is the Reason People Think He's Jewish

One of the most controversial issues about the young American football running back is the question about his heritage, his family, and his parents. The reason for the wide speculations about his identity centres on his surname – Cohen.
Tarik Cohen was born in Bunn, North Carolina but information about his parents are hard to come by. However, it has been authenticated that his mother's name is Tilwanda Newell.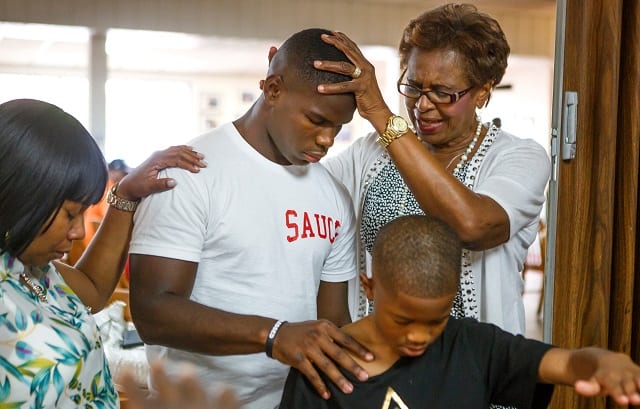 While Cohen is yet to reveal facts about his family history, his football team confirmed that he is not Jewish but an African-American and that they have no record of any Jewish player. If Tarik Cohen were to be a Jew, he would be a priest according to Jewish tradition because Cohen in Jew means a member of the priestly caste.
The NFL Star Was Raised By His Mother Tilwanda Newell
While this is yet to be authenticated, there are strong reasons to believe that the Bears star was raised by a single parent, his mother Tilwanda Newell. This is so because, in all the things people have come to learn about his family since his rise to fame, nothing has been learned about his father, not even the identity of the man.
All the tales about his upbringing have largely revolved around Tilwanda and then his siblings. For instance, it was reported that he lived with his aunt Milltrene Newell for two years when he was playing for Bunn High School in his hometown – Bunn, North Carolina. It happened that his mom had to relocate to Raleigh but Tarik was already a big part of the high school football team and his coaches didn't want him to leave.
If anything, the foregoing suggests that he never had a father to look up to. Also, the footballer has often talked about his mother, including nudging his fans to celebrate Tilwanda's birthday on Facebook. But he has never said anything about his father, at least to the best of our knowledge.
Tarik Has Three Brothers, Including a Twin
The NFL star isn't the only child of his mother; he has three brothers and one of them is his twin named Tyrell Cohen.
Tarik and Tyrell have a younger brother named Danta Norman and the three have an older brother named Dashawn Clayton.
Judging by their names, one can conclude that his twin is his only full-sibling, others are his half brothers. Tarik and Tyrell were very competitive when they were kids; they had to fight for everything: from tv remote to practically everything.
Tarik Cohen's Early Football Career
Cohen started his football career in high school. He attended Bunn High School where he not only played football but also displayed his athletic skills in basketball and track for his school's Wildcats athletic teams. In football, Cohen received the MVP award and a selection for the All-Conference honours after leading his team to a third-round finish in the 2011 NCHSAA 2A playoffs. He also recorded a total of 808 rushing yards.
Making further moves to improve his football career, Cohen's small stature almost stood as a huge stumbling block but he eventually scaled through as he was offered a football scholarship by the North Carolina A&T. Grabbing the opportunity with both hands, Cohen was at his best to surprise his college team. He made several record-breaking performances and received awards and accolades for his good works. His first surprise package for his fans and team was in a game against Hampton where he made 22 ball carries for 180 yards and a touchdown. Cohen eventually finished his freshman season with the Mid-Eastern Athletic Conference (MEAC) rookie of the year honours after leading with 1,148 rushing yards. He then became the very first player for the A&T to break the 1,000-yard mark and the third to do so in MEAC history.
Other awards and recognition he received all through his college football career (spanning from 2013 to 2016) include the Boxtorow All-American, SBN/Doug Williams Offensive Player of the Year, College Sporting News Fabulous Fifty FCS All-American Team (All-Purpose), Walter Camp FCS All-American, Deacon Jones Trophy, and many more.
How He Ended Up As An NFL Player
Tarik Cohen joined the NFL draft in 2017 and was selected by the Chicago Bears in the fourth round – 119th overall. The same year, he debuted in a home match against the Atlanta Falcons where his team lost 23–17. Cohen recorded 5 carries for 66 yards, a touchdown and 8 receptions for 47 yards in the game. Despite his height, Cohen made a 21-yard impressive touchdown pass to team tight end teammate, Zach Miller. This made him the shortest player to throw a touchdown after Wee Willie Smith. Tarik Cohen was also the second rookie to record a rushing, receiving, passing and punt return touchdown. He finished his rookie season with a total record of 370 rushing yards, 2 rushing touchdowns, 358 receiving yards, a single receiving touchdown, and a single passing touchdown.
Hitting his 2018 season with more vibes for better performance, Tarik Cohen made yet another record as the first player to make at least 30 rushing yards, 150 receiving yards, and a passing touchdown in a single game. He made this record in a game against the New York Giants which the Bears lost 30–27. Cohen finished his 2018 football season, making 71 catches 725 yards and 5 touchdowns. He also had 444 rushing yards and 3 touchdowns.
What Is His Height?
Cohen is obviously not very tall. The North Carolina native is 5 feet 5 inches (1.68m) tall and his weight is 81 kg (178 lb).
Although running backs are some of the shortest NFL players, the professional league puts its average height and weight for running backs as 5′11″ 216 lbs.
Cohen has the length of his arm measuring 76m while his hand is 0.26m in size.
Tarik Cohen's Small Stature Has Not Affected His Performance in Any Way
Tarik Cohen is one of those players with speed and unpredictable movements that could only put the defenders in trouble. Even with his small body frame, Cohen is best at his position as a running back. He is in fact considered as one of the most productive running backs.
Nicknamed "the Human Joystick", Cohen utilizes his powerful lower body to enhance his contact balance and ability to drive for extra yardage. Running a 4.42 40-yard dash, this member of the offensive backfield has an excellent lateral quickness to match with a mind-blowing acceleration that pulls him away from tacklers and into the clear.
Is He the Shortest NFL Player?
True, the Chicago Bears running back is one of the players of small stature in the league but this has not stopped him from putting up remarkable performances. Also, there are a handful of other players who are as tall as he is, they include:
Jakeem Grant – 1.68 m
Jacquizz Rodgers – 1.68 m
Boston Scott – 1.68 m
Darren Sproles – 1.68 m
Meanwhile, records have it that there are even shorter players. They include:
Trindon Holliday – 1.65 m
Jack Shapiro – 1.55 m
Profile Summary
First Name:
Tarik
Last Name:
Cohen
Also Known As:

Honey Badger
Sex/Gender:

Male
Profession:

Football running back
Famous For:
Chicago Bears
Colleges/Universities Attended:

North Carolina Agricultural & Technical State University
Educational Qualifications:

Unknown
Religion:

Unknown
Birthday & Zodiac

Age/Date of Birth:

27 years old (26 July 1995)
Zodiac Sign:
Leo
Birth Place:

Bunn, North Carolina, United States
Nationality:
American
Ethnicity/Race:

African-American
Country of Residence:

United States of America(USA)
Physical Attributes

Height:

5 ft 6 in (1.68 m)
Weight:

181 lb (82 kg)
Eye Colour:

Black
Hair Color:

Black
Other Body Measurements:

N/A
Relationships

Marital Status:

Single
Spouse/Partner:

N/A
Family and Relatives

Father:

N/A
Mother:
Tilwanda Newell
Children:

N/A
Siblings:
Tyrell Cohen
Other Relatives:

N/A
Net Worth
Estimated Net Worth:

Under Review
Salary:
$5.75 million
Source of Wealth:

Football career