Tamar Braxton Net Worth: Tamar Braxton is a singer-songwriter, reality TV star, and actress. She has a net worth of $10 million.
Tamar Braxton Net Worth: Career Beginnings
Tamar is the youngest sister of the Braxton family which includes the most popular of them all- Toni Braxton. Born on March 17, 1977, in Severn, Maryland, Tamar began to sing as a toddler. Together with her older sisters, she sang in a church choir that was pastored by their father. Tamar formed a group named The Braxtons comprising of her four sisters Toni, Tracy, Towanda, and Triana.
The Braxtons signed with Arista Records in 1989 and released their debut single "Good Life" in 1990. The single was commercially unsuccessful reaching #79 on the Billboard charts. The group's inability to be marketable was blamed on the obvious age difference between the sisters, causing Arista Records to annul their contract with the group. Older sister Toni won a recording deal with LaFace Records while the rest of The Braxtons were hired as backup singers.
In 1996, The Braxtons sans Toni released an album titled So Many Ways, a remixed single of the same name featured rapper Jay Z. After Tamar left the group to sign with DreamWorks records in 1998, the other sisters went their separate ways.
"Ridiculous" was supposed to be Tamar's debut solo album but the failure of the singles to gain airplay saw it being canceled, a self-entitled album "Tamar" would go on to become her debut solo album but its commercial failure caused DreamWorks to drop her off the label. Tamar returned to working with her sister Toni who had now gained worldwide recognition, she co-wrote and sang background vocals for five of Toni's album and even appeared in some videos.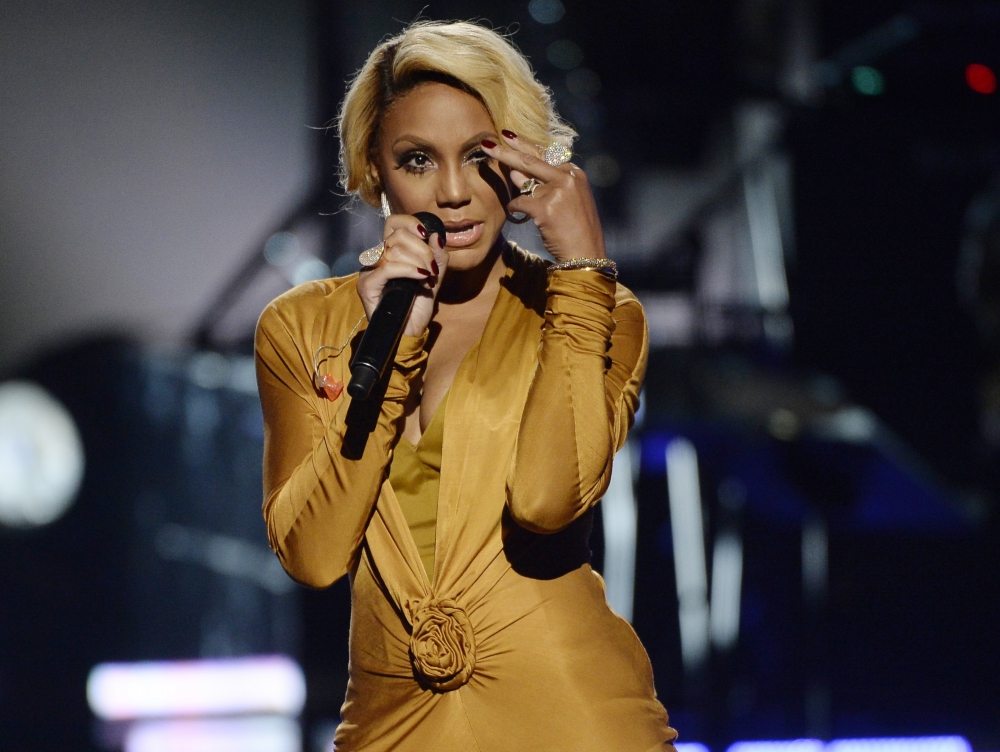 Tamar Braxton Net Worth: First Ever Commercially Successful Solo Album And Reality TV Show
Tamar signed with Universal records in 2010 after her first single under the label was unsuccessful, she was dropped. The Braxtons reunited in 2010 when WE TV signed them and their mother for a reality TV series titled Braxton Family Values. The show quickly became the #1 rated show on the network leading the network to order more episodes and seasons. Since its premiere in 2011, the series have aired 4 seasons.
Despite the success of the reality TV show, Tamar didn't give up on her music and her determination finally paid off. She signed with Epic records in 2013 and released her second solo album "Love and War", the lead single and title track was released in 2012 and topped the US iTunes charts, subsequent singles performed fairly on the charts while the album itself was a commercial success in the US, it sold 144,000 copies debuting at #2 on The Billboard 200. The album received a Grammy nomination for Best Contemporary album while the lead single/title track was nominated for Best R&B song and Best R&B Performance.
Tamar, alongside her husband Vincent Herbert, stars in a spin-off of the family's reality show titled "Tamar & Vince". Tamar has released two other studio albums- Christmas album Winter Loversland (2013) and Calling All Lovers (2015), both have been successful commercially and on the charts. In 2015, The Braxtons released Braxton's Family Christmas, a Christmas album.
Tamar in November 2014 launched a clothing and shoe line, Tamar Collection.
See Also: Mariah Carey Net Worth