It seems like not long ago when the Big Bang lead vocalist Taeyang and beloved actress Min Hyo Rin broke the news of their relationship. Time flew by and now the pair have graduated from dating to being husband and wife. Right from the get-go, the musician and the actress have been pretty secretive about their love life. In fact, they had already been going out for a year and a half when it was officially announced that they were indeed a couple. The news delighted their fans everywhere as the duo were two of the biggest stars in the South Asian entertainment industry.
Taeyang has been wildly successful as a solo artist and as a member of the boy pop group, Big Bang. He also performs under the name Sol in Japan. His songs have consistently topped the Korean music charts and have charted in other countries as well. His sultry voice and excellent songwriting skills have led to him being crowned the K-pop king of R&B. Min Hyo-rin is also very accomplished in her own right having starred in several films and television series such as Sunny, Sister's Slam Dunk, Uhm Bok-dong, Persevere Goo Hae Ra, The Happy Loner, The Grand Heist, and A Millionaire on the Run.
How Taeyang and Min Hyo-rin Met
The couple met in 2013 when Taeyang was looking for a female costar to feature in the music video for his hit single, 1AM. His Big Bang bandmate, G Dragon suggested Min Hyo-rin for the role and Taeyang admitted that he had actually been thinking she was a perfect fit since he saw her in the movie Sunny.
During the shoot for the video, Taeyang was grinning from ear to ear even though it was supposed to be a sad song. He was so happy being with Min Hyo-rin and they began dating shortly after filming ended.
Although she was two years older than him and his first girlfriend, the pop star did not let any of that stop him from wanting to be with her and make her happy. Min Hyo-rin has even inspired many of his songs including Eyes, Nose, Lips, which came from the first time they met.
His dad jokes are not her cup of tea
Anyone who follows Taeyang's career knows that he loves being the funny guy although his humor is mostly based on dad jokes. He revealed during an interview that his Big Bang bandmates have sworn never to laugh at his jokes.
When asked if Min Hyo-rin found his jokes funny, he admitted that she is actually quite cold about them, but he never stops telling them because he believes he can make her acknowledge how hilarious they are someday. What a tenacious man!
They broke up once
Taeyang and Min Hyo Rin have admitted that they actually ended their relationship once in the past. However, they got back together before the public and media caught wind of the breakup and their relationship has gotten stronger since then. Although they never revealed why things went sour between them in the first place, it has been assumed that they just needed a little time apart to adjust to being together
Remember, the actress is his very first girlfriend and he has never been in a relationship before her, so he must have had a lot of figuring out to do. The important thing is that they made it through that rough patch.
Taeyang and Min Hyo Rin had a fairytale wedding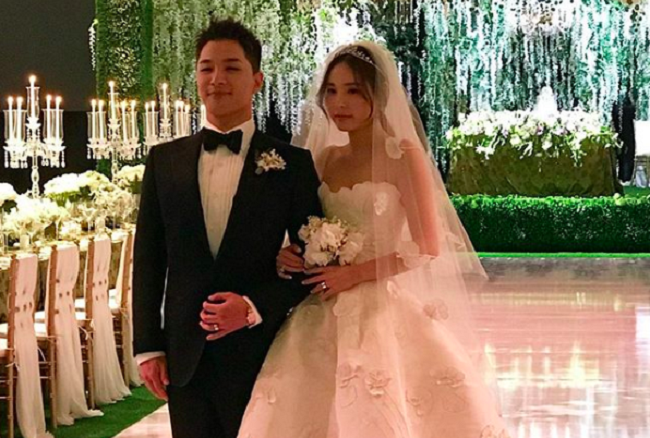 After more than four years together, Taeyang and Min Hyo-rin decided to take the next big step by getting hitched. They had a private but lavish ceremony which was held at a church in Gyeonggi Province, Seoul on the 3rd of February 2018.
The bride wore a custom-made dress by Oscar De La Renta and looked absolutely stunning as she walked down the aisle. Taeyang and Min Hyo-rin used the Paradise Hotel in Incheon as the venue for their wedding reception. The venue was designed by Youngsong Martin to look like the forest wedding scene in the Twilight movie Breaking Dawn.
No media was allowed, and the ceremony was only witnessed by their families, friends, and a host of celebrities including Black Pink, Kim Minyoung, Sandara Park, Nam Bora, Psy, Zion. T, CL, and Big Bang groupmates.
Read Also: Guy Ritchie and Madonna Divorced After Nearly 8 Years, How Much Did their Divorce Cost?
He sends her love notes
Although the singer is serving out a mandatory two-year stint in the military, Taeyang and Min Hyo Rin are still making the best of the situation. He sends her flowers and love notes to show he's thinking of her, while she goes to the military base every week to spend time with him. Taeyang and Min Hyo-rin seem to be filled with nothing but happiness in their love and marriage.