Sundar Pichai is an Indian American computer engineer and business executive who is the chief executive officer (CEO) of both Google Inc and Alphabet Inc. He is best known as the mastermind behind the launch of Google's Chrome browser in 2008; he played a pivotal role in convincing his seniors at Google to launch the browser, which in time became the most popular browser on the internet and also led to the launch of the Chrome operating system.
Keep reading to learn more about his is early life and background, and how he became the CEO of one of the biggest companies in the world.
Sundar Pichai's Early Life and Educational Background
Sundar was born Pichai Sundararajan, in Tamil Nadu, India, on 12 July 1972 to Lakshmi and Regunatha Pichai. His mother, Lakshmi, was a stenographer and his father, Regunatha, an electrical engineer who owned a manufacturing plant that produced electrical components.
Regarding his education, Pichai schooled at Jawahar Vidyalaya which is situated in Ashok Nagar, Chennai. He followed it up by completing his Class XII from Vana Vani School, located in the Indian Institute of Technology, Madras. He then attended the Indian Institute of Technology, Kharagpur, where he completed his studies in 1993. As one of their brightest students, he won a Master's degree scholarship to study Material Sciences and Engineering at Stanford University, USA.
Afterward, his father gave him $1,000 from their family savings in order to finance his travel and additional expenses. While at Stanford University, Sundar Pichai also enrolled in the prestigious Wharton School of the University of Pennsylvania for his MBA. In due course, he graduated from both universities as a Siebel Scholar and a Palmer Scholar. It's also noteworthy that Sundar Pichai was one of the best cricket players and captain of his high school team while at Chennai. He went on to win the regional cricket tournament before earning his Bachelor's Degree in Metallurgical Engineering from IIT Kharagpur.
How His Relationship With Google Started
He started a career as an engineer and product manager at Applied Materials and in management consulting at McKinsey & Company before joining Google in 2004. His dynamism led to several innovation efforts and product management at Google including Google Chrome, Chrome OS, and Google Drive while he also oversaw the development of several other apps like Gmail and Google Maps for the company. He quickly rose through the ranks in the company as he became the third-man after Larry Page and Sergey Brin at Google.
Sundar Pichai demonstrated Chrome OS and Chromebook before its release while he also introduced VP8 and WebM. He took control of Android after Andy Rubin in 2013 and was even linked to Twitter and Microsoft several times. He was offered a deal on Twitter while he was also considered a front-runner for the CEO position at Microsoft to replace Steve Ballmer. Rumor, however, has it that Google offered him a $50 million per year stocks deal that he could not turn down.
Google went on to form a company, Alphabet Inc., to serve as a holding company and conglomerate to own the subsidiaries that were previously owned by Google, including a newly refurbished version of Google itself.
On 10th August 2015, Sundar Pichai was named the CEO of Google and later in October 2015, he assumed his new office following the completion of the setup of Alphabet Inc. In addition to his position at Google, he is also a board member at Alphabet and Magic Leap Inc. Later in 2019, after Larry Page stepped down as the CEO of Alphabet Inc., Sundar Pichai was appointed the new CEO of Alphabet Inc. on 3rd December, thereby making him the CEO of both Alphabet Inc., and its subsidiary, Google.
Sundar Pichai's Salary and Earnings
Sundar Pichai's chief source of income is his salaries, stocks, and bonuses as the CEO of Alphabet Inc. and Google. In February 2016, Pichai was awarded 273,328 shares of Google's holding company Alphabet, which led to a rise in his wealth. These shares were worth $199 million, and this took his holdings up to $650 million. That amount is still, however, far less than the net worth of Google's founders, but makes Pichai one of the highest-paid CEOs in the United States.
Following his appointment as the CEO of Alphabet Inc., it was announced on 22nd December 2019 that the Metallurgical Engineer would get a staggering bonus of $240 million stocks gain over the next three years dependent on him reaching certain performance targets. This package is the highest performance awards ever proffered to any Google Executive and the second-highest ever in the tech industry, behind Apple's Tim Cook.
Moreso, Sundar Pichai will reportedly receive an additional $90 million in stocks if Alphabet Inc. stocks exceed the S&P 100 index. Currently, Pichai earns an annual salary of $2 million and has a jaw-dropping net worth of about $1.3 billion. Do not also forget the estimated value of his real estate property which is around $2.9 million along with his numerous unestimated properties in India.
The wealth and income of Sundar Pichai is expected to continue to grow at a strong pace. Over the next few years, the current figures are likely to grow by around 55%.
How Sundar Pichai Met His Wife
Sundar Pichai is married to Anjali Pichai. She was born Anjali Haryani on the 11th of January, 1971 in Kota, Rajasthan, India. Her father, Olaram Haryani worked as a lecturer at the Government Polytechnic College, Kota, while her mother died early and not much is known about her. She had her childhood experiences alongside her brother, Amit Haryani, in Rajasthan. Her brother is presently an engineer in New Jersey, USA and is married to Shubra Bhatnagar. However, after the death of her mother, Anjali's father married another wife, Madhuri Sharma, who is now her step-mother.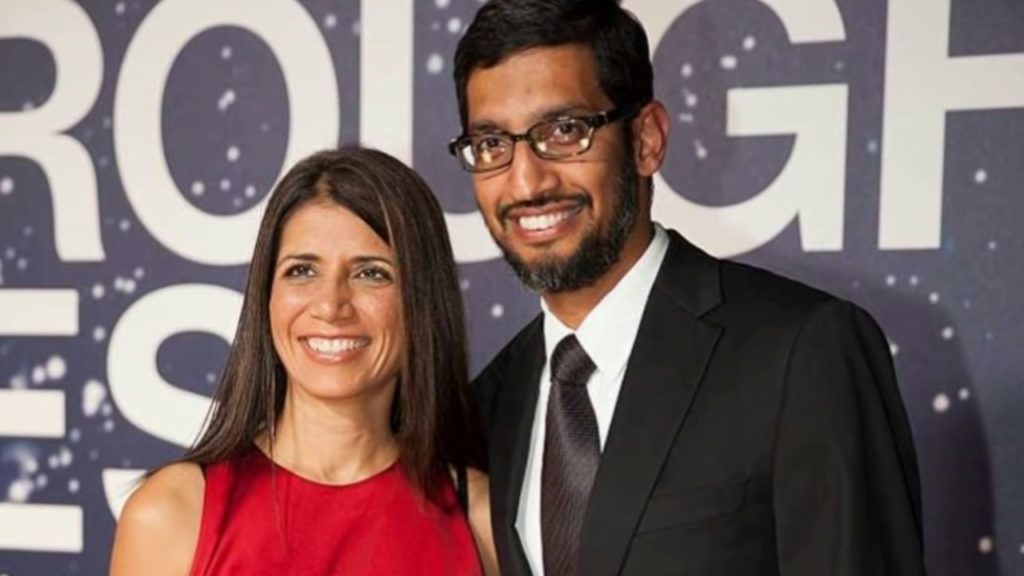 During her first year in IIT, Kharagpur, where she was pursuing a degree in Chemical Engineering, Anjali got acquainted with her now-husband, Sundar Pichai. They were classmates and later became close friends. Gradually, they fell in love with each other and began dating. Interestingly, Pichai proposed to her in their final year and she accepted.
After college, Pichai traveled to America for his Master's degree, thereby leaving his fiancée in India. Pichai's wife, however, kicked off her career in 1999 as a Business Analyst at Accenture and worked there for three years. Then a few years later, she reunited with her fiance in America. Afterward, the lovebirds got married in the United States. The couple ha two children, a daughter, Kavya, and a son, Kiran. Currently, she is working as a Business Operations Manager at the software company, Intuit.
Also See: Tobin Heath Bio, Career Earnings & Salary
Where Does He Live?
The family lives in Los Altos Hills, near Santa Clara County, California. Pichai bought the luxury home which was designed by Robert Swatt of Swatt Miers in 2013. He also owns a house in Brooklyn which he bought for $6.8 million from Boyd Coddington in January 2015. His interests include soccer and cricket. He is an avid fan of FC Barcelona, and once said that he watches every game of the club.