Donald Trump is now the 45th president of United States and everyone is not only talking about his shocking victory but also his hair. While some people are filled with awe about his hair, it has been a butt of jokes for others. But it's amazing to learn that his famous barnet has really changed a lot over the years. There were times he chose shorter hair and there were times he opted for longer hair.
And as he prepares to take over the White House, we don't know what to expect, though he could be thinking of adopting a more practical hairstyle. If that happens, we might never get to see his famed coiffured style. Until then, check out this gallery showing Donald Trump's hair evolution.
1951
Awww…this is where Donald Trump's remarkable hair journey started and he deserves some credit for it. Not many children know what hairstyle completely works for them but Donald Trump seems to have figured this out even as a child.Taken in 1951 when Trump was still a child, this picture shows that hair has been a pivotal part of the billionaire life.  I am sure nobody ever thought this little blonde-haired lad will run or become the president or have an amazing hair trip in life. He looks so adorable!
1968
Meet Donald and his father Fred Trump back in 1968, when Donald completed his studies from Wharton Business School at the University of Pennsylvania. All of his children also graduated from the very same university, with the exception of Eric Trump. Noticed his hair and the part? Not anything like what we see now!
1976
Gentle, sweet and young Donald Trump looking all natural in 1976. The photo features Trump ready to strike a deal to start his first construction project on Grand Hyatt on East 42nd Street. He had already started wearing suits, but his hair is far from what we know now.
1983
The image above was taken in 1983 and it shows ambitious Donald Trump. His hair hasn't changed much here though a lot of things have changed about him; you can see he's upped his dressing a bit, especially his suit and he's got a wife, Ivana Trump. So it's understandable to say his marriage to Ivanka in '77 probably brought about the transformation in his fashions sense.
1984
Trump seems to like long jackets, but does he like those shoulders? They seem to have too much padding because they don't look like they fit and the tie is far too long. The tip of the tie can be seen touching the waistband. Yet, all the listed flaws didn't make him less cute, do they?
1985
New look? Donald Trump pictured above with his wife Ivana in 1985 while his hair is parted on the side. The couple had been together for about eight years at the time this photo was shot. His wife looks well groomed too which tells us they have been sharing their beauty secrets. The hairstyle though coincides with his age but this is the last time he intentionally exposed his forehead.
1986
Donald Trump during "Liberty Lunch" to Close Liberty Weekend. It's undeniable that as a young man, Trump had this killer look.
1987
Meet Ivana Trump and Donald Trump during Forbes Magazine's 70th Anniversary Celebration at Timberland Estate in Far Hills, New Jersey, United States. Though taken in the 80's the photo is nothing short of classy!
1988
Trump chooses a more calmed appearance for the 1988 US Open. The mogul was already looking like the Trump we know today. It seems this is where Donald Trump drew inspiration for his recent hairstyle. Looking at his ex-wife's hair, you could see their hairs have a striking resemblance.
1989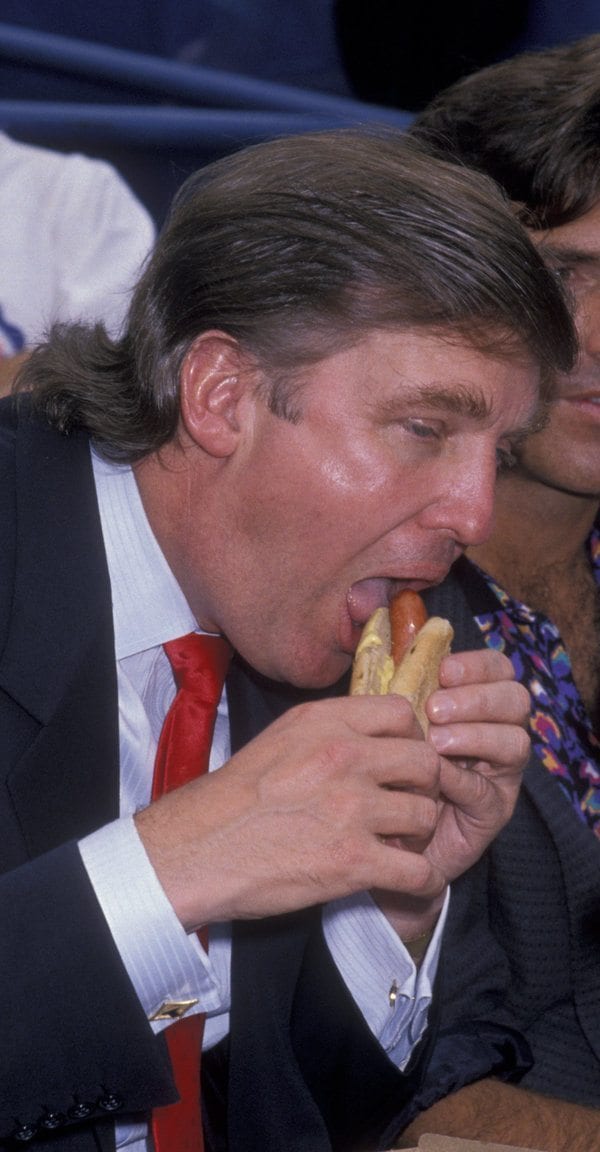 Donald Trump attends U.S. Open Tennis Tournament on August 29, 1989, at Flushing Meadow Park in New York City. This is the point where the tycoon's hair fluctuations became well-pronounced. As you can see, he chose a slight curl at the neck. The bottom wave looks great, right?
1990
Donald is used to living a life of luxury from an early age. He was captured on February 22, 1990, at the Plaza Hotel in New York City. And yes, he has been on the public radar since for making money too young an age.
1991
Unruly: Trump's hair pictured at a press event in 1991 with new girlfriend Maples. Here, Trump was in the process of divorcing Ivana but they were still married. Unlike the 1985 photo, Trump's edges can be seen skiing down his eyebrows and speculations abound that he later had a scalp reduction in 1989.
1993
Two years on, Donald Trump wedded Marla Maples'. You could see happy faces of well-wishers in the picture above. But that's all there is to see. Notice Donald Trump's back hair? Yes, it looks relatively too full for his hair. Could it be a toupee? Maybe!
1996
We are dismayed by this, not because of the hair but because it is one of the few times the mogul isn't suited up. This snap was taken in 1996 when Trump took some time off his vast business portfolio to bask on a beach. His hair looks darker, shorter and further away from his eyebrow. Plus it seems the man in glasses knew about the sudden change of coiffure…see, the way he is laughing.
1997
Trump revamped his look to a laid back coiffure. He seems more at ease with himself and satisfied with his looks since retrieving his hairline. Here, he got back into his suit and filed for divorce from Marla Maples.
1998
It's not every year you get to wear the same hairdo, let alone when you want to roll with a celebrity. But why is Rapper Sean Combs smiling? Anyway, his hair didn't change much as you can see, he still retains his brown locks but it's only a year!
1999
Trump pictured in 1999, watching a New York Knicks game with John F. Kennedy Jr. Looking closely, Trump's hair seems longer and it curls over his collar like that of a rockstar.
2000
This is the point details are brought all in and it gets better. Trump dumped his dark mane and embraces a very bright yellow hair and eyebrows. He  also kept his rockstar length to give the highlight of the golden hue with his front hair looking like it's pinned down.
2001
One year after Trump's extreme hairstyle change, the tycoon-turned-politician decided to go back to light brown color locks. Then, he had begun going out with Melania and you could see the inspirations from each other's hair. This was even their third year in the affair. Besides lightening his hair color to a soft blonde, he combed some forward to cover up his forehead! There should be something about his forehead he doesn't want the world to know. Just saying!
2002
There is no denying that hair is really a priority for Trump and in this 2001 conferences, he borrowed his 1991 hairstyle but in a different shade; ginger.
2002 (Again)
This image was taken the same year he changed his mane to ginger! He moved into 2003 with the same look after his marriage to Melania. Apparently, he and Melania are matching hair shade and emmm…that hat looks unique.
2003
One of the most significant changes occurred in his hairstyle here; he gave up his neck hair, Standing with an Apprentice producer Donald clearly styles his hair to cover every part of his head ever so intricately to improve and height his masculine quality.
2004
Trump graces 2004 Emmy's and did he do something special for the event? Maybe not. But he arranged his roots, combed it around his head and bolted down his forehead. Yet, there was an unfortunate situation when the wind caused his locks to fall out of place.
2007
This is where it gets good. Trump decides to increase his length probably to leave no place hairless in the cold. He once again opts for a darker colour for 2007 winter. Let's be frank, this shade is better than bright yellow!
2010
This is the era of a comb-over style as well as golden locks. It looks all good, but Trump's hair can sometimes be hard to control in the wind, which may be another reason he should change the style.
Again, he could only be trying out something different here and that doesn't hurt. Say Marge Simpson or wind look. Either way, we're glad the image shows one of the rarest moment we get to see what Donald Trump's forehead looks like.
2013
Here, Trump gets back his yellow hair, but this time in an aggressive way at the time we thought we're done with the yellow sight! And as if dealing with the shade wasn't enough for us, Donald Trump tried a forward quiff brushing a piece of the hair backwards and then another towards his forehead.
This photo was taken in 2013 red carpet event for All-Star Celebrity Apprentice. Trump is clearly learning from Jersey Shore and douses himself in fake tan. Seems like he's succeeding right?
2016
Okay, Tump looks all excited in this shot and it is as clear as a pikestaff that this is him at his best. cutely suited up, tango tan and stunning hair. He is glad to have achieved the exact look he's been seeking all these years. There have been speculations after his shocking victory in 2016 US presidential election that he might trim his hair and gel it back, in a style similar to sons Eric and Donald Jr for the White House. His combover has always been perfectly maintained for public appearances and we hope to see his style change.