Unlike Steve Damstra, you wouldn't have to search hard to find details relating to the basic facts of Paget Brewster's life. While the American actress who has also fairly thrived as a singer is well known for her works in the entertainment industry and the things she has accomplished thereof, the same can't be said about the man she has been married to since 2014.
Even though it is a common knowledge that Steve is a musician and one of those who formed Whirlwind Heat, a band from Grand Rapids, Michigan; almost nothing is known about his early life, family, and what have you. Anyway, that ends here! More than just his career, the following are the things one ought to know about Paget Brewster's husband.
Steve Damstra Bio
Steve Damstra's age is among the many things that people have always wanted to know about him. Many things may not be known about the man but it is no secret that he was born on the 21st day of September and in the year 1981. Nevertheless, his place of birth, who his parents and siblings are, how he was brought up, and things like the schools he attended have remained unknown to the public. The reason for this is not far-fetched, Steve is one of the most private individuals you will find in the entertainment industry.
Irrespective of the fact that he doesn't like to talk about his personal experiences, thoughts, and feelings, we have been able to establish that he fell in love with making music when he was a teenager. In 1996, when he was only 16, he partnered with Brad Holland and David James Swanson both of whom were equally 16 to form the indie rock band, Whirlwind Heat.
In March the next year, they had their first performance and about two years later (in 1999), Jason Eberspeaker joined them as a guitarist and they took their music all around Michigan and its surroundings. As fate would have it, the lead singer of The White Stripes showed up in one of their gigs. Jack White liked what the Whirlwind Heat band had to offer and he made an offer to Steve Damstra and his guys to have them recorded.
It was their lucky day, so they embraced the deal and started recording at the multi-instrumentalist and producer's roof space studio. This facilitated the release of their single titled "Glaxefusion" by Italy Records. While that was somewhat a major breakthrough for the group, it was nothing compared to the joy they had when one of their songs was featured in Sympathetic Sounds of Detroit, the compilation album that Jack White put together, which was released by Sympathy Records in 2001.
Even though Eberspeaker thought it wise to abandon the band and focus on his pursuit of a career in fine arts, there was no stopping the Whirlwind Heat. They kept at their musical endeavor and today, Steve Damstra is part of the various accomplishments of the group. His band boasts of no fewer than 4 albums, and 3 EPs.
Relationship with Paget Brewster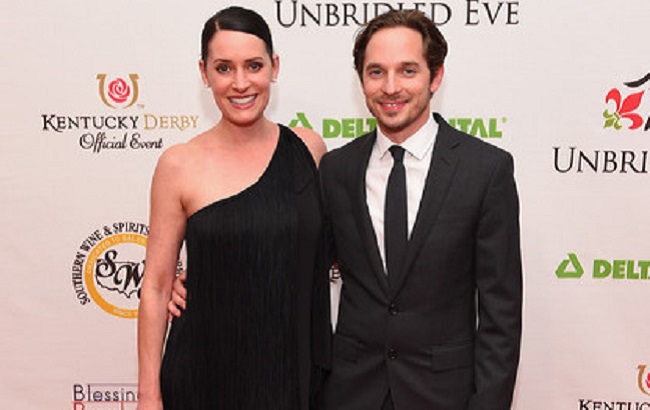 Steve Damstra's relationship with Paget Brewster the American actress is probably the most known thing about him. As mentioned earlier, the two have been married since 2014. This was after they got engaged in March the previous year. It was the actress that broke the news of their engagement on Twitter where she shared a picture of her engagement ring. Their marriage ceremony was officiated by Matthew Gray Gubler, an American actor; the event happened in Los Angeles, California where they reside.
Read Also: Samantha Marie Olit – Biography and Facts About Chester Bennington's Ex-Wife
Facts to Know About the Composer
1. It is said that his wife was named after Debra Paget, a famous actress in the 1950s and, that she doesn't want to have kids.
2. As a composer, Steve Damstra has written music for several television shows and movies. He has credits in works like Magic Valley, Teenage Cocktail, Excision, Buckets, and more.
3. While his wife is 8 inches taller than 5 feet, it is believed that Steve is 5 feet 6 inches.
4. He has soundtrack credits in Messengers 2: The Scarecrow (2009), Funny or Die Presents (2010), and in the dramedy horror, Trash Fire (2016).
5. Alongside Mads Heldtberg, Steve Damstra was nominated for the Fright Meter Awards in 2012. This was for Best Score and for his work in Excision.