The face behind the mask, Stephen Belafonte is always working behind the scenes and coming out with blockbuster movies. He is not just an ordinary producer but a multi-talented producer as well as a director in the Hollywood industry. Belafonte has produced and directed notable movies including Sister in 2006, Singing Office and Mutant Chronicles in 2008 just to mention a few.
He has also guest starred in the reality television series titled Dancing with the Stars as well as The X Factor. Asides from his career, Stephen is also the ex-husband of the famous singer, TV personality and actress Melanie Brown popularly known as Mel B. The duo married in 2007 and separated in 2016 after series of unresolved issues. They both have a daughter named Madison Belafonte born in 2011.
Guess you want to know more about the talented star? We've got you covered. Read on to find out more interesting facts about Stephen Belafonte below
Who is Stephen Belafonte?
Stephen Belafonte is an American director and producer who rose to mainstream following the release of the movie titled Thank You for Smoking in 2005. Belafonte was born in Hollywood, Los Angeles, California in the United States on May 18, 1975. He developed an interest in the entertainment industry right from an early stage; he wanted to be an actor as well as a producer. Today the talented star has been a successful producer and director in the Hollywood industry. He obtained his bachelor's degree from Loyola Marymount University where he graduated from in 1997.
After his graduation, Stephen joined the entertainment industry and completed his first project as an associate producer in the 2004 movie titled Never Die Alone. He also produced a documentary Prison Ball in the same year. Stephen came into the spotlight in 2005 after the production of the movie titled Thank You for Smoking; he also served as a co-producer for The Crow: Wicked Prayer the same year.
Furthermore, he produced other feature films including Sisters and Pity the Fool in 2006, Mutant in 2008, Bad Lieutenant in 2009. Others are Mel B's television series titled Mel B: It's a Scary World in 2010. He appeared alongside his ex-wife Mel B in the series titled Dancing with the Stars as well as the X Factor. He has been a wonderful producer and his works sure do speak for themselves.
Who Are His Parents?
Many people have wondered if Stephen Belafonte is the son of Harry Belafonte, an American singer and one of the most successful Jamaican-American pop stars in history. Apparently, that is not true; despite having the same name, the duo does not relate in any way. Stephen's parents are Thomas Stansbury and his wife Sheryl Stansbury; his birth name is Stephen Stansbury. The talented producer officially changed his surname to Belafonte during his university days. He has not disclosed any information about his parents to the media; guess he is one of those who likes keeping their personal details under the shades. We believe they are caring and supportive of their son.
How Much Is Stephen Belafonte's Net Worth After He and Mel B's Divorce?
The talented producer has been successful in his career and you're free to say he's one of the handsome and wealthy dudes out there. He has amassed a lot of wealth from businesses and is currently living a lavish lifestyle. Stephen Belafonte currently has a net worth of $2 million. He received £270000 from Mel B to cover his legal fees during their prolonged divorce court case. He also receives £3800 every month in child support for their daughter.
See Also: Megan Fliehr Biography – Family and Facts
Family Facts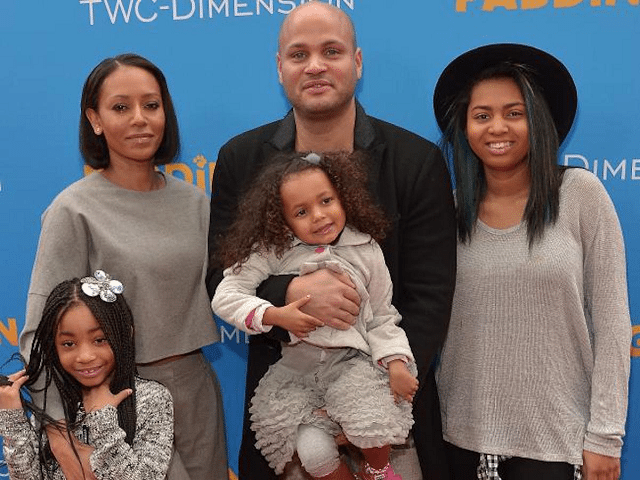 1. Stephen has been married twice and also divorced twice
2. He married Nancy Carmell from 1997 – 1999 after which he married Melania Brown popularly known as Mel B in 2007. Their wedding took place in Las Vegas and was a private ceremony.
3. In 2014, the couple started having issues that finally led to a divorce in 2017.
4. Stephen promised Mel B a new diamond wedding ring every three years and the last one he bought for $20 thousand is from a dealer outlet called Leon Diamond Jewellers in New York.
5. He has two daughters, one with his girlfriend Nicole Conteras in 2004 and another with his ex-wife Mel B in 2011
6. Mel B had earlier been married to Jimmy Gulzar with whom she has a daughter named Pheonix and she also has another daughter Angel with Eddie Murphy.
7. His first daughter's name is Giselle Belafonte (born in 2004) while his second daughter is Madison Brown-Belafonte (born in 2011).
8. After their divorce, Mel B was asked by the court to pay her ex-husband Stephen the sum of $3 million as spousal support over the next three years and another $3.5 million from the sale of their family home.
9. Stephen and his ex-wife agreed to have an equal custody of their children.
10. Belafonte is currently single and not in any relationship at the moment.