Steelo Brim is an American TV personality and actor who is renowned for his work as the co-host of Ridiculousness, an American comedy clip show which became very popular among Americans and occasionally caused a number of ripples on the internet. A handsome man, Steelo Brim has also become the toast of many fans, especially the ladies who have often described him as 'sexy'.
Apart from his work as a TV personality, Steelo Brim has also featured in a handful of feature films and TV series. As an actor, he is known for portraying Sterling in Hardball, an American sports comedy-drama film released back in 2001. He has also appeared in a couple of episodes in Rob Dyrdek's Fantasy Factory, an American reality TV series. More so, the TV star was quite passionate to become a musician back in his early years but that did not go as planned.
Steelo Brim's Initial Career Pursuit Was In Music
Born Sterling Brim on June 5th 1988, the popular actor came from a humble background. His father, Frank Brim was a Chicago Fire Department Battalion Chief while his mum, Tracy Brim was a Christian Minister. Steelo was raised by his parents in Chicago, Illinois and it is believed that he had some form of formal education while growing.
Brim as a young boy was described as a very lively kid who knew that he wanted to make it big in entertainment and took his chances to make a career for himself in the industry. When he was just 19 years old, Steelo left home for Los Angeles to pursue his dreams towing in the path of becoming a musician. However, he struggled in this path, he never got to release an album and as a result, eventually abandoned his pursuits in music.
His First Role On TV Was A Cameo In The 2001 Film Hardball 
Back in 2001, when Steelo was still a teenager, he had an offer to cast as Sterling in Hardball, a sports comedy-drama movie and though it was a small role, the budding TV star managed to catch the eyes of a few people. Several years later, Brim was also cast as Ulysses Williams in the 2011 short film, Orange Drive. Within that same period, he became very good friends with the TV personality, Rob Dyrdek, who invited him to become a co-host on his new TV show called, Ridiculousness. The show airs clips of viral videos causing a stir on the internet and adds commentaries to them in such a way that makes the videos a lot more hilarious and creative.
Steelo and Rob were able to make the show become trendy and in a couple of years, it turned into a favorite for many Americans. It eventually launched Brim into stardom and he has appeared in over 400 episodes of the show to date. He also assumed the role of production consultant on the show and seems to be doing a pretty good job.
Aside, Ridiculous, Brim has featured in a number of other TV shows and films. In 2013, he was featured as a guest star in the TV show, How To Bake It In Hollywood, and the next year he featured in 3 TV productions, Teenage Mutant, The Playboy Morning Show, and the short documentary, Basic Math Day One. He has also appeared in the reality series, Fantasy Factory and Wild Grinders which were created by Rob Dyrdek.
The TV Personality Also Has A Thriving Podcast Career
Steelo Brim is also very popular as the co-host of the Wine and Weed podcast which he hosts alongside, Chris Reinacher. The much talked about podcast covers the week's top trending topics. The pair would talk about any of these weekly hot topics with their signature style of drinking wine and smoking a joint. Apart from entertainment they also delve into other matters of concern over the years such as the gun laws in the United States. They also comment on sporting events especially the NBA. The pair also gave their thoughts during the aftermath of George Floyd's murder in 2020.
Steelo Brim Has Made A Fortune From His TV Appearances
Steelo Brim has been active in the entertainment industry for some time and he is expected to have raked in some money for himself over the years. He has featured on reality TV shows and has worked as an actor in feature films as well as TV series, gathering a considerable amount of wealth in the process.
Sources have gone ahead to compute his earnings over the years and it is estimated that his net worth sits at $3 million. Steelo is believed to make as much $140,000 for every episode he features on Ridiculousness. More so, with the success his podcasts have garnered, they also undoubtedly contributed to his wealth.
Brim Was Previously Engaged to Forbes' 30 Under 30 Fashion Designer, Conna Walker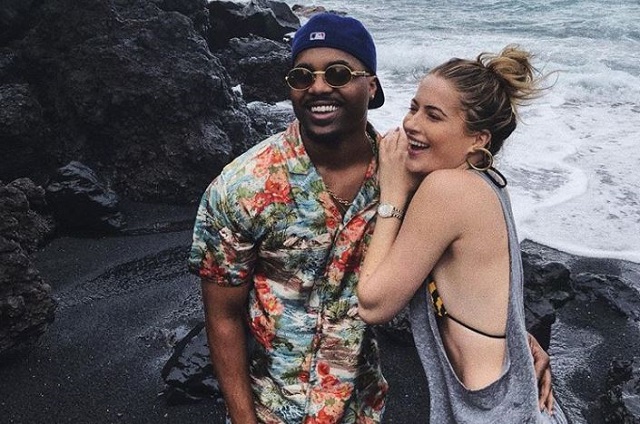 Steelo Brim's first relationship to catch the media's attention was with Conna Walker, a successful British fashion designer who is also the creator of a fashion line called House of CB. She is notable for dressing some of the A list celebrities in Hollywood which includes the likes of Kylie Jenner, Jennifer Lopez, Chrissy Teigen, and Gigi Hadid.
See Also: Apple Watts – Bio, Age, Dad, Facts About The Singer And TV Personality
The notable designer and Steelo's relationship began in 2015, a year later in 2016, they got engaged. Judging by their numerous loving social media posts about each other at the time, many thought the pair would walk down the aisle. However, sometime in 2019, the pair seemed to have gone their separate ways. The last photo that Brim posted of her was on Valentines day of 2019.
https://www.instagram.com/p/CABDC0FhS3V/?utm_source=ig_web_copy_link
Going by Brim's Instagram uploads, he seems to have found someone new. In 2020, he began posting photos of himself and a certain lady who is named Alahna Jade. She is on Instagram as @aalahna. Jade appears not to be a celebrity. Her first post of Brim was on his birthday in 2020. Brim's new girlfriend has a son named Zayn from another relationship.