Age/Date of Birth:

December 28, 1922 - November 12, 2018
Net Worth:
$50 million
Height:

5 ft 11 in or 180 cm
Ethnicity/Race:

White
Nationality:
American
Wife or Girlfriend:
Joan Boocock Lee (1947-2017)
Parents:
Father: Jack Lieber
Mother: Celia (née Solomon)
Stan Lee was a prolific comic book writer, producer, editor, and entrepreneur who had a net worth of $50 million at the time of his death.
He once served as the president and chairman of Marvel Comics having worked his way up from the position of an office assistant. Lee was renowned for the numerous comic characters he created, some of which include Spider-Man, the Fantastic Four, Iron Man, Black Panther, The Avengers, and The Hulk. Judging by the huge success of the films where his characters were featured, Lee's wealth was often speculated to be in hundreds of millions. This forced the comic writer to openly debunk the claims when he said he didn't have $100 million or $200 million. However, his contributions to the entertainment world did not pay off. At the time of his death on November 12, 2018, Stan Lee's net worth was estimated at $50 million.
Stan Lee Came From Humble Beginnings
Lee, the son of Jewish immigrants from Romania was born Stanley Martin Lieber on December 28, 1922, in Manhattan, New York City. His birthplace was his parent's apartment. Lee's dad worked as a dress cutter which meant that there was not so much money in the family that experienced the Great Depression.
As a child, he was influenced by books and movies with heroic roles played by Errol Flynn and had always dreamed of writing the Great American Novel. As a youth, he worked various jobs including writing obituaries for a news service, and press releases for the National Tuberculosis Center, selling subscriptions to the New York Herald Tribune, working as an office boy for a trouser manufacturer as well as serving as an usher at Broadway's Rivoli Theater.
Stan Lee's ultimate motivation to take writing more seriously came when he consecutively won "The Biggest News of the Week Contest," an essay competition set up by the New York Herald Tribune. He was still in high school at the time. In 1939 at the age of 16, Lee graduated from high school a lot earlier than usual. After high school graduation, Lee became a part of the WPA Federal Theatre Project.
Lee Helped Transform Timely Comics To The Lucrative Marvel Comics
Right after leaving high school, Lee with the influence of his uncle, a certain Robbie Solomon began working at Timely Comics. His role at the time was simply that of a gofer but Lee would later work his way up the ranks. At the time, he earned $8 per week. A couple of years later, in 1941, Lee made his comic debut with the text filler "Captain America Foils the Traitor's Revenge" in Captain America Comics #3. This was when he adopted the name Stan Lee, a play on his first name Stanley.
A few months later, Lee began writing actual comics. He co-created the superhero character Destroyer. After he enlisted in the army, Lee continued to work for Timely comics sending his works via mail. Before joining the army, comic-book publisher Martin Goodman had made Lee the interim editor-in-chief. Lee would go on to serve in this capacity for the next three decades.
When asked to create new characters in the late 1950s, to compete with rivals DC comics, Lee developed the idea of creating superheroes with flawed humanity in contrast to the prevailing archetype that superheroes were perfect. These characters would range from the Fantastic Four to Spider-Man, The Hulk, and every character of The Avengers. This ultimately became a breakthrough for the publishing company which at this time was known as Marvel Comics and made Lee one of the highest-paid comic writers of the time.
With Lee art-directing, scripting, and supervising every comic release from then on, Marvel's success grew to unprecedented levels. Lee's approach also involved engaging the readers through a credit panel on the publications which created a sense of community among readers. By 1972, Stan Lee took a break from writing monthly comic to succeed Martin Goodman as the publisher.
He Rose From Publisher to President of Marvel Comics
From the mid-70s and beyond, Stan Lee became the face of Marvel Comics, attending comic conventions. And then came the 1980s when Lee began to develop Marvel comics into movies, for this purpose, he relocated to Hollywood and served as the executive producer for Marvel productions which became increasingly successful as the years progressed. The first big-budget movie that featured one of Lee's characters was X-Men (2000) which grossed almost $300 million at the global box office, the next one Spider-Man (2002) made over $800 million.
Stan Lee transitioned from publisher to serve as the president of Marvel but soon stepped down as a result of the complicated finance of the company, he returned to serve as publisher, Lee's passion lied on the creative process rather than corporate management. By the 1990s, Stan Lee had largely stepped away much of the activities at Marvel but continued to make cameo appearances in films featuring his characters. He reportedly appeared in 35 Marvel films before his death.
Though Lee's salary in his peak years at Marvel was never made public, he revealed during an interview that he was the highest-paid Marvel writer at the time. It is also known that Lee received an annual salary of $1 million from the 90s to his passing as Marvel's chairman emeritus, a ceremonial position.
The Comic Writer Got $10 Million From Suing Marvel in 2002
Stan Lee has often been criticized for not ensuring he received royalties for his works, but the fact was that though he created the popular Marvel characters, he was only working for the publishers. However, his efforts to help license the characters for TV and film was rewarded in the 90s when Marvel agreed to give him 10% of profits made from the characters. Following the release of X-Men and Spider-Man, Lee did not receive his cut of the profits promised and as a result, he sued Marvel in 2002.
Reports say that at the time, Marvel was losing many due to a complicated financing and production plan behind the release of these movies. It was also revealed that Marvel had sold the rights to the movies to Sony Pictures who released the movies. In 2005, Lee and Marvel were reported to have settled out of court, however, years later, it was revealed that Stan Lee received a one-time payment of $10 million as a settlement fee.
Autograph Fees
Through the later stages of his life, Stan Lee began to headline Marvel comic conventions. Idolized by the numerous fans of Marvel, Lee's autograph became a big deal. He began charging $50 per autograph in 2010, a figure that soon rose to $100 by 2016 and then $130 a year later in 2017.
An Overview of Lee's earnings from Marvel
Salary As A Comic Writer For Decades – Unknown Figure (highest-paid comic writer at Marvel)
Lifetime $1 million Salary from (1990 – 2018) – $28 million approx.
Lawsuit Settlement – $10 million
Autograph Fees – $50 – $130 each
Post Marvel, Lee Set Up Some Business Ventures
Stan Lee Media
After stepping aside from most of the activities at Marvel, Stan Lee joined forces with Peter F. Paul to create Stan Lee Media in 1998. SLM was established as an Internet-based superhero creation, production, and marketing studio. After growing to a staff of 165, SLM went public. In 2000 it was named the "the best Entertainment Portal on the World Wide Web." Unfortunately, the company became short-lived following Paul's manipulation of stocks, violating the SEC's rule. The company filed for Chapter 11 bankruptcy towards the end of 2000. Lee was not implicated in the offenses while Paul was in October 2009 sentenced to 10 years in jail.
POW! Entertainment
In 2001, Lee together with Gill Champion and Arthur Lieberman co-founded POW! (Purveyors of Wonder) Entertainment. The company created movies based on the characters that Stan created, including "Chakra: The Invincible". Other productions include: "The Stan Lee's Mighty 7" media franchise, "Stan Lee's Lightspeed", "Stan Lee Presents: The Condor", "Who Wants to Be a Superhero?", and "Stan Lee's Mosaic". The company also developed and licensed intellectual properties for entertainment media ranging from film, TV, video games, and related merchandise.
After years of smooth sailing, Lee in 2018 fell out with his business partners at POW. Claiming he was unaware of the terms of POW's sale to Chinese company Camsing International, Lee sued POW for $1 billion but later dropped the suit. Lee said he was led into believing the deal was giving the buyers a non-exclusive license. He seemed to have settled things with his partners before his death. Genius Brands in July 2020, acquired the rights to Stan Lee's likeness, signature, and over 100 IPs from POW and manages them under a new joint venture with POW called Stan Lee Universe.
An Overview of Stan Lee's Business Ventures
Stan Lee Media
POW Entertainment
Stan Lee's $50 Million Net Worth Was Generally Perceived As Meagre
Technically, Stan Lee is expected to be worth a lot more, having run a multi-billion dollar company, but in the past, he has experienced major financial setbacks and has had to file for bankruptcy twice in 1996 and 2001. Ultimately, Lee did not receive royalties for his Marvel characters, had he maintained at least 5% ownership of his created characters or of the profit of Marvel productions, he would have consistently ranked as one the highest-paid people in entertainment considering that Marvel movies have cumulatively made at least $25 billion. These, among other reasons, are why Stan Lee's net worth could not leap over $50 million, although it clearly had the capacity to do so.
He Did Not Benefit From Marvel's $4 billion Acquisition By Disney
In 2009, Marvel Entertainment, the publisher's parent company was sold to Disney for $4 billion. Years after the sale many began to make speculations about Lee's net worth with some sources claiming it to be as high as $250 million. Lee did not benefit from the deal as he was never a part-owner of Marvel, however, Disney agreed to continue paying him $1 million as an annual salary. In his 2014 interview with Playboy, Lee debunked the claims of having a high net worth.
He Lost Money As A Victim of Elder Abuse
In addition to bad business decisions including not negotiating for royalties, and failed business ventures, Stan Lee also lost money in his later years at the hands of close associates who took advantage of him. His business manager, Keya Morgan, and a memorabilia collector isolated him from his friends and deceived him into transferring money out of his account. Lee would later obtain a restraining order against them. The court found them guilty in May 2019. Jerardo Olivarez, Lee's former business manager reportedly made changes to Lee's will and bought a house for himself with Lee's money. He stole at least $4 million from Lee.
Stan Lee Owned Properties Across Los Angeles
After moving to Hollywood, Stan Lee splurged on real estate. The modest two-story he lived upon arriving in the city of Angels quickly grew to become a coveted neighborhood among Hollywood's stars. Though the value of the house is not known, in June 2018, it was reported that a house in the neighborhood sold for almost $30 million.
In 2006, Lee paid $3.6 million for a 2,500-square-foot mansion in the Hollywood Hills. Years later in 2014, he listed it for $3.7 million. The next year, Lee listed another of his houses in Hollywood Hills for $5 million, and later that year, he paid $4.4 million for a 5,000-square-foot modern mansion. He opened the doors to his home for Architectural Digest in 2018. Photos showed that the four bedrooms, seven-bathroom house included a patio, pool, spa, and of course a movie theater.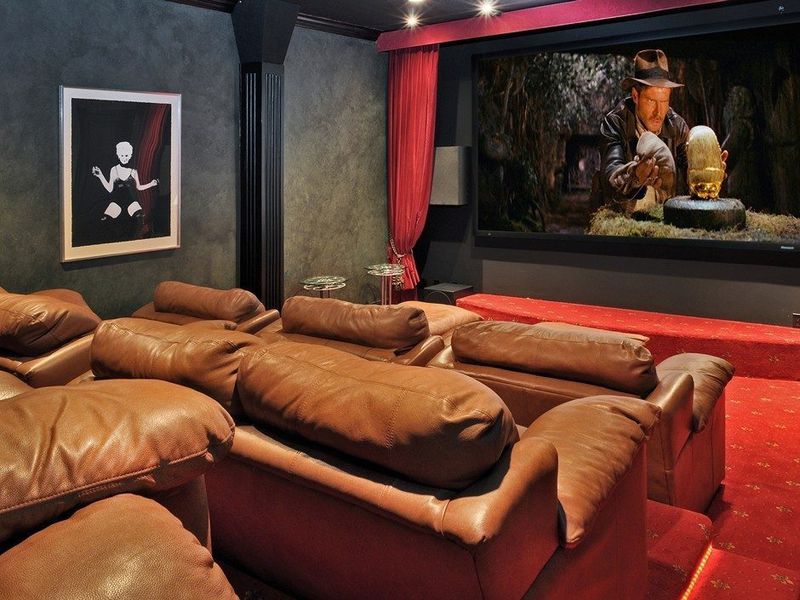 In addition to real estate, Stan Lee also spent money to collect art. He owned original pieces from Pablo Picasso, Salvador Dali, Joan Miro, and Roy Lichtenstein.
The Legendary Comic Writer Passed Away Weeks To His 96th Birthday
Stan Lee passed away on 12 November 2018, at the Cedars-Sinai Medical Center, Los Angeles, California, United States as a result of heart failure. His wealth woes began in 2012 when he had a pacemaker inserted into his heart via surgery to help with pumping blood. Though Lee managed to remain active in the subsequent years, his health slowly wanned.
By 2017, he was forced to slow down on his numerous Marvel cameo appearances. In early 2018, Lee would reveal that he was battling pneumonia. On the morning of the day Lee died, he was rushed to the ER due to complications from his ailment. Sadly, he passed away later in the day. Interestingly, Lee's wife Joan Boocock passed away in 2017 at 95 the same age as her husband. The comic writer is survived by his only daughter Joan Celia Lee who got his ashes after he was cremated.
As a reward for his outstanding work throughout his prolific career, Stan received many accolades including inductions into the much-coveted Will Weisner Comic Book Hall of Fame in 1994 and Jack Kirby Hall of Fame in 1995. In 2008, he received a National Medal of Arts honour from the then president, George W. Bush, and was inducted into the Hollywood Walk of Fame in 2011.
All His Life, Stan Lee Was Married To One Woman Joan Boocock Lee
Full Name: Joan Lee (née Boocock)
Date of Birth: 5 February 1922
Died: 6 July 2017
Occupation: Model and Voice Actress
Years Active: 1981–2016
Spouse: Sanford Dorf Weiss (1943 – annulled 1947) Stan Lee (1947 – death)
No of Children: 2
Though Stan Lee became a husband once all his life, the same cannot be said of his wife Joan. Lee was her second husband as she was previously a war bride who married American serviceman, Sanford Dorf Weiss in 1943. Their marriage happened 24 hours after they had just met and as with such quick marriages, it did not last as their union got annulled in 1947. Becoming a war bride during WW II did however help her move from Fawdon where she was raised to the United States. Lee's wife once revealed her birthplace to be Gosforth, Newcastle.
In the UK, Lee's wife became quite popular as a hat model and when she relocated to the US, she continued modeling. While modeling in New York, she was accidentally set up on a blind date with Lee by Lee's cousin. Lee's cousin had set him up with a different lady at the modeling agency but on the day he went to meet up with her, Joan answered the door and Lee was immediately smitten professing his love for her immediately. Following two weeks of dating, Lee married Joan on December 5, 1947, the same day she got an annulment for her previous marriage to the American serviceman.
The newlyweds enjoyed the early years of their marriage in a two-story 3-bedroom house which they bought in Woodmere, Long Island. They lived there until the early 50s, later in the early 80s, the couples moved from New York to Los Angeles.  Joan began a career as a voice actress in the mids 90s, she lent her voice to characters in animations like Iron Man, Fantastic Four, and Spider-Man. Stan Lee had revealed that she was the inspiration for his characters like the Fantastic Four as well as for Gwen Stacy, Spider-Man's first girlfriend in the comics. Other animations where Lee's wife has lent her voice include X-Men: Apocalypse and Avengers: Endgame both of which were both cameos and the later, a de-aged digital recreation and posthumous release.
Like her husband Lee, Joan also had writing skills. Her first novel, The Pleasure Palace was published in 1987. Sadly on July 6, 2017, Lee's wife Joan passed away in the presence of her husband and daughter from stroke-related complications.
Stan Lee and his wife had two children, Joan Celia Lee and Jan Lee
Joan Celia Lee
Date of Birth: April 1950
Occupation: Actress, Writer
Marital Status: Single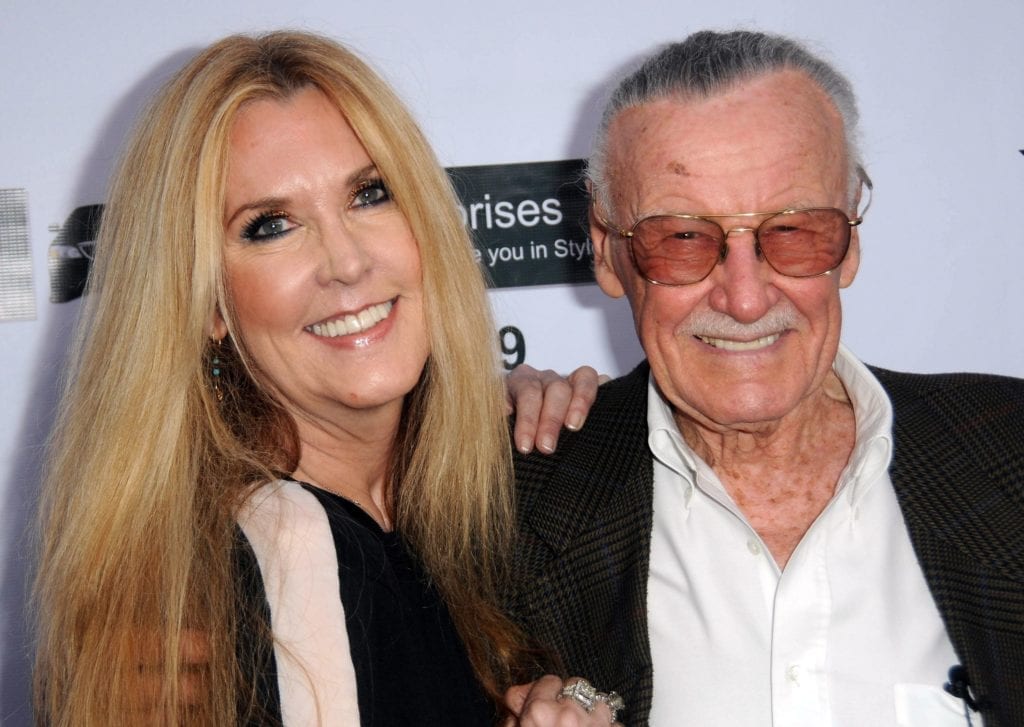 Joan Celia Lee is the first child born to Stan Lee and his wife Joan and is their only surviving daughter. As obvious, Joan shares the same name as her mom. Lee's daughter is described as an artist of sorts who loves to design, paint, write prose, and even sing. J.C. as she is also known has worked for Marvel in various positions, learning how to do layouts and paste-ups. Obviously very fond of her daddy, Joan frequently accompanied her dad to red carpet events.
Sometime in early 2018, The Hollywood Reporter after obtaining a declaration Lee had signed, reported that Stan was having issues with his daughter regarding money. The documents obtained by THR showed that JC who has a trust set up for her by her parents was in the habit of overspending, between $20,000 to $40,000 per month and would demand huge changes to her trust. Lee also explained how three men he'd worked with tried to mislead his daughter into making decisions that would rob her father of money. Lee would later deny the credibility of the document, calling it incorrect and false and defending his daughter against trying to defraud him.
A certain Bradley Herman, Lee's former business and asset manager would later come public via a podcast hosted by Alan Duke with allegations of elder abuse against JC stating that he had witnessed Lee's daughter physically abused him on occasions. JC would later file a $25 million lawsuit against Hermain saying that he was spreading false information and that he'd been fired by her dad for stealing money.
After Lee's death, JC tried and failed to regain control of her father's likeness and IPs from POW. She maintained that POW was not entitled to using her father's likeness as they did not reveal the full details of the deal with Camsing International to him. JC would distance her father's estate from Camsing.
Being Lee's only surviving family, JC is the heir of her father's estate valued at $50 million at the time of his death. Lee's daughter has never been married and has no kids.
Jan Lee (Late)
Date of Birth: 1953
Three years after the arrival of their first daughter, Stan Lee and his wife Joan welcomed another daughter in 1953 whom they named Jan, unfortunately, barely a week after her birth, Jan Lee passed away. The couple never had another child.
Profile Summary
First Name:
Stanley


Last Name:
Lieber
Also Known As:

Stan Lee, The Man, Generalissimo
Sex/Gender:

Male
Profession:

Comic book writer, editor, publisher, and producer
Famous For:
Being inducted as Hall of Famer twice, co-creating many popular fictional characters such as superheroes Spider-Man, the X-Men, Iron Man, and supervillains, includingGalactus, Tyrant, Zom, Surtur, Mangog, Thanos, among others.
Colleges/Universities Attended:

DeWitt Clinton High School in the Bronx.
Educational Qualifications:

Not available
Religion:

Agnostic.
Birthday & Zodiac

Age/Date of Birth:

December 28, 1922 -November 12, 2018
Zodiac Sign:
Capricorn


Birth Place:

Manhattan, New York City, New York, United States
Nationality:
American
Ethnicity/Race:

White


Country of Residence:

USA
Physical Attributes

Height:

5 ft 11 in or 180 cm
Weight:

71 kg or 156.5 lbs
Eye Colour:

Blue
Hair Color:

Salt & Pepper


Other Body Measurements:

(Chest-waist-hips), 40-36-38
Relationships

Marital Status:

Widowed
Spouse/Partner:

Joan Boocock Lee (1947-2017)
Family and Relatives

Father:

Jack Lieber
Mother:
Celia (née Solomon)
Children:

Joan Celia Lee and Jan Lee
Siblings:
Larry Lieber (younger brother)
Other Relatives:

Not available
Net Worth
Estimated Net Worth:

$50 million
Salary:
Not available
Source of Wealth:

Comic book writing, editing, publishing, and film production