Some basketball players who were at the top of their game, and were unstoppable at the time they played have aged badly. Not just that they grew old but they grew old faster than expected. While old age is a blessing and some of the basketball players grew handsomely old, some others are really breaking our hearts with their ugly aging looks. Though it is quite unfair to term them all ugly, it is obvious that they look older than we thought they would at their different ages. We pulled together a quick basketball aging list so you see those who got too old for their age with their wrinkled faces. Well, this is no final list, but the following basketball legends will help you know that age comes much faster at some people than others.
 1. Larry Bird
Age: 66 
Last NBA team: Boston Celtics
Larry Bird rose to superstardom during his stay with the Boston Celtics, and he's as of now the team president of the Indiana Pacers. The 12-time NBA All-Star and three-time league's Most Valuable Player (MVP) (1984–1986) seems to have been treated unkindly by age. While his blue eyes still look young, his face appears to have been fouled badly in his salad days.
2. Dennis Rodman
Age: 62 
Last NBA team: Dallas Mavericks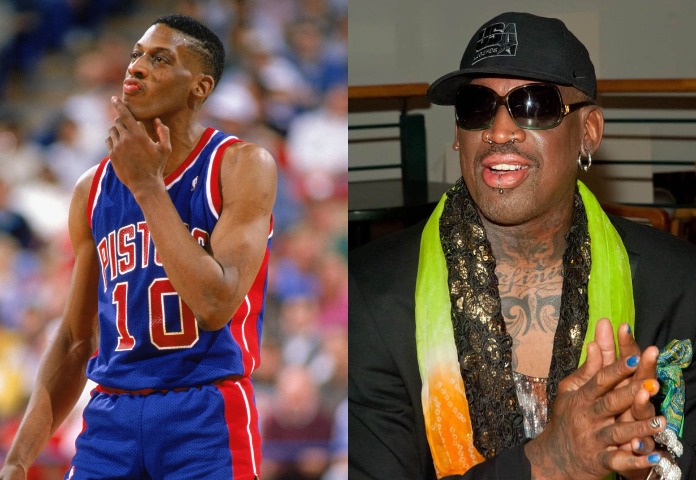 Dennis Rodman, a retired American professional basketball player, spent time playing for the Detroit Pistons, San Antonio Spurs, Chicago Bulls, Los Angeles Lakers, and Dallas Mavericks in the National Basketball Association (NBA). Famed for his fierce defensive and rebounding abilities, the 'Worm' as he was famously called looks ten years older than his actual age after dyeing his hair many colors, inking some tattoos, and having several piercings done.
3. Tyrone Hill
Age: 55 
Last NBA team: Miami Heat
Tyrone Hill spent time with Golden State Warriors and the Cleveland Cavaliers and was the assistant coach of the Atlanta Hawks. Even though Hill has been listed as one of the most unattractive men in the NBA numerous times, age still hasn't improved his looks. He is only
55, but Tyrone Hill has the same looks as some people in their late 60s.
4. Gheorghe Mureșan
Age: 71 
Last NBA team: New Jersey Nets
Join us in wishing a big happy birthday to Gheorghe Mureșan! 🎉🎂#DCFamily pic.twitter.com/RFkZ4kDAOU

— Washington Wizards (@WashWizards) February 14, 2019
Gheorghe is a retired Romanian professional basketball player popular for his incredible size and unattractive appearance. At 7 feet 7 inches (2.31 m), he is one of the two tallest players in NBA history. In fact, he is the tallest man in Romania and the second tallest living person in the European Union after British actor and former basketball player Neil Fingleton, who stands 7 feet 7.5 inches (2.324 m). Sadly, though the giant player was never known for his appealing looks, time has added to his dilemma. The addition of folds or lines and grey hair makes him look older than his 71 years.
5. Bill Walton
Age: 70 
Last NBA team: Boston Celtics
Walton gained prominence playing for John Wooden's powerhouse UCLA Bruins in the early '70s, winning three successive College Player of the Year Awards, while leading the Bruins to two Division I national titles. He also spent time in the National Basketball Association (NBA) where he was league Most Valuable Player (MVP) and won two NBA championships. Walton is one of the greatest basketball players with an incredible career, but he really changed with age. He is 62 but somewhat looks older than that.
6. Greg Oden
Age: 35 
Last NBA team: Miami Heat
Shockingly Greg Oden is only 35, but his recent photos show a man way older than his age. Well, you can blame his look on the stress of his career and the multiple injuries he's sustained but the on and off basket player looks well more than his 35 years.
7. Kevin McHale
Age: 65 
Last NBA team: Boston Celtics
Keven McHale is a Basketball Hall of Fame inductee and at a time was the head coach of the famous Houston Rockets. The 6'10" star has lost his young look as a professional basketball player, and his age (57) is easy to see by his well-lined face and dim eyes.
8. Steve Francis
Age: 46 
Last NBA team: Houston Rockets
Steve Francis played for the Houston Rockets and was famous for his crossover dribble, driving ability, and flashy dunks. He's always had news coverage, headlines. Well, the ex-basketball player is unbelievably one of the youngest stars here, but he looks dramatically older than his age. Many have speculated that drug use is behind his premature aging.
9. Karl Malone
Age: 59 
Last NBA team: Los Angeles Lakers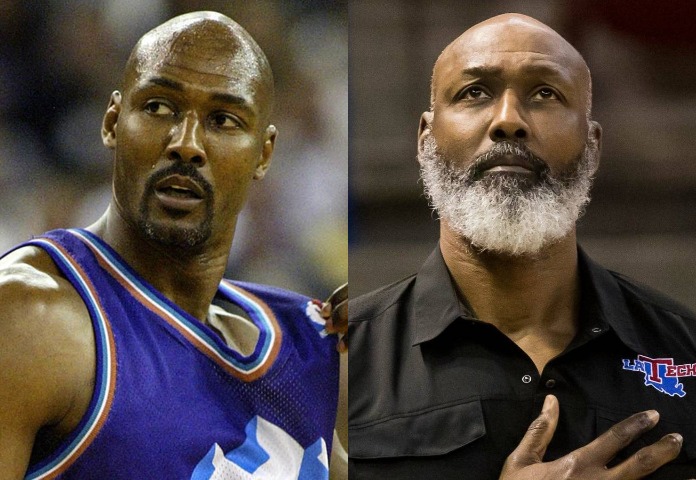 Malone played the power forward position and spent his first 18 seasons (1985–2003) in the National Basketball Association (NBA). Though he is not ugly, one look at his latest pictures would make you think he is in his 60s when he is only 59. Nicknamed "The Mailman," the 14-time NBA All-Star is still regarded as one of the best power forwards in the history of the NBA. The nice-looking young man with well-shaved bears has now gone bald with grey beards.
10. Kurt Rambis
Age: 65
Last NBA team: Los Angeles Lakers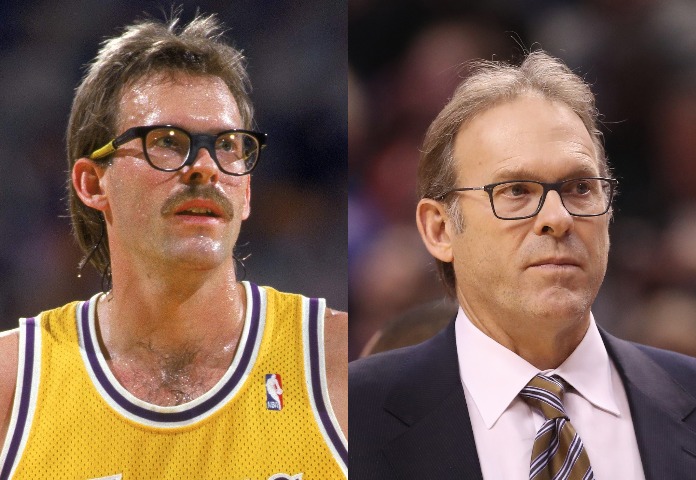 He is a basketball coach and former professional basketball player. He currently works as an assistant coach for the National Basketball Association's New York Knicks. Kurt Rambis spent 15 years playing for the NBA, and he went on to coach the Minnesota Timberwolves. At 65, age is coming at him fast. He's acquired a gut, his hair is thinning, and lines on his face and neck ensure that he can't lie about his age.
11. Kareem Abdul-Jabbar
Age: 76 
Last NBA team: Los Angeles Lakers
Kareem Abdul-Jabbar played 20 seasons in the National Basketball Association for the Milwaukee Bucks and Los Angeles Lakers. He was a record six-time NBA Most Valuable Player (MVP), a record 19-time NBA All-Star, a 15-time All-NBA selection, and an 11-time NBA All-Defensive Team member. At 76, Kareem looks like he is way older.
12. Dirk Nowitzki 
Age: 44
Last NBA team: Dallas Mavericks
The German former professional basketball player's career spanned from 1994–2019 and indeed, Dirk Nowitzki has paid his dues to the fullest in the NBA. He joined the NBA AS Milwaukee Bucks' 9th pick but was traded to the Dallas Mavericks in a multi-team deal which made buzz then. Many years have passed since then and Dirk age has taken a toll on the player, little wonder he bowed out of the league in 2019.
13. Don Nelson
Age: 83
Last NBA team: Dallas Mavericks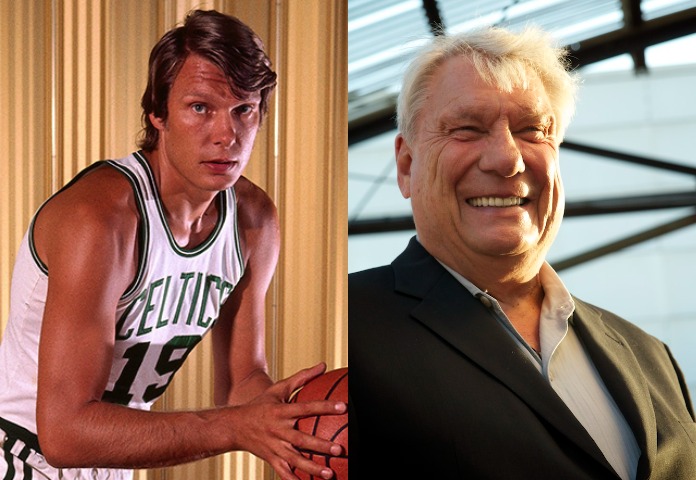 Born May 15, 1940, and named Donald Arvid Nelson, the 83 retired basketball player and coach was famous with his signature hairstyle in his playing days. As he retired as a player to become a coach, he opted for a more professional look to suit his new role as a coach. Similarly, when he called time on his coaching career, Don also changed his hairstyle into a style more relaxed. In all, a glance at his face will no doubt tell you that he has lost his young man's goods.
14. Julius Erving
Age: 73
Last NBA team: Philadelphia 76ers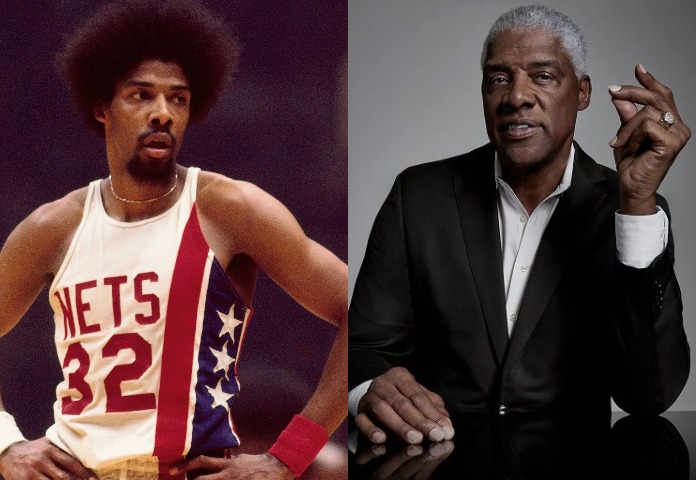 Julius Erving has not aged badly, but he's simply unrecognizable now from the way he used to look before. The 73 years old Julius Winfield Erving II was easily recognizable in his playing days with his black facial hair and later afro hairstyle. However, those days are far gone as he prefers to have his grey hair neatly trimmed down. The wrinkles all over his face are signs that Dr. J as he was famously called is now an old man.
15. Vlade Divac
Age: 55
Last NBA team: Los Angeles Lakers
Vlade Divac is a Serbian born basketball player who played from 1983–2005 in the NBA. In his playing time, he was named to the 1989–90 NBA All-Rookie First Team, named NBA All-Star, 2001 to mention just a few of what the wrinkle face Vlade was able to accomplish. Indeed, Vlade has aged but not too bad for a man who accomplished all he was able to accomplish in the sport.