Calculated and very intelligent, Siohvaughn Funches is an American certified counselor and author who has often been described as a 'strong-willed' woman. She is admired for her public speaking skills as she has gone around American cities speaking to enthusiastic audiences.
Apart from being known as an author and public speaker, Siohvaughn Funches is more known around the world as the former wife of Dwayne Wade, a very popular American former professional basketball player who is regarded as one of the legends of the game. Dwayne made waves during the height of his career and became very popular. Apparently, his fame rubbed off on Funches who became one of the talked about American celebrity wives.
Siohvaughn Funches Bio
Siohvaughn Funches was born on the 6th day of the month of September in the year 1981. The public speaker was born in Chicago, a boisterous city in the state of Illinois, U.S.A. It was also here that she was raised by her parents.
She was born to a father identified as Frank Funches and a mother called Darlene Funches. Siohvaughn did not have a very smooth childhood; this is because her parents did not stay together for long. When she was just 3 years old, her father and mother got divorced. While she was still trying to grapple with the idea of growing up in a broken home, her sister whose name has been given as Garricae LeAnna Woods, died when Siohvaughn was a teenager. The loss of her sister dealt her quite a serious blow and she often talked about the sad episode later on in life, revealing that it left her devastated.
Siohvaughn is a well-read woman; growing up, she attended Harold L. Richards High School, a secondary school located in Oak Lawn, Illinois. When she graduated from there, she proceeded to attend the University of Phoenix from where she graduated with a degree in Psychology in 2009. Passionate about counseling, Siohvaughn Funches went on to acquire a Professional Counselling Certificate from Capella University in 2010. After this, she proceeded to study law at John Marshall Law School in Atlanta.
She has since gone on to make the most of her knowledge, counseling men and women and speaking to audiences about how to overcome fears and be a better version of themselves.
Siohvaughn Funches' Net Worth
Over the years, Siohvaughn has worked as a counselor, counseling many people around America and, of course, earning from her work. She has also written books which sold several copies around the nation. In addition to this, she got quite a lot of money in her divorce settlement when she got divorced from Wade.
Apparently, Siohvaughn is well to do and has consolidated on her financial independence. At the moment, her net worth is believed to be about $5 million.
How she met Dwayne Wade
Siohvaughn Funches met Dwayne Wade when she was still a teenager and when Wade was not yet a basketball superstar. According to sources, she and Wade attended the same high school and fell in love while they were still students there. Their love affair grew with time and it seemed that they would be together forever. In fact, they were so close that Wade actually lived with Siohvaughn's mother in their home for some time so as to avoid some troubles he was facing in his own home.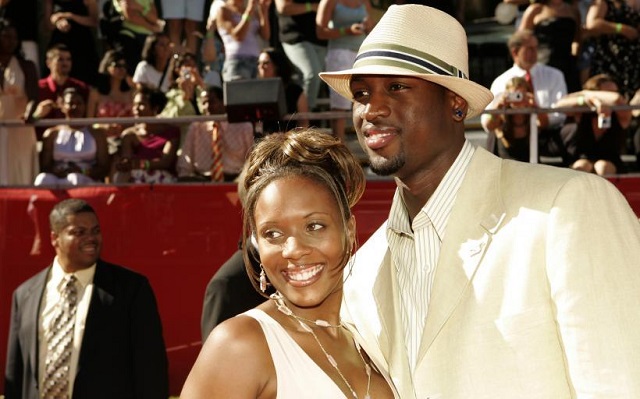 In 2002, while they were still quite broke, Siohvaughn and Wade decided to get married. At the time, they were living in a small apartment trying to make do with what they had. But they loved each other and were determined to make their marriage work.
Shortly after their marriage, Wade entered the 2003 NBA Draft and got selected by the Miami Heat as the 5th overall in the year's draft. Dwayne Wade began to wow basketball fans with his incredible skills on the court and won the hearts of many people. He became very successful and, of course, money started rolling in. Siohvaughn and Wade started living in luxury.
Their children
Siohvaughn and Wade have two sons together. Their first son identified as Zaire Blessing Dwayne Wade was born on February 4, 2002. Zaire was actually born before the couple got married and the boy's arrival seemed to have helped to strengthen the bond between Siohvaughn and Wade.
Their second son, Zion Malachi Airamis Wade was born on May 29, 2007. It was shortly after the boy was born that their marriage fell apart.
Their messy divorce
While everything seemed to be going well for the couple, this actually wasn't the case. It turned out that Siohvaughn and Wade were having serious issues with their marriage. In 2007, shortly after their son Zion was born, Wade filed for divorce from Siohvaughn. This came as a shock to many who believed the two were happy together.
Their divorce process lingered till 2010 and was quite acrimonious and messy. This was because both parties accused each other of horrible things and filed multiple lawsuits against each other, dragging the entire court process. In fact, at one point, Siohvaughn staged a public protest in the streets of Chicago while holding up a handwritten sign that read, "NBA Miami Heat star, mother of his children on the streets". However, many people were not pleased with her considering the fact that she was given a handsome divorce settlement.
Their divorce was finalized in 2010 and the full custody of their children was given to Wade after he applied for it. Siohvaughn was, however, allowed 'regular parenting time' by the court. Siohvaughn was also given $5 million in compensation. She also got to take over their South Holand mansion which they lived in during their marriage. Also, she took over four of the family's cars.
READ ALSO: Colleen Wolfe – Bio, Net Worth, and Family Facts
Siohvaughn as an author
In 2016, Siohvaughn published a book titled "The True Story For God's Glory". She published the book shortly after Wade published his own book titled "A Father First: How My Life Became Bigger Than Basketball" and countered some allegations the basketball player made.
In 2018, she published her second book which she titled "You Gotta Let God Finish!" She is now a public speaker and counselor and is doing well for herself.