The founder of the biggest independent film festival in the US Robert Redford is no doubt a big name in Hollywood. Apart from his Utah-based Sundance Institute and the media glory it has brought his way, he has been winning multiple awards since he was only three years old in the industry way back in 1962. Thus, you are sure to know a lot about him, but how much do you know about Robert's second wife Sibylle Szaggars? We bet not much…
Sibylle and Robert have been married for just over 10 years, after a long-drawn romance that spanned a dozen years. And, if what we see in the public is anything to go by, their relationship is still going strong. Learn all about who she is and how she met the Hollywood icon below.
Sibylle Szaggars's Background and Early Life
Sibylle Szaggars was born on the 14th of April 1957 to parents whose identities are yet unknown to us. Her birthplace is given as Hamburg, Germany.
Growing up in Hamburg, Sibylle got deeply fascinated with the sheer nature that surrounded her everywhere. So, while her peers were getting buoyed up to explore the elegance of the City's rich cultural background including so many opera houses, theaters, broadcasting centers, and publishing outfits, Sibylle was busy watching birds and taking long walks into the countrysides.
In her childhood days, Sibylle caught the knack for expressing her fascination with nature by the use of strokes and colors. Thus, she grew up using rudimentary tools like watercolor as a means of expressing her creativity.
Sibylle Has Spent Decades Portraying Nature In Fine Arts
Sibylle Szaggars is very much known today as the wife of the Sundance Film Festival founder Robert Redford. However, for some two decades prior to meeting Roberts, she had been busy capturing Mother Nature with the use of colors and pencil strokes.
She began her career as a painter in the early 1980s when she moved from her home country, Germany to London. In London, Sibylle got herself a warehouse which she turned into a painting studio, one canvas at a time.
Having grown up keenly observing her environment, she came to a conclusion about the importance of improving how humanity relates with nature and chose to incorporate the belief into her work as a painter, becoming an environmental artist. She had one of her earliest exhibitions in London and Germany, including a group exhibition at Gallerie im Theatre Operretenhaus, located in her hometown, Hamburg.
Towards the end of the 80s, Sibylle Szaggars relocated to the United States and began to familiarize herself with the culture, with a focus on Native American culture. This acquired knowledge became a part of a series of paintings by the German painter. As someone who is very much concerned with the environment and human culture as a whole, she took her exploration further across America to Utah sometime in the early 90s where she established a painting studio in the Wasatch Range, close to the Sundance Mountain Resort.
Her continued exploration of cultures and the state of the environment took her down to Morocco where she experienced locations like the Draa Valley and other important cultural and national elements in the region. The painted works for her trip to the North African country went up for exhibition in San Francisco in the United States in 2011.
Sibylle Szaggars has also collaborated with other artists like Nina Kotova, a cellist. Together, they created large-scale paintings which were were titled Shape of Color. The paintings were opened to the general public for exhibition in 2008 at the International Classical Music Festival in Italy.
In 2010, Sibylle combined two different aspects of arts; having explored the creation of painted works with the use of rainwater in a series of paintings titled Rainfall, she showed her completed work via a crafted film which was supported by the work of David Thor Jonsson, an Icelandic musician. Through her fascination with combining her work and film, she has made two films, Rainfall and The Way of the Rain. The latter is a stage play that has debuted on two theater stages in New Mexico and in Miami.
Furthermore, the digital version of the story was submitted to the Sundance Film Festival where it was selected as part of the festival's lineup. As part of her contribution to the development of art and the protection of the environment, Sibylle created a non-profit organization named The Way of the Rain Inc to achieve the goal.
For Sibylle Szaggars, expressing her passion for arts has been primary, but she has also made money from it. Although her net worth is a far cry from her husband's $170 million, she is also rich in her own right: The latest reports placed her net worth at $2 million.
Sibylle Szaggars Relationship With Hollywood Big Shot Robert Redford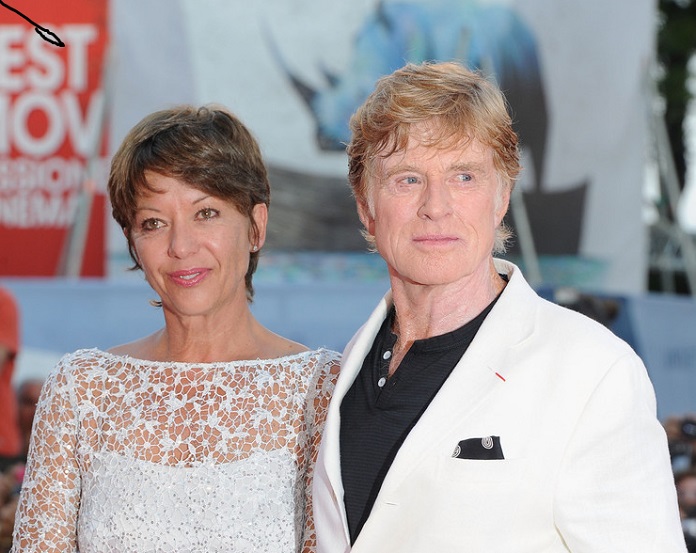 For years, it seemed that the only thing that took the attention of Sibylle Szaggars was her work, as it never surfaced in the media that she was in a romantic relationship with anyone.

As it would turn out, she had never been married before until she became the wife of Butch Cassidy and the Sundance Kid star, Robert Redford in 2009. The couple got married at the notable Louis C. Jacob Hotel.

See Also: Biography of Felicity Blunt – Wife of Stanley Tucci and Sister To Emily Blunt

You might be wondering how a painter known for often getting absorbed in her work in an obscure studio came to meet the flamboyant Hollywood bigshot. It all began when Sibylle set up an art studio in the neighborhoods of Sundance Mountain Resort sometime in the early 1990s, little did she know that the proverbial Cupid's arrow would soon be sticking her together with one of the biggest names across the streets.

The starting point of their relationship was at the 1996 Sundance Film Festival where they met for the very first time. It is not clear why Sibylle Szaggars had attended the event. Robert Redford who had been single for over a decade following his divorce with his first wife Lola Van Wagenen soon caught her fancy. Soon, they took to each other, starting a romantic relationship that went on for the next 12 years.

The couple hasn't got children of their own together. It even seems it's not in their plan. However, Sibylle is a stepmother to all four of Robert Redford's children from a previous relationship – including the actress, director, and producer Amy Redford. The couple shares Roberts' Sundance Mountain Resorts residence in Utah.

Fact Check: We strive for accuracy and fairness. If you see something that needs updating,