The Chinese entertainment industry may not be as globally accepted as its American counterpart but it boasts of a similar scale of audience. With over one billion potential viewers, successful actors and actresses, the Chinese film industry became instantly famous across Asia. This is a good devlopment actors like Shen Yue who came into the limelight sometime in 2017.
Shen Yue has starred in dramas like A Love So Beautiful, Meteor Garden, Let's Shake It and a couple more others, through which her performances have endeared her to millions of Chinese film and TV fans and has earned her a couple of awards. Read all about Shen Yue and everything you need to know about her below.
Shen Yue Biography & Age
Shen Yue, the actress with the rapidly rising profile was born on the 27th of February, 1997 in Wugang, Hunan in China. Her parents and other background details are unknown but she is known to have studied Journalism and Communication at Hunan Normal University. She graduated from the university in 2014 and it would have been fair to expect her to pursue a career in journalism, which she did briefly as an intern working for Hunan Satellite TV. However, the trajectory of her life changed from journalism to modeling after a friend posted her picture online during her second year.
She began to work as a model, posing for a couple of brands and soon transitioned to acting roles, beginning by participating in the reality show, Summer Sweetie. Eventually, after a couple years of exploring various roles in the entertainment industry, she made her debut as a professional actress in 2017 and has remained one ever since, garnering popularity and accolades in the process, as shown by her social media accounts where she has over 250 thousand followers on her Instagram page and over 9 million on her Weibo account.
Career
Her journey in the entertainment industry began as far back as 2014 but she did not appear on screen as an actress until 2017 when she made her debut in the TV series, Autumn Harvest Uprising. It was a minor role for Shen Yue but it was enough to convince other production companies and casting directors that she was a talented actress, and thus got more responsibilities as a supporting character in her second project, the TV show, Let's Shake It.
Before 2017 wrapped up and her debut year was over, Shen Yue starred in the romance drama, A Love So Beautiful, playing the role of Chen Xiaoxi. It was a successful performance on her part and it resulted in growing popularity for Yue in the Film and TV space.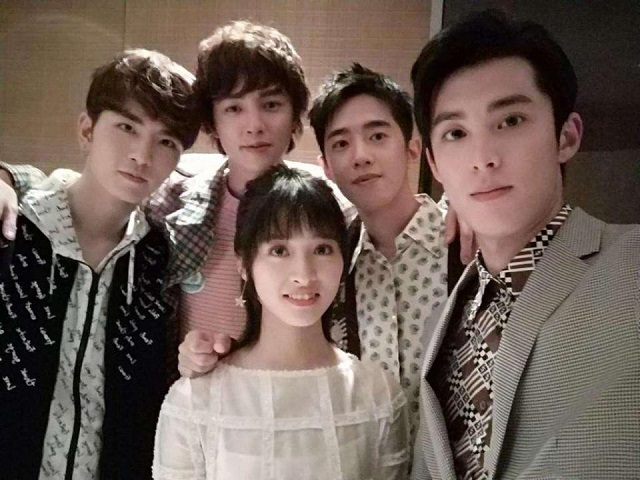 In the following year, 2018, Shen Yue starred in the TV show, Meteor Garden and later joined the variety show, The Inn 2. Other appearances include Another Me in 2019. Outside of her regular acting roles, Shen Yue has made appearances in the CCTV Spring Festival Gala, where she performed in a comedy sketch.
Although it has been a short career thus far, Shen Yue has left enough impression to have won a couple of awards like the 2018 Baidu Entertainment Award for Character of the Year. She is signed to Mantra Pictures.
Does Shen Yue Have a Boyfriend or Husband?
It hasn't been a long time since she became a recognized star in the Chinese entertainment industry but it only takes one successful project for fans to start asking about your personal life and that has been the case for Shen Yue whose personal life has been the subject of interest of several millions of her fans.
There have been questions as to whether she is married or dating anyone but so far, there has been little in the way of confirmation from the actress, even after a romantic picture of her with Connor Leong was leaked. As it stands, while we cannot say definitively if she is in a relationship, she is certainly not a married woman.
See Also: Priscilla Chan – Bio, Net Worth, Age, Education, and Family
Shen Yue's Height
Her acting talents and the subsequent success places Shen Yue well above the average person but at a height of 5 feet 2 inches, she is at the exact average height of a Chinese woman.

Other facts about her body profile include her body weight, which is 45kg and her body measurement which is 30, 24 and 33 inches, for her bust, waist and hip sizes respectively. Other noticeable features include dark brown eyes and black colored hair.

Fact Check: We strive for accuracy and fairness. If you see something that needs updating,