The Chinese entertainment industry may not be as globally accepted as its American counterpart, but it boasts of a similar scale of audience. With over one billion potential viewers, successful actors and actresses, the Chinese film industry became instantly famous across Asia. This is a good development for an actor like Shen Yue who came into the limelight sometime in 2017.
Shen Yue has starred in dramas like A Love So Beautiful, Meteor Garden, Let's Shake It, and a couple more others, through which her performances have endeared her to millions of Chinese film and TV fans and has earned her a couple of awards. Interestingly, the actress first kicked-off her professional career as a journalist before becoming a household name as a C-drama star.
Shen Yue First Began Her Career in Journalism
Shen Yue, the actress with the rapidly rising profile, was born on the 27th of February, 1997 in Wugang, Hunan in China. Her parents and other background details are unknown, but she is known to have studied Journalism and Communication at Hunan Normal University. She graduated from the university in 2014, and it would have been fair to expect her to pursue a career in journalism, which she did briefly as an intern working for Hunan Satellite TV. However, the trajectory of her life changed from journalism to modeling after a friend posted her picture online during her second year.
As a result, she began to work as a model, posing for a couple of brands and soon transitioned into an actress. Her first acting stint was when she participated in the reality show, Summer Sweetie. Eventually, after a couple of years of exploring various roles in the entertainment industry, she made her debut as a professional actress in 2017. Since then, she has garnered wide popularity and several accolades in the process, as shown by her social media accounts, where she has over 1 million followers on her Instagram page and over 9 million on her Weibo account.
How She Became a C-Drama Star
Yue's journey in the entertainment industry began as far back as 2014, but it was in 2017 that she made her acting debut in the TV series, Autumn Harvest Uprising. Although it was a minor role for Shen Yue, it was enough to convince other production companies and casting directors that she was a talented actress, and thus got more responsibilities as a supporting character in other projects.
In the same 2017, she bagged a role in a web TV series Let's Shake It, starring alongside Zheng Yecheng and An Yuexi. Soon after her amazing depiction of Xiao Yue in the aforementioned series, Shen Yue was subsequently catapulted to stardom with her lead role of Chen Xiaoxi in the romantic comedy-drama series, A Love So Beautiful. The series was based on Zhao Qianqian's novel entitled Our Pure Little Beauty and was aired on Tencent Video from November 9th till December 7th, 2017.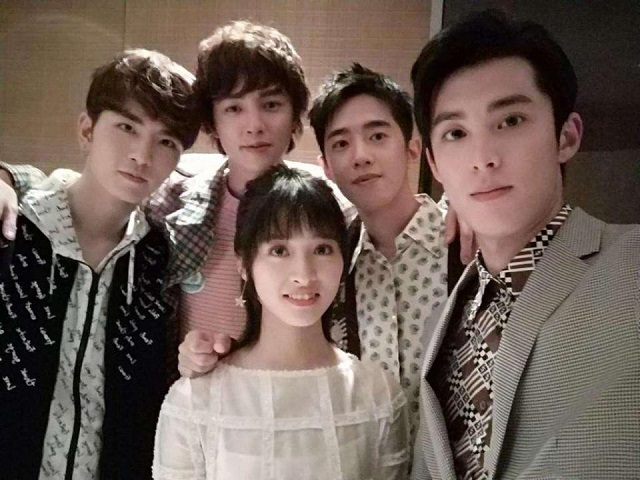 Having put up such an outstanding performance just a few months after she made her debut in the Chinese entertainment industry, Shen gained widespread attention as the series became an international hit. Consequently, she was cast as a female lead in Meteor Garden, a 2018 Chinese TV series, which is a remake of the 2001 Taiwanese series of the same name. Also, the series is based on the Japanese shōjo manga series Boys Over Flowers and was commercially successful in Southeast-Asian. Aside from Shen Yue, the show also has Dylan Wang, Darren Chen, and Connor Leong, among its cast.
Following her outstanding performance in the series, Shen became very eminent and simultaneously gathered local and international fan base. Afterward, she was cast in other TV series, including Another Me and a variety show The Inn 2. Additionally, Shen Yue will make her first motion picture appearance in the 2020 movie, Onmyoji. She will also star in a lead role as Tong Xiaoyou in Count Your Lucky Stars, which is in the post-production stage.
#CountYourLuckyStars, starring #JerryYan and #ShenYue, releases new teaser and hints at premiere coming soon
#我好喜欢你 #交换吧运气 #言承旭 #沈月 #cdrama pic.twitter.com/UIZpOC1NWn

— cdrama tweets (@dramapotatoe) April 7, 2020
Outside of her regular acting roles, the actress has made appearances in the CCTV Spring Festival Gala, where she performed in a comedy sketch. Although the adroit actress has garnered fame through her roles in a few TV projects, she still has a colorful future ahead of her in the Chinese entertainment industry.
Shen has further left enough impression to have won a couple of awards like the 2018 Baidu Entertainment Award for Character of the Year and Madame Figaro Fashion Award for Philanthropy Idol of the year 2019. She is currently signed to Mantra Pictures.
A Look at Her Dating Life
Although it hasn't been long since she became a recognized star in the Chinese entertainment industry, it only took one successful project for fans to start asking about her personal life, which has become the subject of interest to several millions of her fans. There have been questions as to whether she is married or dating anyone, but so far, there has been little in the way of confirmation from the actress, even after a romantic picture of her with Connor Leong was leaked. More so, over the past years, Shen Yue has been rumored to be dating her Meteor Garden co-star, Dylan Wang.
Dylan Wang and Shen Yue are not dating in real life! #MGTruthHurts pic.twitter.com/yzcLN2z6Ye

— Shen Yue (@iShanCai) September 3, 2018
However, the actress addressed the rumor via her Twitter account, citing that she is not dating Dylan and that the two have never dated. They just only had a magical time as on-screen lovers. As it stands, while we cannot say definitively if she is in a relationship, she is certainly not a married woman.
Shen Yue Has Acquired Incredible Wealth From Her Career
Despite kick-starting her professional acting career in the year 2017, Shen Yue has been able to boost her earnings, as she is said to be worth over ¥255,000. Well, this is not surprising as the gorgeous actress has thus far starred in two massive hit TV series – A Love So Beautiful and Meteor Garden. It is also worth noting that she is a singer who has recorded official soundtracks for some TV series. In 2019, Shen provided 'I Miss You' soundtrack for Bureau of Transformer and equally 'Qiyue and Ansheng' for Another Me, collaborating with Chinese actress, Chen Duling.
See Also: Priscilla Chan – Bio, Net Worth, Age, Education, and Family
Yue Stands at the Height of an Average Chinese Woman
Her acting talents and the subsequent success places Shen Yue well above the average person, but at a height of 5 feet 2 inches, she is at the exact average height of a Chinese woman. Other facts about her body profile include her body weight, which is 45 kg, and her body measurements, which are 30, 24, and 33 inches, for her bust, waist, and hips, respectively. Other noticeable features include dark brown eyes and black colored hair.