Wrestling, especially under the leadership of the topmost promotion company, WWE, has produced an impressive number of icons and legends who have graced the sport and left their mark as legendary stars. Out of a very long list of iconic wrestling personalities is Michael Shawn Hickenbottom, more popularly known as Shawn Michaels.
During his time as an active wrestler, he became one of the most beloved wrestlers in the WWE roster, with a career laden with several iconic fights. He is widely considered one of the greatest professional wrestlers in history and that fact is proven true with every scream of excitement that goes out in a wrestling arena at the sound of his name.
In this article, we explore everything you need to know about Shawn Michaels and you can read all about it below.
Early Life and Career Beginnings
The name Michael Shawn Hickenbottom may not command as much excitement as Shawn Michaels but before he became a professional wrestler, it was his only known name, given to him at the time of his birth on the 22nd of July, 1965 in Chandler, Arizona where he was born as the last child in a family of four children.
He was born into a military family, which meant he spent a period of his childhood living in different cities across the globe, including England where he began his education at Reading, Berkshire.
Despite the interest and desire to become a wrestler from the age of twelve, Shawn Michaels competed in other sports such as football, excelling enough to become the captain of his high school football team at Randolph High School.
Shawn Michaels spent a couple of months as a college student at Southwest Texas State University before he dropped out and went in pursuit of the dream he has had since he was twelve years old. He began to train as a wrestler in the early 1980s under the tutelage of Jose Lothario, eventually debuting as a pro-wrestler for the National Wrestling Alliance in October 1984. Before he eventually joined the WWE, Shawn Michaels fought under a couple of promotion companies, like Texas All-Star Wrestling, World Class Championship Wrestling and American Wrestling Association.
Although he joined the WWE (then known as WWF) briefly in 1987, he became a full-fledged member of the company in 1988 and remained on the roster until 1998 when an injury he suffered during a match against The Undertaker forced him into early retirement.
He eventually returned to the WWE in 2002 after a couple years and remained a member of the promotion company until his final retirement on the 2nd of November, 2018.
During his career, Shawn Michaels won a number of accolades, including a record eleven Match of the Year awards. He has also won the WWE World Heavyweight Championship three times and was World Tag Team Championship five times.
He was inducted into the WWE Hall of Fame twice in 2011 and 2019.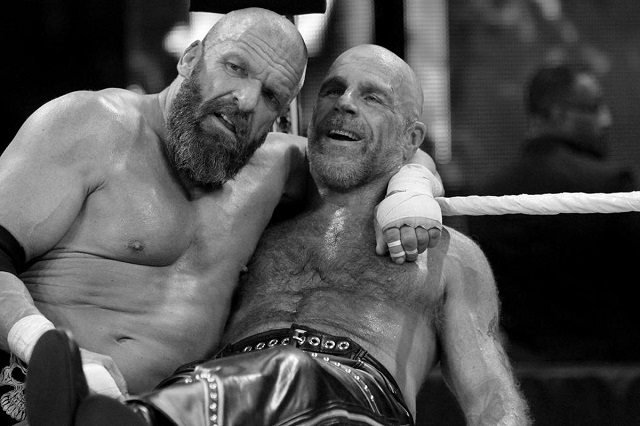 Shawn Michaels' Net Worth
His superstar status during his active WWE days put him at the top end of the salary scale for the promotion company, with many reports suggesting he earned as much as $1 million per annum.
During long injuries and post-retirement, he continued to play a role as part of the WWE and as a result, been able to maintain a significant net worth of $17 million.
As part of his wealth, Shawn Michaels owns a mansion in San Antonio, Texas and a couple of luxurious cars.
Wife And Son
In the world of wrestling, where fighting schedules are tight and a fatal injury is always lurking in the corner, finding and maintaining a relationship is always a herculean task for professional wrestlers but a number of them have been able to make it work, including Shawn Michaels.
Shawn Michaels has so far been married twice, the first time being to Theresa Wood. The marriage began in 1988 and ended in 1994 in what was an amicable and peaceful divorce.
After the end of his first marriage, Shawn Michaels took his time before getting married again and did not walk the aisle until 1999, with a former member of the wrestling community, Rebecca Curci.
The couple got married on the 31st of March, 1999 in a wedding chapel in Las Vegas with no family members or friends. They gave birth to their first child, Cameron Jade in the following year, on the 15th of January, 2000 and the second, Cheyenne on the 19th of August, 2004.
Although their wedding was unusual, the couple has remained together ever since, with their two children.
See Also: Billie Kay – Bio, Boyfriend, Husband, Facts About The Pro Wrestler
Height And Weight
Although the biology of age has taken effect on his body, at a height of 6 feet 1 inch and body weight of 102kg, Shawn Michaels still cuts a fit figure, maintaining admirable body shape.

Additionally, his body profile includes a chest size of 46 inches and bicep size of 17 inches.

Fact Check: We strive for accuracy and fairness. If you see something that needs updating,