Whatever reservations one may have about the realness or not of the WWE, the truth remains that the platform has produced an impressive number of icons and legends who have graced the universe and left their mark as stars. Out of that very long list of iconic wrestling personalities is Michael Shawn Hickenbottom, popularly known as Shawn Michaels.
During his time as an active wrestler, Michael established a career laden with several known fights, as well as championships. He was widely considered one of the greatest professional wrestlers in history and that fact was proven to be true by every scream of excitement that went out in a wrestling arena at the sound of his name. Michaels has now retired but his exploits in the WWE universe remain legendary.
How He Got His Start as a Professional Wrestler
The name Michael Shawn Hickenbottom may not command as much excitement as Shawn Michaels but before he became a professional wrestler, it was his only known name, given to him at the time of his birth on the 22nd of July, 1965 in Chandler, Arizona. He was born as the last child in a family of four children. Michaels was born into a military family, which meant he spent a period of his childhood living in different cities across the globe, including England, where he began his education at Reading, Berkshire.
Despite the interest and desire to become a wrestler from the age of twelve, Shawn Michaels competed in other sports such as football, excelling enough to become the captain of his high school football team at Randolph High School. He then spent a couple of months as a college student at Southwest Texas State University before dropping out and going in pursuit of the dream he has had since the age of 12.
Michaels began to train as a wrestler in the early 1980s under the tutelage of Jose Lothario, eventually debuting as a pro-wrestler for the National Wrestling Alliance in October 1984. Before he eventually joined the WWE, Shawn Michaels fought under a couple of promotion companies, like Texas All-Star Wrestling, World Class Championship Wrestling, and American Wrestling Association.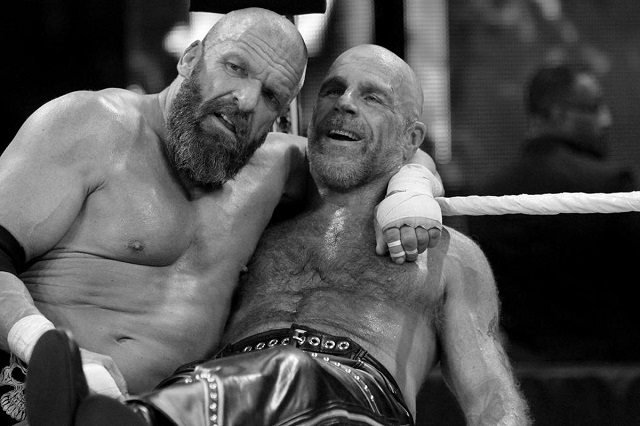 Becoming one of the Highest-Paid Wrestlers in the WWE
Shawn Michaels became a full-fledged member of the WWE in 1988 and made his debut in July 1988, as part of a tag team known as The Rockers. Alongside his partner, Marty Jannetty, The Rockers held sway for about three years during which they developed a large fan base. They also won the WWE tag team champion before disbanding in 1991.
Following that disbandment, Michaels, who had become known as the Heartbreak Kid, moved on to solo and got opportunities to challenge for the Intercontinental and WWE Championship Crowns. He, however, remained unsuccessful in his bids until 1995 when he emerged the victor at Royal Rumble. From there onwards, the Arizona native went on to win the WWF World Heavyweight Championship, in 1996, as well as the tag team championship (with Stone Cold Steve Austin).
Michaels also formed a hugely-popular tag team, D-Generation X, with the likes of Triple H, Chyna, and Rick Rude. All these made him one of the star attractions on the WWF roster and as such, they had no qualms shelling out the big bucks for him. At a point, the Arizona native was paid as much as $1 million per annum and this spurred him to continue with his exploits. He was however forced to call time on his career after an injury he sustained during a casket match against The Undertaker in Royal Rumble in 1998.
Shawn Michaels' Comeback and his Second Farewell
The injury affected the discs in Michaels' lower back and he embarked on a lengthy recovery break. He eventually returned to WWE in 2002 and many doubted that he could get back to his best. The wrestler however silenced the doubters by showing that he still had the goods. Between 2002 and 2004, Michaels defeated the likes of Chris Jericho and Triple H and went on to win the World Heavyweight Champions.
The Arizona native then suffered some defeats of his own as he embarked on feuds with the likes of Chris Masters and Vince McMahon. He also feuded with former D-Generation X co-member, Triple H, but he was able to find common grounds with John Cena and together, they won the world tag team championship in January 2009.
Michaels subsequently turned around to feud with Cena, as well as Randy Orton, and this persisted until he retired from the WWE in 2010. During his career, Shawn Michaels won several accolades; including a record eleven Match of the Year awards. He also won the WWE World Heavyweight Championship three times and was World Tag Team Championship five times.
He has Continued to Rake in the Dough in Retirement
Shawn Michaels may have officially retired from the WWE but he has not been able to fully detach himself from a world which he so obviously cherishes. The Arizona native has made frequent appearances on the WWE – for his induction into the Hall of Fame, as the appointed referee for special matches and in fulfilment of his ambassadorial role for the organization.
Michaels has also been deployed to stir up the hornet's nest amongst his fellow veterans, such as Triple H and Undertaker, and this has enriched the WWE storylines. He is therefore adequately rewarded for his efforts and earns thousands of dollars for each appearance. Additionally, the Arizona native also came out of retirement to fight one last bout against the Destruction Brothers at Crown Jewel 2018. This one-off fight reportedly earned him a cool $3 million.
Exploits Away from the Screen
Away from the ring, Shawn Michaels has also concentrated his post-retirement activities on the television world. He has featured in some movies and TV series, including Baywatch, Pacific Blue, The Marine 6: Close Quarters, Avengers Of Justice: Farce Wars, Pure Country: Pure Heart, and The Resurrection Of Gavin Stone. He has also hosted his hunting show known as Shawn Michaels MacMillan Rivers Adventures. All these have earned the Hall of Famer sumptuous salaries, resulting in a post-retirement fortune of $17 million.
Shawn Michaels is a Married Family Man
In the world of wrestling where fighting schedules are tight and a fatal injury is always lurking in the corner, finding and maintaining a relationship is always a herculean task for professional wrestlers but a number of them have been able to make it work, including Shawn Michaels. The Hall of Famer has so far been married twice, the first time was to Theresa Wood. The marriage began in 1988 and ended in 1994 in what was an amicable and peaceful divorce.
After the end of his first marriage, Shawn Michaels took his time before getting married again until 1999. The second time around was with a former member of the wrestling community, Rebecca Curci. The couple got married on the 31st of March 1999 in a wedding chapel in Las Vegas with no family members or friends. They gave birth to their first child Cameron Jade in the following year, on the 15th of January, 2000, and the second, Cheyenne on the 19th of August 2004. Although their wedding was unusual, the couple has remained together ever since.
Remember When Chris Jericho Punched his Wife?
They have largely avoided controversy but Shawn Michaels and his wife got dragged into one back in 2008. At the time, Michaels was in a serious feud with fellow wrestling star, Chris Jericho. They traded words with each other and even got physical on some occasions. Things, however, got to a head during 2008 Summerslam when Michaels appeared alongside his wife to talk about a potential retirement.
Jericho crashed their party and things got heated as usual. He threw a punch at Michaels but he dodged it and the blow landed on his wife's face. Rebecca got a fat lip as a result and her husband was predictably furious with the apologetic Chris. The lady, however, diffused the tension by cheekily asking Chris if that was the best shot he had. Such a cool attitude helped to calm things down and a remorseful Chris continued sending apologies and flowers to the couple throughout the remainder of that week.