Shawn Killinger has always been a household name in the world of journalism. As a media personality, she is admired for how entertaining her shows are. More so, she is popular for being a former contestant of NBC's reality game show, The Apprentice: Martha Stewart. With tons of TV programs credited to her, it is not surprising that Killinger is very famous as much as she is wealthy. What has the popular warrior shopper been up to lately? Read about that and other relevant facts below.
A Rundown of Shawn Killinger's Career Journey
After Shawn Killinger graduated from high school, she moved to Penn University in 1991; there, she had a degree in Marketing. While studying at the university, she enrolled under the program that allowed students to study abroad and that enabled her to study in Geneva, Switzerland where she gained experience by working with World Health Organization (WHO) and International Labor Organization (ILO).
Following her graduation from Penn University in 1995, Killinger relocated to New York City in search of a greener pasture. There, she landed her first gig as a set assistant at the CBS Page Program which she did for about two years before she was moved to work at the Late Show with David Letterman as an assistant. After a short service, she joined the CBS News Foreign Desk program as its assistant producer.
She then appeared before the camera for the first time working as an anchor-reporter in both Fox and CBS stations based in Florida and New York respectively. She served the broadcasting stations for about a decade, hosting entertainment programs and working as a newscaster. Killinger handled programs like "Evening News With Dan Rather" and "CBS 60 Minutes" which helped in boosting her fame. She became famous for her use of the catchphrase 'fake it till you make it' which got her fired during her appearance on Martha Stewart's version of Apprentice. 
She Joined QVC In 2007
After leaving CBS, Shawn Killinger joined QVC – a TV network and flagship shopping channel that specializes in televised home shopping. She joined the network owned by the Qurate Retail Group in 2007 and distinguished herself as a beauty, fashion, and lifestyle authority. Her role in the company helped boost the company's financial status. She also gained a huge fanbase while entertaining millions of viewers. Shawn even became famous for her signature "Shawn-isms".
One of the programs she hosted alongside Isaac Mizrahi was ISAACMIZRAHILIVE! which aired every Monday at 10 pm. She also hosted Anything Goes with Rick & Shawn and Tuesday Night Beauty. Killinger and Isaac Mizrahi were a subject of ridicule on the internet in January 2015, after their argument on whether the moon is a star or a planet during a cardigan line promotion segment went viral.
The famed journalist argued that the moon is a star while Mizrahi said it's a planet. They were informed off-camera that the moon is a natural satellite after they have argued for a while. Even after the information was given, Killinger questioned its authenticity.
With over a decade-long experience as a news and program anchor for different broadcasting firms, there are no doubts that the Detroit native has garnered enough wealth to manage a luxurious lifestyle. With the QVC, Killinger was famous for presenting beauty products and accessories. Her net worth is currently estimated at around $1 million.
The Truth About Shawn Killinger's Whereabouts
Recently, Shawn Killinger has not been seen on her QVC shows. As a result, it has been speculated that she had been fired. That is far from the truth as the company is still affiliated with her various social media handles and has not released any information regarding the rumor.
Based on what we gathered, Killinger was given Leave of Absence (LOA) to look after her ailing parents who have been living with her for some time now.
Judging by recent uploads on her social media handles which contain pictures and videos of her sick parents residing with her, it seems that Shawn Killinger took some time off to take care of them. However, the reason behind the rumors of her dismissal was because of the complaint filed against her on the consumer advisory website, Pissed Consumer, on June 27th, 2016.
Surprisingly, the petition garnered about two hundred comments and twenty-four thousand views. Killinger wasn't fired then, but with her recent disappearance from her shows, many have come to believe she was eventually relieved of her duties.
Does She Have Cancer?
After Shawn Killinger suffered a miscarriage in 2014, it circulated that the host was battling cancer. Being the type that bares everything on social media, if it is true that she is suffering from cancer or have suffered from the disease, she would have made it known to her fans.
According to some sources, her father was once diagnosed with cancer, but he is now free from the disease.
Interesting Tidbits About Her Family Life
Aside from being a successful TV host, Shawn Killinger is a wife and a mother of three adorable children. She is married to Joe Caretta, a consultant she met via a dating site. The two immediately fell in love with each other and made their union official on April 13, 2013.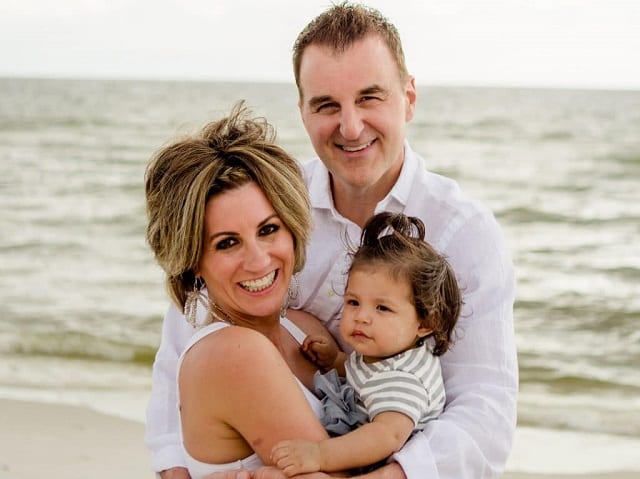 The couple has no biological children together. Killinger did get pregnant but she miscarried when the pregnancy was five months gone and since then, she has not tried to conceive again.
Her family life revolves around her parents, husband, two stepsons from her husband's previous marriage, and a daughter named Jagger. Shawn and her husband adopted the girl sometime in June 2017.