It is impossible to stay out of the news when you're linked romantically to one of the most celebrated people like the famous NFL coach, Bill Belichick. This is the situation Sharon Shenocca has found herself in. The American blonde attracted a lot of attention to herself after it was alleged that she cheated on her husband with the coach. After going through a messy divorce, she decided to retreat into a quiet lifestyle. But the world is yet to stop talking about that affair and the financial benefits she gained from it. Well, here's all you need to know about her as well as the notorious affair.
Who Exactly Is Sharon Shenocca?
Sharon Shenocca was born in 1966 in the United States. She holds American nationality and is of white ethnicity. This is the much that is known about the former receptionist in this regard. She seems to prefer that people know less about her and as such, opted for a secluded lifestyle after her divorce. Moreover, she is known more for what she had with coach Bill Belichick than her career.
Sharon was married to her long-time sweetheart Vicent Shenocca, a well-to-do construction worker. But the marriage which had lasted over a decade crumbled when her relationship with Bill came to light.
Juicy Details About Her Relationship With Bill Belichick
As it happened, it was uncovered that Sharon was cheating on her husband with Bill Belichick, a renowned American football coach. On realizing what his wife had done, Vincent Shenocca filed for a divorce in 2007. During their divorce proceedings, it was disclosed that the receptionist had a huge and secret source of income which was Bill Belichick.
Some of the things he did for Sharon include paying for her lavish vacation in various worthy spots in Jamaica, Florida, and Puerto Rico. Bill also footed her summer rental at the beautiful jersey shore which cost about $50,000 and bought her a house worth $2.2 million in Brooklyn. At one time, he sent her $150,000 in cash and paid a monthly salary of $3,000 until 2007. Bill equally sent her to Disney World on a private jet.
Meanwhile, for more than a year leading to their split, it was rumored that Bill Belichick was having an affair with Sharon, so the revelation sort of confirmed that the two actually had a thing.
Was She Ever Married To Bill?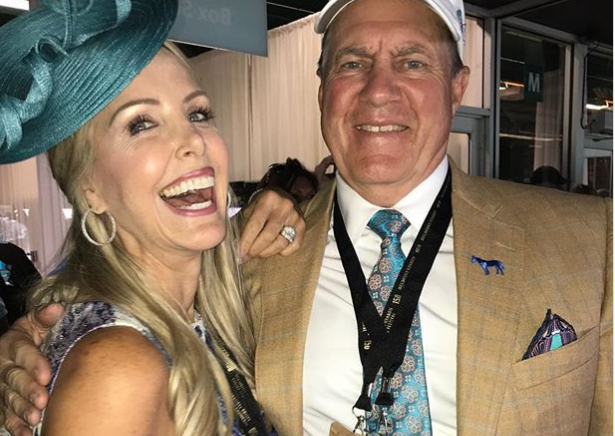 It is believed that Belichick and Shenocca only had an affair as there are no records of any marriage between the two. Currently, Bill is in a long term relationship with Linda Holiday, former lifestyle reporter and a businesswoman. They started their relationship in 2006 and are still together.
Before Linda, the coach was married to Debby Clarke, an interior designer. They were married for 28 years and had three children together – all of whom have flourishing coaching careers – before their divorce in 2006. This goes to show that Sharon Shenocca and Bill Belichick began their affair somewhere in the middle of Bill's crumbling marriage.
Bill Belichick is regarded as the longest-tenured NFL head coach, and his extensive leadership in New England Patriot which started in 2000 saw him become the team's general manager as well. He was born on April 16, 1952, in Nashville, Tennessee. Known for his steely demeanor and extreme loyalty to football, Belichick started his career in NFL in 1975 as an assistant to Ted Marchibroda, Baltimore Colt's head coach and over the years, he has worked his way to becoming not just the lead coach but also the manager of Patriot.
Read Also: Interesting Details About Larry King's Wife – Shawn Southwick
Other Interesting Facts About Sharon Shenocca
Her Net Worth
Sharon Shenocca worked as a receptionist for New York Giants which was when her personal life took a different direction and she became famous for her illicit romance with the NFL coach. Her net worth remains unknown, even though it's common knowledge she earned a great deal financially from her affair with Bill.
Sharon Shenocca's Height
The exact height of Sharon Shenocca is not known but her appearance shows that she is of average height. She has grey eyes and blond hair.
Social Media Presence
Shennocca is not a sociable person and thus avoids social media platforms. Currently, she is not active on platforms like Twitter, Instagram, and Facebook.