Despite having fingers in just one hand, Shaquem Griffin is still one of the best players of the Seattle Seahawks. As the first one-handed player to be drafted by the professional football franchise, the linebacker is not limited by his physical challenge. He remains one of his team's finest players – thanks to his massive strength and above average athletic ability. Griffin is also known for his exceptional speed, prowess, and football IQ which helps him excel in coverage, run support, and rushing the passer.
Admired for being tough and for his competitiveness, Shaquem Griffin is a productive blitzer and an aggressive hitter you'd count on to pull off effective tackles. He only kicked off his professional football career in 2018 but has already established himself in the game, leading in his team's tackles in the NFL preseason. Considering his physical strength and versatility, it is not outrageous to hope that he would become one of the best in the history of the game in no time. Below are answers to some of the questions you've been asking about the Seahawk linebacker.
Who Is Shaquem Griffin of Seattle Seahawks?
Shaquem Griffin is an American by nationality and a native of St. Petersburg, Florida, born on July 20, 1995. He has a twin brother named Shaquill Griffin. Shaquem's parents, Tangie and Terry Griffin named him Shaquem Alphonso Griffin.
Griffin loved sports, especially football which he began to play when he was only 5. While studying at the Lakewood High School in St. Petersburg, Florida, he nurtured his passion for the game and also played baseball and basketball. As a senior in high school, Shaquem Griffin and his identical brother became the Tampa Bay track and field Athlete of the Year. Shaquem was also named as the state long jump champion and the nation's fifth athlete for triple jumps.
When it was time for college, Griffin and his twin decided to accept the football scholarship offered by the University of Central Florida (UCF), rejecting offers from other schools like the University of Miami, his dream team from childhood. Gracefully, the young athlete performed extremely well all through his college football career, although he redshirted his freshman season while his twin brother played on. He became UCF's superstar linebacker and one of the best players on varsity's team after scoring a total of 30 tackles and 17 sacks.
From his rookie season up to his senior career season in college, Shaquem only got better. He was named the 2016 American Athletic Conference Defensive Player of the Year, and the 2018 Peach Bowl Defensive MVP. He also received other prestigious accolades and recognition for the impressive records he attained. They include making the ESPN All-Bowl Team, Second-team All-American, and First-team All-AAC. At the completion of his college career, he was named among the two recipients of the 2019 NCAA Inspiration Award.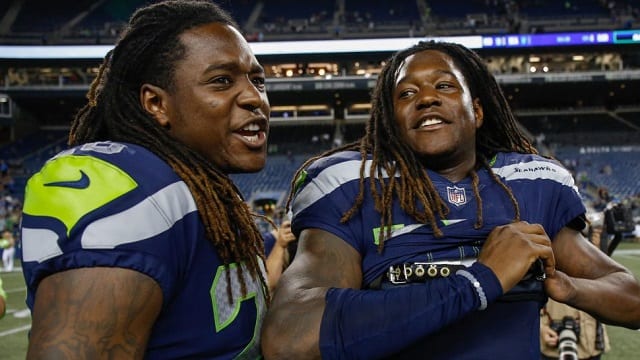 While Shaquille joined the NFL in 2017, Shaquem stayed back for his redshirt senior year. He eventually received an invitation to the NFL Draft of 2018 which earned him massive media attention as he is the first amputee to ever make it to the NFL draft.
The Seatle Seahawks picked Griffin on April 28, 2018, in its fifth round, he was the 141st overall pick. He then signed a 4-year deal worth $2.8 million with the franchise. That same year, he made his preseason debut in a game against the Indianapolis Colts. As expected, Shaquem Griffin displayed his athletic prowess, leading in tackles with his 6 solo tackles and three assisted tackles. As a pass rusher, Shaquem Griffin's quickness has been classified as among the best in the year's draft.
What Happened To His Hand?
Shaquem Griffin was born with amniotic band syndrome, a congenital disorder caused by strands of the amniotic sac that constricts or separates parts of the fetus, mostly the finger and limbs. The syndrome affected Griffin's left hand, causing the fingers not to develop properly. When Shaquem was four years of age, he attempted to cut off his hand because of pains. His parents decided to schedule him for amputation the following day. Griffin has since then, been playing football without his left hand.
Playing with his brother in the same professional football franchise, Shaquem has maintained a superb football quality. He's 6'0" tall and weighs 227 lb.