Behind every successful man, there is a woman and Footballers know this too well. In National Football League, the players don't miss out on this. So it's no mystery that the wives of NFL players are a highly interesting topic for the media; we all want to know how good the players are with their choice of women, right? Well, there are many NFL wives that could be on the list, but here are the sexiest of all time.
Well, there are many NFL wives that could be on the list, but here are the sexiest of all time.
Lauren Tannehill (Ryan Tannehill's Wife)
Ryan Tannehill, NFL starting quarterback is one lucky guy. Not only because of his talent in the field but also because his wife Lauren Tannehill is among the hottest wives in the history of professional sports. The couple got married on January 13, 2012, when they were both 24 years old. Lauren is an aspiring model with a stunning appearance.
Jessie James (Eric Decker's Wife)
Jessie used to be a pop singer and songwriter. The reality T.V. personality was signed to Mercury Records and released an album entitled Jessie James in 2009. The duo tied the knot in 2013 and announced the same year that they were expecting a baby girl. Jessie Decker and Eric Decker featured in the reality show Eric and Jessie. They are currently expecting their second child.
Michi Nogami (Brandon Marshall's Wife)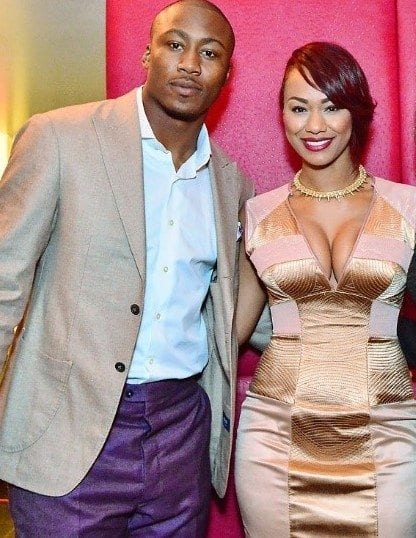 Michi Nogami is the wife of Brandon Marshall -American football wide receiver for the New York Jets of the National Football League (NFL). The star met his wife while attending the University of Central Florida. Before their marriage, Michi Nogami was a forensic behavioural specialist. The couple married on July 17, 2010 in Art Deco Paris Theatre in Miami, Florida and has since been waxing strong.
Kasey Trione (Lance Moore's Fiance)
Lance's stunning fiance, Kasey is a bikini model. She got engaged to Lance Moore in 2015 and as you might expect, she has hotness streaks. The confident model has a child named Graylee with the former American football wide receiver who played about 11 seasons professionally in the National Football in 2015.
Whitney Golden (Jamaal Charles' Wife)
Whitney Golden Charles is another lovely face on the list. Her hubby Jamaal Charles is NFL's running back currently a player with the Kansas City Chiefs. They started dating after meeting through Kasandra Perkins, a childhood friend of Jamaal and cousin to Whitney. The duo dated for years before walking down the aisle in 2012. Jamaal treats her like a queen and they have two beautiful daughters together Makaila Jae and Makenzie.
Gisele Bundchen (Tom Brady's Wife)
Tom Brady's Wife, Gisele Bundchen is well a well-known face in the fashion industry. She began her career in Alexander McQueen, appearing on 10 magazine covers in four years. Voted as one of the world's most powerful women, Gisele is a true beauty. As an actress, she appeared in Taxi and The Devil Wears Prada. The happy couple has two children together.
Lilit Avagyan (Reggie Bush's Wife)
Reggie Bush is married to Lilit Avagyan widely known as Kim Kardashian's look-alike. By a twist of fate, Reggie Bush once dated Kim and after his tumultuous love affair with the reality star, which spanned three years, he moved on to find happiness with Armenian dancer Lilit Arvagyan. The couple married in the summer of 2014 after dating for two years and having a daughter, whose name is Briseis. Lilit manages to remain hot, even after having a second child for Reggie.
Miranda Brooke (A.J. Green's Wife)
Gorgeous wife of A.J Green, Miranda used to be an R&B singer. She had a single titled Hater and was signed by Island Def Jam. She got married to Cincinnati Bengals star A.J. Green in a lavish April wedding in the heart of Atlanta. The celebration included a hot dog stand, hip-hop dancing, and dancing to John Legend. The happy couple have been married for more than a year and have a son together.
Antonique Larry (Patrick Peterson's Wife)
Antonique Larry is the special other of Arizona Cardinals cornerback and former LSU star Patrick Peterson. And it's no mystery how she won the heart of the NFL player since she is pretty, smart and focused. She graduated from Louisiana State University, where she studied microbiology. She is currently a second-year medical student at the Midwestern University. That's being very focused! Peterson and Larry met through mutual friends while attending LSU. They got engaged for only five months before getting married.
Lindsey Vandeweghe (Vincent Jackson's Wife)
The athlete proposed to his then girlfriend Lindsay in 2011 during his induction into the 2011 Athletic Hall of Fame. While speaking at the February 2011 event, he asked Lindsey to join him on stage and then dropped on one knee saying; I love you, I will always love you, I want to start a family with you, I want to spend the rest of my days with you. You are my soulmate. Will you marry me?". And amazingly she said yes. The couple has been happy together.
Sarah Hinton (Garrett Celek's Wife)
Sarah Hinton used to be a Hooter's model before she got married to NFL player Garrett Celek. The couple was married the summer of 2014. Since their marriage, they have been living happily and are really into each other.
Sarah Mahmoodshahi (Joe Haden's Wife)
Joe Haden's marriage proposal was an envy-inducing one. The Cleveland Browns cornerback had organised a dinner for his longtime girlfriend, Sarah Mahmoodshahi and 20 of their closest friends and relatives claiming it was a sendoff for Sarah's older brother, Reza, who was relocating to London. But the event which took place in 2012 at the Gaylord National Resort & Convention Center turned out to be an engagement party. As guests got to know one another Joe dropped to one knee in front of a stunned Sarah and popped the question. What's more enviable is their wedding ceremony which was nothing short of beautiful. How sweet!
Samantha Ponder (Christian Ponder's Wife)
ESPN sideline reporter and studio co-host Samantha Ponder is the wife of Christian Ponder. They met through a social media platform. They dated for a while and then tied the knot in 2012. They have a child together.