Seth MacFarlane is a successful American stand-up comedian, filmmaker, TV producer, actor, animator, director, scriptwriter, and singer. He's best known as the creator of Fox's animated sitcom – "Family Guy". The TV series has been running since 1999 to date. He is also the creator of "The Orville" (2017–present), and a co-creator of "American Dad!" (an American adult animated sitcom) running since 2005.
Seth has also worked for Cartoon Network as an animator and writer. He was formerly the executive producer of "The Winner", a live-action sitcom. The entertainer made his film debut in "Ted" (2012) and, his second film appearance was in "A Million Ways to Die in the West". He has released at least, three studio albums which were all critically acclaimed.
Is Seth MacFarlane Gay? Here's A Quick Look at His Sexuality
Most times when a very successful man, especially one who lives in the limelight as a result of his celebrity status, gets to a certain age and still remains single, a lot of questions begin to arise, including questions about his sexuality. This is the case of Seth MacFarlane who despite having it all together, career-wise, and being just a few years away from 50, is yet to show any signs of settling down anytime soon.
However, in as much as MacFarlane is one of Hollywood's most desirable bachelors, it cannot be said that he is gay considering the fact that he has dated a string of female celebrities such as Game of Thrones star Emilia Clarke, actresses Amanda Bynes and Aleix Knapp among other women. With this, he automatically disqualified himself from being described as gay. Nonetheless, he is a gay rights activist and has spoken openly in support of gay rights.
MacFarlane in an interview with the Advocate in 2015, said it was infuriating and idiotic that a man can legally be married to a woman, "and then beat the shit out of her, but these two intelligent, sophisticated writers (referring to two gay writers he teamed up with on a project) who have been together for 20 years can't get married?" Continuing, the entertainer said he was incredibly passionate about his support for the gay community and what they were dealing with. He also added that he has been involved in arguments with people over the subject where he ends up getting red in the face, screaming at the top of his lungs.
As a result of "his active, passionate commitment to humanist values, and his fearless support of equal marriage rights and other social justice issues", MacFarlane was in 2011 named the Harvard Humanist of the Year. That notwithstanding, Gay novelist Brent Hartinger found fault with MacFarlane's portrayal of transsexualism in the "Quagmire's Dad" episode of Family Guy. The novelist described as "shockingly insensitive" the episode's inclusion of transphobic comments from Peter and Lois Griffin in addition to a scene where Brian threw up uncontrollably when he found out that his new girlfriend was the father of Glenn Quagmire.
Expressing his shock over the episode, Hartinger said it was literally not possible for him to reconcile the episode with MacFarlane's words unless he comes to the conclusion that "the man is pretty much a complete idiot". The episode also raised serious concerns from members of the gay community as revealed by the Gay and Lesbian Alliance Against Defamation.
In reaction, Seth MacFarlane said he was surprised by the negative feelings that "Quagmire's Dad" raised, saying that it looked like gay commentators could not perceive that the episode was, as a matter of fact, a very "sympathetic portrayal of a transsexual character". Going on, he explained that Brian was a heterosexual character, just like he (Seth) was. And as such, if he discovered that he had slept with a transsexual, he might not be able to stop himself from throwing up out of disgust just like a gay guy would when he sees a woman's vagina.
Is The Comedian Married or in Any Relationship?
With the question of Seth's sexuality out of the way, the next question that might likely be on the minds of people is "is Seth married, if no then who is his girlfriend?" Although Seth MacFarlane is one of Hollywood's hunky guys – if not the hunkiest, he is yet to settle down maritally. However, speaking in an interview with PARADE in 2013, he said that he was open to getting married.
He also added that it may not be an easy feat to achieve because actors are not easy people to date. "You end up sharing that person with this other mistress that is their career", he said. Speaking further, the superstar revealed that he likes the traditional courtship method of making a date, "that's what they do in normal places, but Hollywood's not normal", he added.
Speaking on the same issue of relationship in 2004, Seth told The Daily Princetonian that there are some things he shares in common with the character of Brian Griffin from Family Guy. According to him, "I have some Brian type issues from time to time—looking for the right person—but I date as much as the next guy." This is very true judging by the long list of women he has reportedly been romantically involved with.
Nevertheless, his many relationships come as no surprise because with his net worth of $200 million and being one of the most popular big guys in Hollywood, it is only natural that the women, very gorgeous ones at that, will follow.
Seth MacFarlane has been linked to some of Hollywood's biggest actresses and has also reportedly been involved with some not-so-popular women, but one thing that they all share in common is their good looks. Even though he admitted to dating a lot, he is usually very tight-lipped about his relationships. This has resulted in endless rumors concerning who he might be involved with. Nonetheless, below are details of Seth's most recent relationships as reported by the media.
He Is Said To Be Currently Dating Actress Halston Sage
According to media reports, Seth MacFarlane is currently involved with actress Halston Sage who is 20 years his junior. She first came to limelight as a result of her role on Nickelodeon's How to Rock, then on Crisis (ABC), and finally The Orville on which she appeared from 2017 to 2019. She co-starred alongside Seth on the latter television series and that explains how they met.
Rumors about the duo being an item began making the rounds in September 2017 and in February 2018 the actors were spotted going out to dinner at celebrity hot spot Sushi Park in West Hollywood.
The Comedian Was Once Involved With Game Of Thrones Actress Emilia Clarke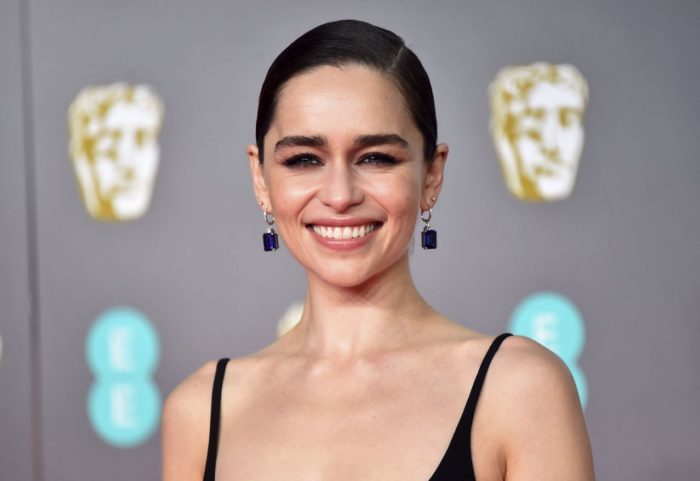 Before Halston Sage came on board, Seth MacFarlane was dating Emilia Clarke. They reportedly became an item in 2012 and eventually parted ways in 2013, according to a source who spoke to E! saying that distance was one of the reasons why their relationship did not work. Although the couple was tight-lipped about their relationship while it lasted,  Clarke subsequently opened up about it three years after their split.
Covering the May 2016 issue of Glamour magazine, she was not afraid to get real about the annoyances that come with dating someone who is a public figure. "Well, a con is you have strangers giving you love-life advice like, 'I'm a big fan of the show, and I'm not sure what you're doing with that guy,' which I didn't react well to," she explained.
Who Exactly is Seth MacFarlane?
Seth Woodbury MacFarlane was born on October 26, 1973, in Kent, Connecticut to Ronald Milton MacFarlane (father) and Ann Perry (mother). At the age of 2, Seth began drawing cartoon characters like Fred Flinstone. His passion for animation grew rapidly and by 5 years old, Seth made up his mind to pursue a career in animation.
At the age of 9, Seth began banking from his talent, he wrote a weekly comic strip titled Walter Crouton for the Kent local Newspaper which paid him $5/week. His sister Rachael MacFarlane is a voice actress. Seth attended Rhode Island School of Design where he graduated with a Bachelor of Fine Arts.
While in college, Seth honed his animation skills and added stand up comedy to his repertoire. He wrote a thesis film titled "The Life of Larry" which landed him his first post-college job as a writer at Hanna-Barbera Cartoons.
Some of the animated series he worked on included "Dexter's Laboratory", "Cow and Chicken" and "Johnny Bravo". He was also a freelance writer for Walt Disney TV Animation.
Success With Family Guy
Seth wrote a sequel to "Life of Larry" and later earned a deal with Fox to develop it into a series, which was renamed to Family Guy. Family Guy first aired on January 31st, 1999 making MacFarlane the youngest executive producer on TV. He also voiced numerous characters in the animated series. Family Guy soon garnered a loyal fan base, DVD sales skyrocketed developing it into a $1 billion franchise.
After signing a 5-year, $100 million deal with Fox in 2009 to be at the helm of his shows, Seth became the highest-paid TV writer earning about $2 million only from the shows running and an additional $20 million each year for DVD and merchandise sales.
Family guy has faced criticism for its indecent contents and was canceled in 2003, however, the series was renewed in 2005 and is currently running. Seth is also popular for being the creator of adult animated series American Dad! for which he also voices characters. The series has been running since 2005 and has never been canceled. His other hit animated show is "The Cleveland Show" which ran from 2009 – 2013.
Film, Music Career
Apart from his self-produced animated shows, Seth has made guest appearances in a number of independent films and other TV shows. In 2012, he made his directorial live-action film debut with R-rated comedy "Ted" where he voiced the titular trash-talking, walking bear.
Seth was also the producer and screenwriter of the movie which grossed about $550 million at the box office. Seth reprised all of his roles in the 2015 sequel which grossed over $200 million. He has released three studio albums and has written soundtracks for many of his shows with some receiving coveted nominations.
Details of His Income, Net Worth and House
MacFarlane isn't just a jack-of-all-trades, he's also a master-of-all. He has evidently made neat earnings from acting, composition, animation, production, comedy, screenwriting, directing, and many more.
He receives a paycheck of $50,000 for each Family Guy episode. He also gets a whopping $2 million annually from the Fox network. His deal with Fox in 2009 benefited him to the tune of $100 million.
Seth is one of Hollywood's richest comedians who's sure to compete with the likes of comedienne Ellen DeGeneres. His net worth is estimated to be $200 million. Judging from his active and future projects, Seth MacFarlane's wealth is likely to increase. In May 2016, he was hired by FOX to create, star and be the executive producer of a sci-fi comedy-drama series set to premiere in the 2017-2018 season.
Seth MacFarlane's sprawling mansion is located at Beverly Hills. The three-bedroom magnificent property was purchased in 2008 for $13.5 million and features gigantic living, study, and dining rooms; five bathrooms, a tennis court, outdoor sitting spaces, and a swimming pool.
Ever since Seth moved into the mansion, he has continued to reconstruct and make standard renovations and adjustments to it. In 2013, he paid a whopping $1 million for the installation of a personal IMAX theatre in his house.