Serge Ibaka is a Congolese-Spanish basketball player who has become a well regarded NBA star. Over the years, he has built the reputation of an unstoppable player on the court. He has also been described as one of the most intriguing players to watch by basketball enthusiasts. Originally from Congo, he is hailed for being able to emerge from a war-ridden African country to make a name for himself in the NBA.
Apart from being famous as a basketball player, the athlete is also well known for his romantic relationships with top stars in the entertainment industry.
Biography
Serge Ibaka was born on the 18th of September, 1989 in Brazzaville, the capital city of the Republic of the Congo. He was born to a father identified as Desiree Ibaka and a mother called Amadou Djonga. He has two siblings; a brother and a sister. His brother, identified as Igor Ibaka, is also a basketball player. His sister is called Rachina Ibaka.
Sources say Serge Ibaka's parents were both basketball players who used to play the game a long time ago. His father, Desiree, used to play basketball in Congo with the Congolese national team and was quite good at the sport. His mother, Amadou, also played for Congo. It is no wonder then that Serge Ibaka developed a love for the sport and decided to play it professionally.
Having watched his parents display basketball skills, Ibaka himself started to play the game at a very young age with Avenir du Rail, a club in Congo. He explained that he began to play the game as a way to find solace and succor following his mother's untimely death and his dad's imprisonment when the second war broke out in Congo.
He played basketball in Congo till he turned 17 years old after which he moved to France. Upon his arrival in France, he joined a second-division basketball team where he played for a while before he finally moved to Spain and joined CB L'Hospitalet, a second division basketball club where he averaged 10.8 points and 8.2 rebounds and shot 55%.
Even as a young boy, Ibaka was already causing some waves with his stamina, speed and power on the court. In fact, in 2008, he won a Most Valuable Payer award at the Reebok Eurocamp.
NBA Career
Serge Ibaka started his NBA career in 2008 when he was selected as the 24th pick by the Seattle SuperSonics in the NBA draft. This made him the first ever player of Congolese descent to be selected in the NBA draft. He later signed a 3-year contract with Ricoh Manresa, an ACB League club and then with Oklahoma City Thunder in 2009.
In the 2009-2010 season, Ibaka averaged 6.3 points, 5.4 rebounds, 0.1 assists, and 1.3 blocks in 73 games for the City Thunder. When the 2010-11 season began, Ibaka was in high spirits and went on to average 9.9 points, 7.6 rebounds, 0.3 assists, and 2.4 blocks. Ibaka kept showing great improvement and in the 2012-2013 season, he managed to average a massive 13.2 points, 7.7 rebounds 3.0 blocks. Not resting on his oars, Serge Ibaka did even better when the 2013-2014 season began as he recorded 15.1 points and 8.8 rebounds per game including an amazing 219 number of blocks which happened to be the highest number of blocks in the league that season.
Even though he suffered serious injuries in the 2014-2015 season, Ibaka averaged 14.3 points, 7.8 rebounds and 2.4 blocks per game and did some more exploits before he got traded Orlando Magic in 2016 where he averaged 15.1 points, 6.8 rebounds and 1.6 blocks per game in his first season with the club.
In 2017, Ibaka was traded to the Toronto Raptors and averaged 14.2 points, 6.8 rebounds and 1.4 blocks in his first season with the club. The athlete currently plays for the Raptors and basketball enthusiast have predicted that he will become one of the club's all-time greats.
Is He Married Or Does He Have A Girlfriend?
Ibaka has been romantically linked to some high-profile personalities in the entertainment industry, one of whom is Pearl Thusi, a respected South African actress. The rumors of the couple dating first emerged in June 2018 when the actress visited the city of Barcelona in Spain where Ibaka also was at the same time. Although the indications of their romance were not very strong at the time, more 'evidence' that she and Ibaka were an item kept emerging as Pearl was contently being seen cheering him on at basketball games. In one of such games, she was seen holding up a ticket that had Ibaka's face on it.
The actress has also been spotted having a great time during a hang-out with the girlfriends and wives of other NBA players such as popular American actress Gabrielle Union. The dating rumors were confirmed when she was spotted inside Ibaka's house in videos she posted on her Instagram stories. Ibaka's posts also confirmed that they were together as he showed off the same food and same room that were also on Pearl's Instagram stories.
Although the couple have not spoken about their relationship, it is quite certain that they are an item. However, it is not known if they are married or planning to marry.
Read Also: Malcolm Brogdon Bio, Career Stats, Net Worth and Salary, Height, Weight
Relationship With Keri Hilson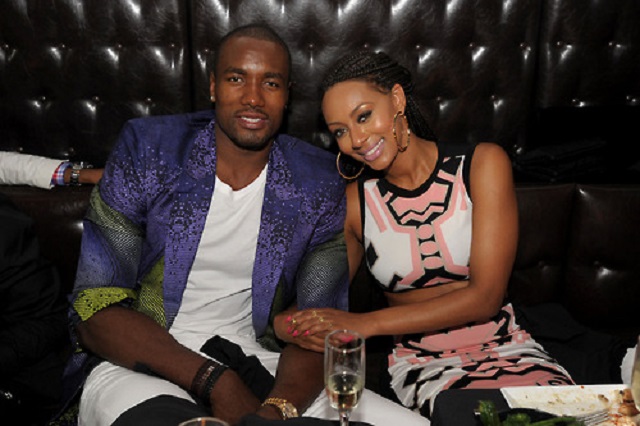 Before meeting with Pearl Thusi, Serge Ibaka was in a serious relationship with Keri Hilson, a popular American singer and songwriter. The couple met in 2012 and began a relationship. Their relationship was very much talked about and the couple appeared multiple times together in public events. However, their relationship did not lead to marriage as the couple split and both went their separate ways in 2016.