Selena Gomez is an American actress, singer, and songwriter. As typical of Hollywood celebrities, Selena banks top dollar from shilling for the world's top brands. She has an estimated net worth of $50 million.
Selena Gomez Wiki, How It All Began
Selena Gomez was born on 22 July 1992 in Grand Prairie, Texas where she was also raised. She is one of those celebrities who had it rough while growing up. Her mom had her at 16 and had to work three jobs to cater for the family. Gomez developed an interest in the entertainment industry while watching her mom prepare for stage productions. She began to audition for different roles and at 7, she got picked to star in children's series 'Barney & Friends'. She starred in 14 episodes between 2002 and 2004 and received $3,000 per episode.
While acting in Barney, she got cameo roles in two movies- "Spy Kids 3-D: Game Over" and "Walker, Texas Ranger: Trial By Fire". As she grew, she became too old for Barney and had to leave. She made guest appearances in Disney series "The Suite Life of Jack and Cody" and "Hannah Montana".
Her Breakthrough Role
Selena's breakthrough role came with Disney Channel series "Wizards of Waverly Place" in which she got to play the lead role of Alex Russo. The series quickly became a hit, gaining Selena more prominence. It had 106 episodes and lasted from 2007 to 2012. It is reported that the star made $30,000 per episode.
Selena made almost $3 million from her TV series roles. Her popularity landed her more movie roles. She has starred in movies such as "Another Cinderella Story" which won the Writers Guild of America Award in 2010. Others include "Ramona and Beezus", "Spring Breakers",  "Getaway" and Rudderless. Selena continues to remain active in her acting career.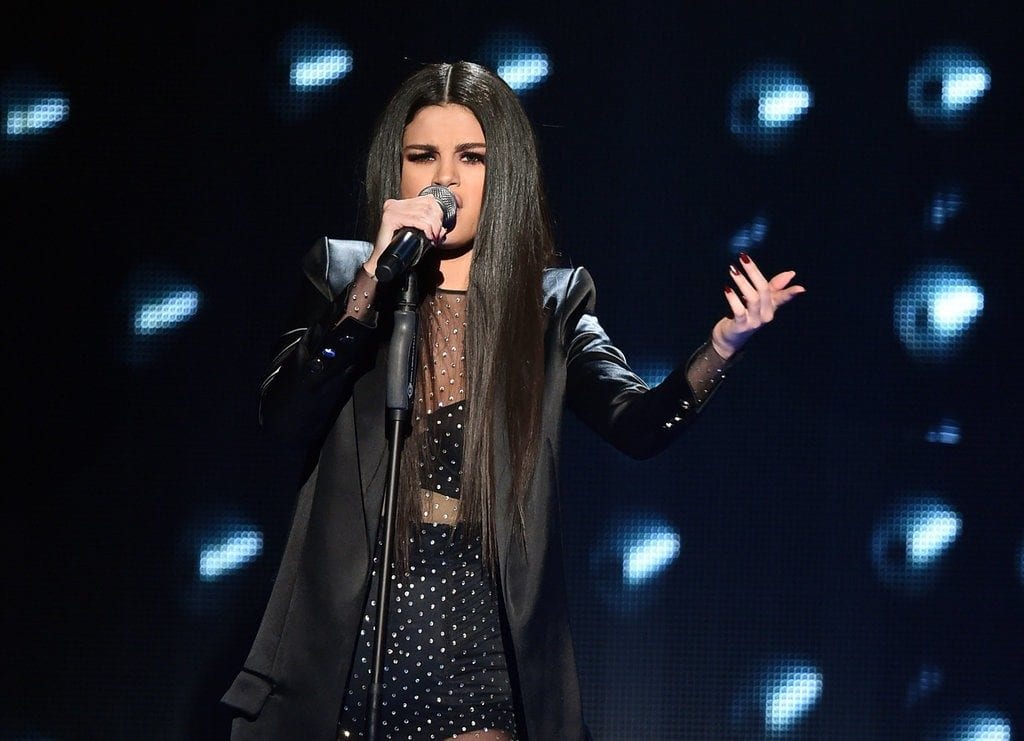 Selena Gomez Music Career
Selena also created soundtracks for some of the TV series she starred. She signed a contract with Hollywood Records in 2008 and formed the band Selena Gomez & the Scene. With them, she released three studio albums which sold 3 million copies worldwide.
Her 2013 debut solo album 'Stars Dance' debuted at number one on the US Billboard 200. 'Come & Get It', a single from the album featured on the Billboard Hot 100 top-ten single. The Stars Dance tour grossed over $20 million at the box office.
After her compilation album For You (2014) which featured top-ten Hot 100 single 'The Heart Wants What It Wants', she left Hollywood Records and signed with Interscope Records with which she released Revival (2015) her second solo album. Revival debuted at number 1 on the US Billboard. Two singles 'Good For You' and 'Same Old Love' featured in top-five singles while "Hands To Myself" featured in top-ten singles.
See Also: Miley Cyrus Net Worth
Selena Gomez Business Ventures
Selena has her own productions company called July Moon Productions and a clothing line 'Dream Out Loud' which she launched in 2010. Selena also makes a lot of money from endorsement deals. Some of her partners include Coca-Cola, hair-care brand, Pantene and luxury fashion designer, Coach.
Selena is actively involved in philanthropy. In 2009, she became the youngest UNICEF ambassador. She was the spokesperson for Trick-or-treat for UNICEF campaign which encouraged kids to raise money during Halloween to help poor kids all over the world. Selena is often described as down-to-earth as evident in her moderately-priced choice of cars.
Selena Gomez Boyfriend, Relationship With Justin Bieber
She has been in an on-and-off controversial relationship with fellow musician, Justin Bieber. They have been breaking up and coming back together since January 2011 when the couple confirmed to their fans that they were an item following a public display of affection while on a vacation together and then followed that up by walking the red carpet together for the first time in February 2011. This was only a confirmation because the rumours about the two having an affair started in 2010, prompting the derivation "Jelena".
Following an accusation by a fan that Justin Bieber was the father of her 4-month-old child, rumors began to circulate that Selena Gomez had dumped the pop singer for good. That, however, wasn't true. Fast forward to 10 months later and then the first official break-up occurred. And this time it wasn't an affair or baby that caused the break-up. The couple said they were too busy for each other, thanks to their tight schedules. Of course, the "Jelena" fans were gutted but that wasn't for long as the lovebirds seemed to be back together by January 2013 as it was reported via deleted Instagram pictures that Gomez traveled to Norway to see Bieber. However, that visit didn't seem to do anything to concretize their comeback as it went from "Jelena" to "Jailey" if Bieber's photos and frequents dates or rather, hangouts with model Hailey Baldwin was anything to go by.
Read Also: Celine Dion Net Worth, Husband, Divorce, Children, Family, House
As the insinuations about Bieber dating Baldwin continued to swell, the 24-year-old singer was taking her own pound of flesh with DJ Zedd by January 2015. The pair released a single together but broke up shortly after that and according to Zedd, Selena's huge popularity was a huge factor in his decision to part ways with the singer. Moving on from DJ Zedd, Gomez was seen with a Canadian singer, only this time it was not Justin Bieber but Abel Tesfaye popularly known as The Weeknd. The pair was seen in a public romance on a vacation in Italy and that sparked off rumors which turned out to be true. The move by Gomez got to Bieber a became all dramatic as a feud, including a lyrical one ensured between Justin Bieber and The Weeknd. The relationship, however, ground to a halt after 10 months. Mother Nature seems to be interested in the "Jelena" matchup and so they keep coming back together. In November 2017, "Jelena" were seen kissing again in a public show of love. This sent their fans into a wild frenzy on Twitter.
As they go back and forth in the relationship, reports have surfaced that Gomez's family does not like the idea of a reconciliation between the two lovebirds. This seems like the opposite of what you see on the other side of the divide – Justin Bieber's family. First, Bieber was not included in the family's 2017 Christmas plans so the duo spent that Christmas apart from each other. Second, upon hearing that the couple was going through a couples therapy, the 'Come And Get It' singer's mother, Mandy Teefey had a heated argument with her daughter which reported landed her in the hospital.
So at the moment, "Jelena" is back together. When asked why she is back with Bieber, Gomez said it is because he is her first love. That's so cute! We can only hope that the "Friends" singer makes his second chance at love with Gomez count.