Martial artists, stuntman, and actor Jackie Chan have become the first Chinese to acquire Embraer's latest jet, the Legacy 500 Business private jet which is priced at $20 million.
Apparently, Chan loves the crafts manufactured by Brazilian-based Embraer of which he serves as a brand ambassador. His other private jet is an Embraer Legacy 650 with a dragon-themed paint job which he purchased back in 2012.
And we can clearly relate to Chan's love for Embraer. Their recent masterpiece aka The Skyacht One dubbed the flying yacht and the world's most luxurious private swept us off our feet. Click here to read more about Skyacht One if you missed it.
As expected, their latest mini-jet, Legacy 500 is nothing short of luxury and high-tech specifications. Legacy 500 has two Honeywell HTF75000E turbofan engines which produce 7,000 pounds of thrust each giving it the capability to travel at the range of 3,600 miles, fly at 45,00 feet with a maximum speed of 0.83 the speed of sound. It features a flat-floor cabin and can be pressurized at 6,000 ft which makes breathing easier.
Se Also: Meet Skyacht One, The Flying Yacht
The mini-jet has an expansive interior with the capacity to carry 12 or 8 depending on the buyer's preference. The interiors can also to customized to any theme of choice. Chan chose a relaxed light-colored decor as seen in the photos.
Comfort is optimum with the Legacy 500. The seats can be transformed into cozy beds, a kitchen is just at the entrance and a bathroom at the end. You are not supposed to miss home.
For entertainment, there are two 19-inch HD screens, WiFi connectivity and HD entertainment systems. Controls are made via concealed touchscreen remotes or iPad/iPhone.
Read Also: First Man To Splurge On Etihad's Residence
The uber modernized full-glass cockpit is designed to ensure easy operation by the captains. It features side joystick controls— the first of its kind, and heads-up-display HUD for easier access. The stuntman extraordinaire had this to say about his latest acquisition;
I'm so thrilled to receive this Legacy 500, a state-of-the-art executive jet. In the past few years, my Legacy 650 has brought me fantastic traveling experiences and great convenience, allowing me to do more acting and philanthropic works around the world. I'm sure that the performance of the new Legacy 500 will again exceed my expectations, and become a comfortable mobile home and office for me.
As reported by Business Insider, Embraer says Chan will be using his Legacy 650 for transoceanic, that is long-haul flights while the latest and more modernized purchase will be perfect for shorter routes.
Here are photos of Chan's New Private Jet for your viewing pleasure;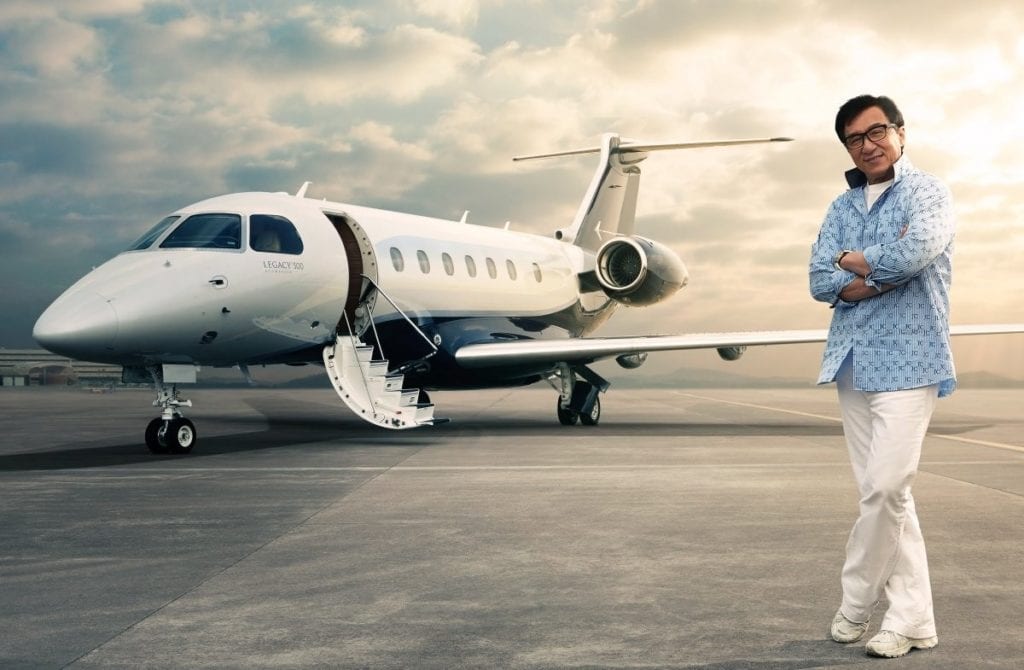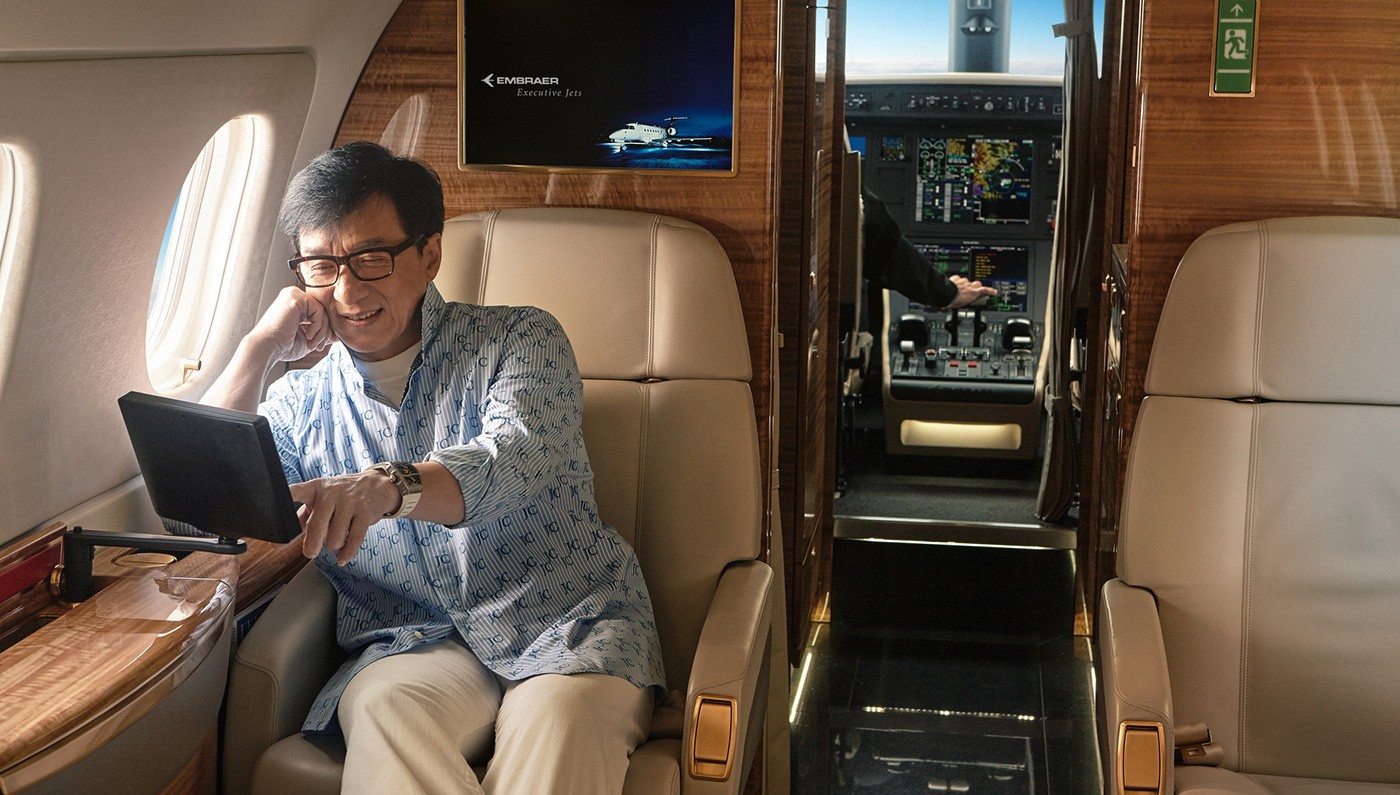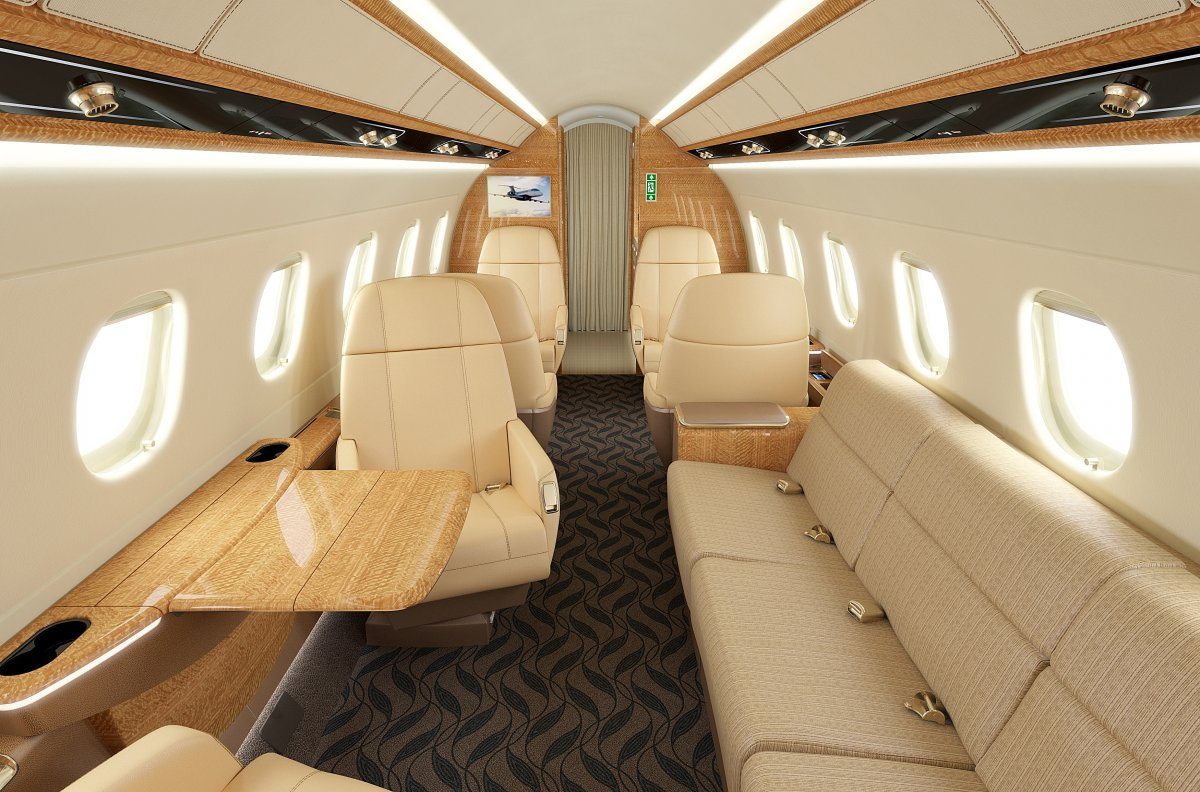 See Also: 10 Best First-Class Flight Cabins In The World