When Sean McVay was announced as the Los Angeles Rams' head coach, he became the youngest in the modern history of the National Football League (NFL) to take up the position. Prior to his new position, he was famous for being the coordinator of the Washington Redskins. His active performance in his first coaching year earned him the AP NFL Coach of the Year award – he also became NFL's youngest person ever to win the award. Sean McVay was able to prove to his new football team that he was capable of handling the pressure and responsibility that comes with being a head coach even as the youngest in the field.
Early Life and Humble Beginnings
Born on January 24, 1986, in Dayton, Ohio as the son of a former football defensive back, Tim McVay, and his wife Cindy. McVay grew up with his family in Ohio before they moved to Georgia where he had his education. He attended Marist School in Brookhaven, Georgia where he began his football career with the War Eagles football team.
At high school, he played in the defensive and quarterback position and made a name as the school's first player to make a thousand rushing yards with passing in consecutive seasons. He completed his high school career with 2,600 rushing yards and 40 rushing touchdowns.
Sean joined the Oxford-based Miami University after his high school career. Playing his college football with the RedHawks from 2004 to 2007, the youngster manned the position of a wide receiver. He left college in 2007 with a Scholar-Athlete Award after recording 39 receptions for 312 yards.
McVay's playing career was ended abruptly during his freshman year after he had an ankle injury. The severity was such that he was advised by the medical staff to consider quitting active sports. He heeded the advice but because of his passion for the game, he sought out ways to remain active in the sport, and coaching provided him the platform he desired.
Football Ran Deep In The McVay Family and Played A Big Role In Shaping His Life 
One of the many reasons he has succeeded in football at such a young age is the fact that he comes from a family steeped in football history. His grandfather, John McVay was the New York Giants head coach between 1976 and 1978 after which he was employed by the San Francisco 49ers in 1980. He was a vital part of the club's five Super Bowl successes during his tenure as Niners vice president/director of football operations.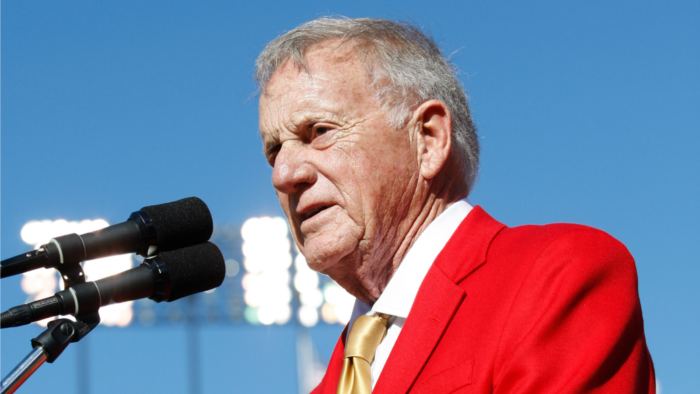 As a young man, growing up in a family devoted to the game shaped his choices and passions. As a teenager, he would ride on the bus with the team and coaches and be very engaged with pro players despite his very young age.
Courtesy of his grandad, Sean McVay had a front-row seat the last time the Rams won the Super Bowl was in 2000 at the Georgia Dome; his grandpa had got him the tickets. It is then no surprise that he went into coaching at such an early age and has been quite a success, the insights gleaned from years of following family football traditions surely paid off.
It also helped that his dad, Tim McVay, played as a defensive back at Indiana University after which he retired and joined Channel 2 WSB-TV were he was VP/General Manager until he retired in 2017.
McVay Has Had A Exceptional Start To His C

oaching Career
Sean McVay did not become a coach by proxy, instead, his hard work and knowledge of the nitty-gritty of the American football brought him the job. He began his coaching career in 2008 after coach Jon Gruden appointed him to serve as an assistant coach for the Tampa Bay Buccaneers wide receiver. The following year, he was made the coach for the Florida Tuskers of the United Football League. His high professionalism moved him further as he was hired by the Washington Redskins in 2010 to serve as its tight end coach in the 2013 season, under the Buccaneers' head coach Mike Shanahan.
By January 2014, McVay was already on his way to becoming the offensive coordinator. He was officially promoted to that position by Jay Gruden on 14 January 2014. Under his coaching skills, the Washington Redskins upgraded their ranking in the NFL. The Redskins ranked 12th in pass offense and by 2016, the team ranked 11th in points and 3rd overall in total yards.
Sean became the 28th head coach of the Los Angeles Rams after he was hired by the football franchise on January 12, 2017. Sean McVay was 30 years of age at the time he joined the Rams, surpassing Lane Kiffin as the youngest NFL coach. Still serving as the head coach for the Los Angeles Rams, McVay has led his professional team into several football wins. His efforts have earned him the AP NFL Coach of the Year (2017) and the NFC Champion (2018).
Sean McVay Has Been Dating Veronika Khomyn Since 2011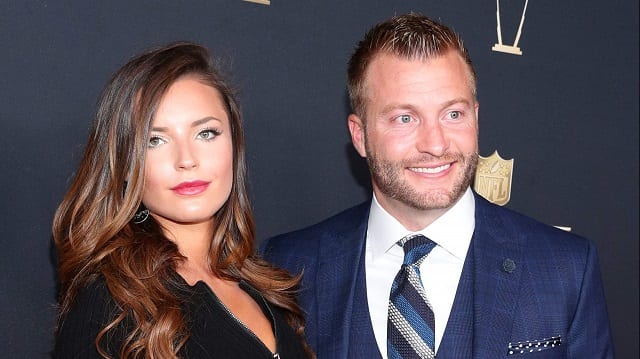 Sean McVay met Veronika Khomyn sometime in 2011 while he was a tight end coach for the Washington Redskins. Veronica is a model of Ukrainian descent and is an Alumnus of the George Mason University in Fairfax, Virginia. When McVay took the Rams job and moved to LA, Veronica moved with him. The couple resides in a mansion in Encino, Southern California which Sean bought for $2.71 million. Their home which comprises six bedrooms, six bathrooms is a 4,660 square-foot edifice, originally built in 1966.
Veronika, who is active on social media is a regular at Rams games where she supports Sean. She was spotted during the 2019 playoff wearing a "McBae" shirt adorned with a cartoon version of Sean's face.
In June 2019, Veronika announced via her Instagram handle that she was officially engaged to Sean and was looking forward to spending their lives together. Sean proposed to Veronika whilst the two were vacationing in France, the proposal was a very private affair that was shut off social media. McVay has no social media handle and prefers to keep his personal life private.