When it comes to television, particularly news media, we see those who bring the news and inform us of the happenings in our society as trusted friends, pals who we expect to tell us the truth. And as a TV journalist, the ability to gain this trust is a crucial element of a successful career and Sean Hannity has been able to achieve this. This is why fans of the Fox host want to connect more with him, and learn details about Sean Hannity's children and family members, just as one would do with a friend.
The political commentator has been in the industry 1989, during which he has been a beacon of family life for the conservative American family – married to one woman with a couple of children. Scroll down below to learn more about Sean Hannity's children and family members.
Who Are Sean Hannity's Children?
Following his marriage to Jill Rhodes in 1993, after they had been in a relationship for a couple of months, they got married and have remained married ever since, during which they have given birth to two children. Their first child, a son named Sean Patrick was born on the 3rd of November, 1998 and their second child, a daughter named Merri Kelly was born in 2002.
For Sean Hannity's children and family members, privacy is a necessity and as a result, we haven't been able to learn much about the children of the Fox News Channel political commentator. However, through news reports, we have been able to gather a few details about them.
His daughter, Merri Kerry is a big tennis fan and has been playing the sport since she could swing a racket. It is yet to be known if she will ever pursue a professional career and feature in WTA tournaments but so far, she has represented her school and herself in competitions like the Nassau County Singles Title in October 2016, where she finished a finalist in the competition.
Sean Patrick Hannity, similarly, has a relationship with tennis and plays for Wake Forest University where he is earning his bachelor's degree. He attended Laurel Springs School where he began to develop a reputation for his ability on the tennis court, ranking 157 in the country among college recruits.
Outside of the court, where he has recorded a couple of impressive victories, the older of Sean Hannity's children has come under media scrutiny when he used his father's relationship with the President of the United States, Donald Trump, to secure a White House visit for his school's team after they won the NCAA National Championship in 2018.
Sean Patrick Hannity and Merri Kelly Hannity live with their parents in their home on Long Island, New York.
Who Are His Family Members?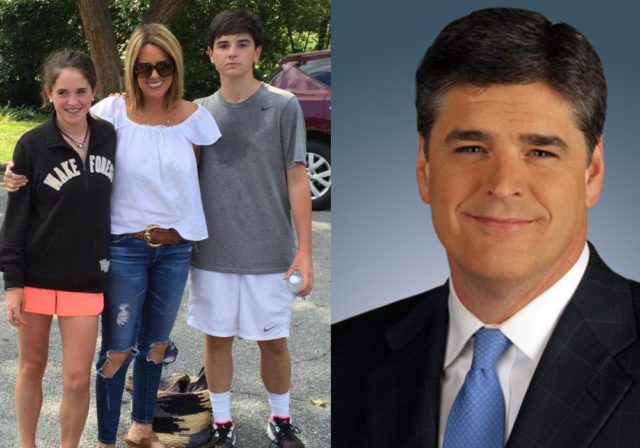 Among noteworthy names among Sean Hannity's children and family members is his wife and mother of his children – Jill Rhodes, who was born on the 27th of August, 1962. She is a graduate of the University of Alabama where she studied Journalism and she has furthered her study her getting a degree at Liberty University where she learned theology and pastoral counseling.
Her relationship with Sean Hannity began well before he became a famous public personality and despite the new dynamics of their relationship as a result of his changed status, they have continued to remain a couple. They met via telephone back when Hannity worked for WVNN radio in Huntsville in 1991, and met in person in 1992, kicking off a relationship and eventually getting married in 1993.
Although she had the opportunity and qualifications to pursue a career in TV like her husband, she chose instead to be a housewife and cater to the couple's home needs, something Sean Hannity deeply acknowledges whenever he gets the opportunity to, including in his book, Let Freedom Ring: Winning the War of Liberty Over Liberalism, which he dedicated to his wife and children.
Other noteworthy names among Sean Hannity's family members include his parents – Hugh J. Hannity and Lillian F. Hannity. His mother, Lillian, was a stenographer who also worked as a corrections officer at a county jail, while his father, Hugh, worked as a family court officer.
See Also: Kristin Fisher of Fox News – Bio, Career Achievements, Age, Height
His parents are children of immigrants who migrated from Ireland and they lived in Franklin Square, New York. His parents gave birth to five children, of which Sean Hannity was the last. Their number of children proved to be a financial burden, that eventually caused Sean to drop out of college after two years.