Sean Hannity is not a regular talk show host as his decades of expertise as a TV host has made him explore diverse areas which have intrigued fans overs the years. Sean has been able to carve a niche for himself as a political commentator and he has exciting ways to keep the audience glued to the TV screen. More so, the multifaceted commentator is known for his books which are bestsellers. Sean Hannity also appeared as himself in the 2017 film, Let There Be Light, which starred Kevin Sorbo. Over the years, fans have been curious about different aspects of his personal life, especially details about his family life.
What We Know About Sean Hannity's Children
The notable TV presenter and his wife, Jill Rhodes, are parents to two lovely kids, a son named Sean Patrick who was born in November 1998, and a daughter named Merri Kelly was born in 2002. However, not much has been revealed about their formative years because for Sean Hannity, privacy concerning his family members ranks high on his agenda. Nevertheless, we've been able to get some details concerning his kids' pursuits over the years.
His daughter, Merri Kelly Hannity, is a big tennis fan and has been playing the sport since she could swing a racket. It is yet to be known if she will ever pursue a professional career and feature in WTA tournaments but so far, she is gradually making a name for herself as a tennis star. She has represented her school and herself in competitions like the Nassau County Singles Title in October 2016, where she finished a finalist in the competition. Merri Kerry is set to graduate from high school, Cold Spring Harbor, by the end of 2020 and if the youngster decides to pursue a professional career as a tennis player, one can't deny the fact that she might just turn out to be a remarkable tennis player if she chooses that path given her track record.
Well, it is possible that the TV host's daughter is following in the footsteps of her older brother, Sean Patrick Hannity. Her brother similarly has a relationship with tennis and plays for Wake Forest University where he is earning his bachelor's degree.
His freshman year was during the 2016/2017 session but he did not complete the year as he joined the school mid-year into the session. His Redshirt – Freshman year was during the 2017/2018 session and he played impressively as he recorded a number of victories. He recorded his initial win when he played with Michael Bass from the University of North Carolina, Charlotte. Sean Patrick has also recorded a couple of wins during his 2018/2019 session which is his Redshirt- Sophomore year as he defeated tennis players Ethan Moskowski from Virginia and Josh Keitelman from Richmond.
Outside the tennis court, where Sean Patrick has gained his fame, the young man came under the spotlight when he got access to the White House for him and his teammates. He allegedly used his father's relationship with Donald Trump, to secure a White House visit for his school's team after they won the NCAA National Championship in 2018.
He previously attended Laurel Springs School where he began to develop a reputation for his ability on the tennis court, ranking 157 in the country among college recruits.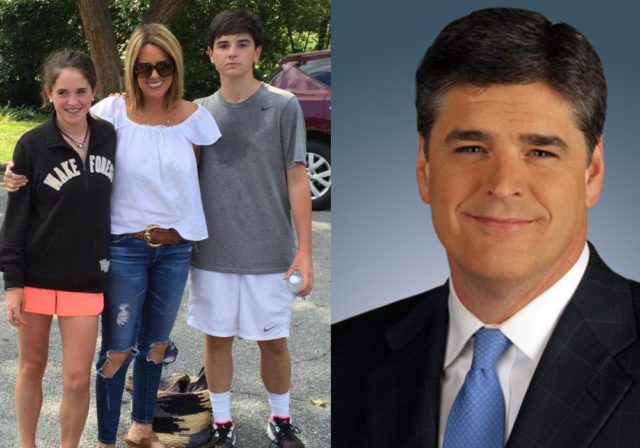 Is Sean Hannity's Marriage About The Hit The Rocks?
Sean Hannity's wife as mentioned earlier is the elegant Alabama native, Jill Rhodes, who was born on the 27th of August, 1962. She is a graduate of her hometown university, the University of Alabama, where she studied Journalism. She then furthered her studies by obtaining a degree in Theology and Pastoral Counselling from Liberty University.
Coming to her relationship with Sean Hannity, the pair began dating well before he became a famous public personality and despite the new dynamics of their relationship as a result of his changed status, they have continued to remain a couple. It was revealed that their initial meeting was via telephone back when Hannity worked for WVNN radio in Huntsville in 1991. They kept in touch with each other for about a year before they met in person in 1992 and kicked off a romantic relationship which eventually led them to the altar in 1993.
Although Jill Rhodes had the opportunity and qualifications to pursue a career in TV like her husband, she chose to be a housewife and cater to the couple's home needs, something Sean Hannity deeply acknowledges whenever he gets the opportunity to. He also made mention of it in his book, Let Freedom Ring: Winning the War of Liberty Over Liberalism which he dedicated to his wife and children.
However, Sean Hannity and Jill's marriage has also had its fair share of challenges over the years. The TV host has been involved in a number of extra-marital affairs and he was also named among popular TV personalities who were listed among celebrities accused of sexual misconduct in 2017. It was also in the news the previous year that Sean's wife was going to divorce him but it never really resulted in that as the pair managed to work things over and they are still together till date.
See Also: Kristin Fisher of Fox News – Bio, Career Achievements, Age, Height
Details Of Hannity's Net Worth
The American commentator currently enjoys a very thriving career ever since he started off his career in 1989 at the KCSB- FM in UC Santa Barbara. He did a couple of gigs over the years the followed that earned him some money but he made it big in 2004 when he signed a contract worth a whopping $25 million. He then moved on to appearing on TV sometime in 2007 appearing in talk shows like Hannity & Holmes, Hannity, and Hannity's America.
Sean Hannity is also an accomplished writer who has penned down 3 books with 2 being named on the list of New York Times bestsellers. However, it is believed that his current net worth of about $300 million comes mainly from his work as a political commentator.