If you watch or watched the highly followed Harry Potter Series, then chances are high that you already know who is Scarlett Byrne (nicknamed Scarley). She is that lady who acted as Pansy Parkinson, the spokeswoman of a gang of Slytherin female students in the series. She was the nightmare of Harry and his companions through her regular mockery of them.
But then, there is far more about Byrne than just Harry Potter. So, in this post, we are focusing on the talented English actress. Join us as we explore her biography, ethnicity, family, and a host of other facts about her.
Scarlett Byrne Biography & Ethnicity
Scarlett Byrne is an English actress who is of the white Caucasian ethnicity. She is reported to have been born Scarlett Hannah Byrne on October 6, 1990. As for her birthplace, it is Hammersmith, London. However, we do not have considerable details yet about the personal life and education of the actress. So, while we still dig for such information, let us get busy with what we know just yet.
One possible reason Scarlett Byrne's early life details are lacking is that her acting career took off relatively early while she was only fifteen. Her first credited screen appearance was in 2005 when she acted in the short film CryBaby. Three years later, she was Chloe Daniels in an episode of Doctors (2008).
Byrne's Harry Potter debut was in 2009. She initially auditioned for the role of Luna Lovegood but later settled for Pansy Parkinson. Her role eventually encompassed the titles Harry Potter and the Half-Blood Prince (2009), Harry Potter and the Deathly Hallows – Part 1(2010), and Harry Potter and the Deathly Hallows – Part 2 (2011).
Then, in 2012, Scarlett Byrne got a role in the TV film, Lake Placid: The Final Chapter. Between 2014 to 2015, Byrne played another main role of Alexis Glass-Mason in the sci-fi series Falling Skies. Aside from her Harry Potter roles, this was another role that made Scarlett Byrne. Going further, she acted as Jennifer Taylor in Sorority Murder in 2015. Scarlett Byrne was also Nora Hildegard in The Vampire Diaries from 2015 to 2016. In 2016, she was Lacey in Snoop Dogg and co's marijuana-themed comedy, Mary + Jane. In 2017, Byrne played a major role in Skybound as Lisa.
Who Is Her Family?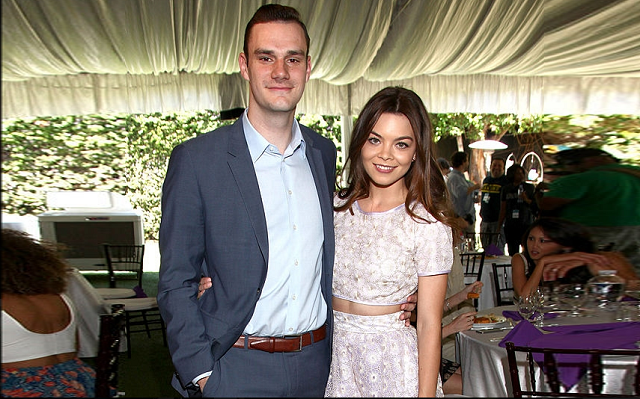 As already hinted on, Scarlett Byrne's acting career began quite early. Prior to that, not much was known about her family. As a result, we have not been able to trace the details about her parents and siblings as well as her education history.
However, there is at least one indication that Byrne's mother may have died: there was a tweet that she reportedly made on a certain mother's day in which she wished her mother a happy mother's day and stated that she missed and loved her. To say in such a poignant tone that she missed and loved her mom seemed to suggest that the woman is late.
Scarlett Byrne may well be on her way to starting her own family. In 2014, she was reported to be dating Cooper Hefner, the son to Hugh Hefner, the Playboy magazine founder. Then, in August 2015, they demonstrated more commitment to their relationship and got engaged. Nevertheless, there is no report yet that they ever wedded each other. Also, we are still waiting for the happy news that they are expecting or have welcomed a baby.
The engagement was a big deal though. Cooper Hefner had flown with his grandmother to seek the permission of Scarlett Byrne's father to engage her. Both Cooper and Scarlett took to their social media to celebrate their engagement. At that time, Cooper's father Hugh Hefner was still alive. So, Hugh also took to his Twitter account to congratulate and send his love to the couple.
In an interview that same year, Scarlett Byrne revealed that she had no problem with posing nude. That was to be expected since she was engaged to the son of the Playboy founder who also works with the company. But Scarlett also stated in that interview that she was not going to pose for Playboy any time soon. However, two years later (February 2017), she posed nude for the magazine when she wrote an essay for it entitled The Feminist Mystique.
Cooper would later say that he too had no problem with her bride-to-be posing nude on a magazine page. On her part, Scarlett Byrne would later say that she decided to pose nude just to support her fiancé, as well as to help change the narratives on how women are viewed vis-a-vis their sexuality.
Also, read: JK Rowling – Biography, Books, and Family Members
Her Net Worth
As we have seen, Scarlett Byrne has been a part of some of the biggest screen projects ever. She has even landed major roles in a number of these projects. Of course, each role meant more dollars to her account. So, it is expected that her net worth is large. Yes, but we are yet to lay hands on any specific figure as her net worth.
As for Scarlett's fiance Cooper Hefner, he is reported to have inherited his father's $43 million worth estate. His net worth is widely speculated to be in millions of dollars.
Scarlet Byrne Is Older Than Her Fiance
It is often the case that female partners are younger than males in romantic relationships. But it is not so with Scarlett Byrne and her fiance Cooper Hefner. She is rather older than Cooper by about a year. While Scarley was born on October 6, 1990, as already mentioned, Cooper was born on September 4, 1991.