While some see the union between two high school sweethearts as awkward, others take delight in it especially when they are helplessly in love with their partners. Savannah Brinson and Lebron James are a good example of such people who found love in their very young age and decided to stick to it.
Now known as Savannah James, the businesswoman is not just Lebron James wife, but one of the biggest and oldest fans of the NBA superstar. King James' life story and the tale of how he became one of the greatest basketball players of all time cannot be complete without mentioning the Queen of his life, the one person who stood by him all the way. Let's find out more about the basketballer's wife Savannah Brinson, shall we?
Who is Savannah Brinson (Lebron James Wife)?
Savannah was born on August 27, 1986, to her parents – Jennifer and JK Brinson. Although she has kept information about her family away from the media, Savannah hasn't been able to shy away from fame since she met Lebron at the Buchtel Community Learning Center. She is an African-American and attended St. Vincent-St. Mary High School in Akron, Ohio which was where she met her now-husband, LeBron James.
Her 6 feet 8 inches husband was born on December 30, 1984, in Akron, Ohio. James was raised by his own mother Gloria Marie James who had him when she was just 16. His father has been identified as Anthony McClelland; at the time James' mother conceived him, Anthony was just her casual boyfriend. He stayed away from his son's life, allowing Gloria's longtime boyfriend Eddie Jackson to act as a father figure for James despite being convicted for fraud and drug trafficking.
Currently playing for his hometown team Cleveland Cavaliers, James was first introduced to the basketball game when he was just 9 years old. He kicked off his NBA career in 2003 and his rise to stardom began during his rookie campaign. Since then, James has not failed to make history in the league as he has shattered and set numerous records all along.
Net Worth
Savannah is not a stay-at-home wife as most people think she is or should be. In fact, she is worth quite a fortune following her numerous business activities such as interior designing, furniture designing, and mentorship program. Savannah Brinson owns a furniture line named Home Court. She also owned a juice store (The Juice Shop) which is located in Brickell, Florida. The shop was closed down in 2016 following her family's decision to relocate back to Ohio. In addition to that, Savannah Brinson founded a mentorship program, Women of Our Future which was meant to encourage young girls to be confident in themselves.
While her net worth is still under review, there is no doubt that her wealth was built with the support of her husband who in turn gives credits to her for being supportive of him all through his career. Lebron James is worth $440 million with an average salary of $80 million a year and about $52 million from several endorsement deals.
Savannah's Kids and Family
As earlier mentioned, Savannah Brinson met James back in the high school, they had their first date at Outback Steak House long before his rise to stardom in the NBA. In her senior year in high school, Savannah discovered she was pregnant with James' first child. At that time, James was just in his NBA rookie season. The couple decided to keep the little child as they both continued to pursue their career. She eventually had the boy LeBron James Jr., nicknamed Bronny, in 2004.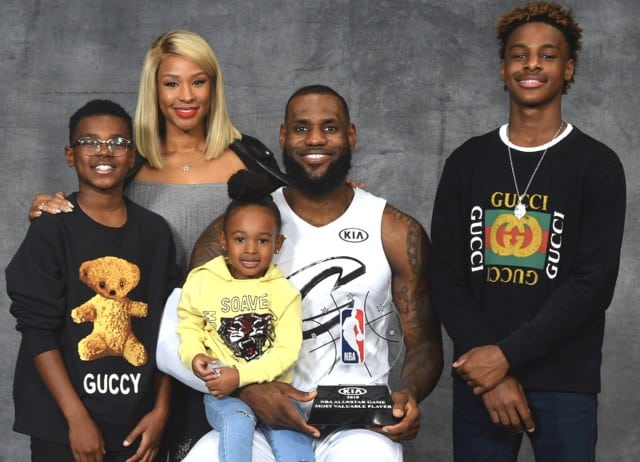 Lebron James proposed to Savannah in 2011 with a 7-carat pear-shaped diamond ring estimated to cost around $300,000. The duo decided to tie the nuptial knot in 2013, two years after Savannah said yes to his proposal. Their wedding ceremony was quite private with the likes of Gabrielle Union, Dwayne Wade, and Jamie-Lynn Sigler being among the 200 guests present.
The couple is blessed with two additional children. Bronny's two siblings are Bryce Maximus James born in 2007 and Zhuri Nova James born in 2014. Bronny is already on his way to becoming a superstar like his father.
Height and Body Measurement
Savannah Brinson is 5 feet 7 inches tall with a bodyweight that is approximately 60 Kg (132 Pounds). Her hot hourglass body shape and beautiful curvey physique are a clear indication that she exercises well. Lady Savannah's hair and eye colour are black.