A company veteran who is reputed as a lifelong learner and gentle-mannered manager, Satya Nadella's appointment as Microsoft CEO in 2014 was mostly a surprise. But with his expansion strategies and billion-dollar acquisitions, not forgetting the cloud technology which he co-masterminded long ago, Nadella has clearly disappointed naysayers.
With Satya at the helm, the trillion-dollar tech giant has recorded unprecedented growth spurt in recent years, becoming one of the world's most valuable public companies. He is also credited for shifting Microsoft's culture from a product-focused company to one that is people-oriented. Today, he is considered one of the most powerful Asian-born tech executives on the planet. Here's Nadella's career graph, including how he became Microsoft's CEO and his current net worth.
Satya Nadella Before Microsoft
Satya Nadella is an Indian, born on the 19th day of August 1967. He had a middle-class upbringing and began exhibiting a flair for building things and tech development from a young age. Nadella was first educated at the public school in his hometown of Hyderabad before proceeding to Karnataka town's Manipal Institute of Technology.
He was an erudite student and it was only normal for him to pursue his education to postgraduate level. For his Master's degree, Nadella is a graduate of the University of Wisconsin-Milwaukee where he majored in Computer Science. His academic pursuits did not end there as he later bagged his MBA from the University of Chicago's prestigious Booth School of Business. Nadella's first job right after his studies was at Sun Microsystems. He had a brief stint with the company before moving on to Microsoft.
How Did Satya Nadella Become Microsoft CEO?
Satya Nadella joined the tech giant in 1992 and his hard work, determination, and dedication saw him quickly rise through the ranks. Over the years, Nadella gained experience after leading in several executive capacities at Microsoft. He is credited for being pivotal in making important decisions in the company's interest. Notably, long before his appointment and while previously serving as Microsoft's Cloud and Enterprise division's Executive Vice President, Satya was part of the select-few employees that initiated the company's cloud computing concept which has now transformed into an industry-leading powerhouse that generates billions of profit in annual revenue. While also leading Microsoft's Systems and Tools division, the company experienced unprecedented annual turnover, thanks to Satya and his team.
Satya Nadella was initially an engineer entrenched in the Microsoft convention with no CEO experience before his latest appointment. His hard work under his predecessors did not go unnoticed. Nadella has been leading the company since February 2014 after working as a dedicated insider for 21 years. Although Nadella is at the helm of Microsoft's affairs, he continues to work with the company founder Bill Gates who has since re-joined the company in active service as his personal mentor, and technical advisor. Gates also continues to work with Satya as a board member.
Nadella's appointment is quite unique because unlike most of his peers heading other Silicon Valley tech giants, he had no prior experience as a Chief Executive Officer. But he had already set the tone for his tenure in the role unconsciously. Following in the footsteps of his predecessors, Satya has arguably surpassed expectations.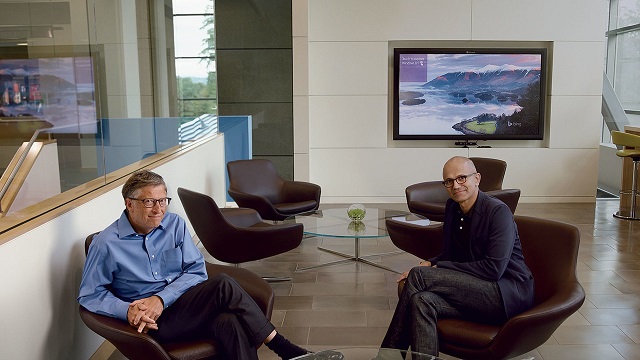 When Satya Nadella became Microsoft's CEO, the company's prestige as a tech giant was lurching in comparison to what it was at the time he joined two decades earlier. But the 5'11" engineer takes major credit for transforming Microsoft into one of the world's most valuable companies. Under his leadership, the company has reported earnings and revenue beat with tripled share prices.
He has successfully channeled Microsoft's focus to become a "mobile and cloud" company as against what it was previously known for – "services and devices". Nadella has turned his company's cloud technology into a leading powerhouse in the industry, generating billions in revenue and profit annually.
The company has also made notable billion-dollar acquisitions, including purchasing LinkedIn, Github, as well as Minecraft. Part of Satya Nadella's expansion strategy includes fostering the long-running partnership between Microsoft and phone maker Samsung.
Within and beyond Microsoft walls, Satya Nadella's reputation continues to resonate as a gentleman with a mindset for growth, who in his bid to change the world with technology, has never ceased to explore opportunities. Today, Microsoft is perceived differently in Silicon Valley as a more fluid and accommodating company. Hence, it is clear he has done an outstanding job so far and we can safely say stakeholders are more than satisfied with Satya at the company's helm of affairs.
See Also: Meet The 10 Highest Paid CEOs In The World Right Now
What Is Satya Nadella's Net Worth?
Since Satya Nadella became Microsoft's CEO in 2014, the company's stock has risen almost 200 percent. Although Microsoft's market value has more than doubled in value under his leadership, Nadella is yet to join the lineup of the world's wealthiest tech gurus. In addition to his annual salary, Satya's earnings include stakes in the company stock. His net worth is pegged at $320 million.