Sarah Vivan is an American media personality who is respected for her work on radio. Having worked with media outfits like Streetz 94.5 and iHeartMedia Inc, she is considered one of the very efficient radio personalities in the US. She now works with Shade 45 Sirius Radio where she has won over lots of fans to herself who tune every day to hear her talk. As a radio host, she has interviewed top stars in the world of entertainment including people like Kevin Hart and Drake.
Apart from being a radio personality, Sarah Vivan is also more known to many people as the ex-fiance of Lil Wayne, one of America's most famous rappers. They dated for a while before parting ways.
Who is Sarah Vivan?
Sarah Vivan was born on the 17th of August, 1987 in Cincinnati, Ohio. Her father has been identified as Jammie Ballew and her mother's name has been given as Christina Tran. Although she is apparently an American woman, Sarah Vivan also has Vietnamese roots. She has two sisters with whom she grew up. They have been identified as Elisabeth and Jayde Mauldin. Sarah is quite fond of her sisters.
Not much is known about how Sarah Vivan lived her life as a child. However, some reports have insinuated that she was smart right from a young age and often liked to talk a lot when she was in the company of other children. She usually had a lot to say and it is not surprising that she found her way into forging a career in radio.
The name of the high school that Sarah attended has not been revealed but we know that attended the University of Cincinnati where she studied fashion and had hopes of becoming a stylist. After that, she attended at the Atlanta Broadcasting Institute where she bagged a degree in Radio and Television Broadcasting Technology in 2011.
Over the years she has proven to be a force to reckon with in radio; having worked with multiple radio outfits and in the process, building an enviable fan base for herself.
Family Life of Sarah Vivan, Dwayne Carter III's Mother
Sarah Vivan is one woman who is fond of her family. She has often talked about why the family should come first in everything. The radio personality is known to be a doting mother who loves her kids more than anything. She has two kids; a girl and a boy. Her first child, a girl called Essence Vivan whom she had with her ex-boyfriend, was born in 2005. Her second child, a boy whom she had with Lil Wayne, is called Dwayne Michael Carter III.
Sarah is apparently super fond of her kids and often shows them off on social media, showering them with lovely words in the process. Her fans on social media admire this side of her and are always thrilled when she posts new photos of the children who are growing up really fast.
The radio personality is also fond of her parents. She has often shown off her mother on her Instagram page to the huge admiration of her fans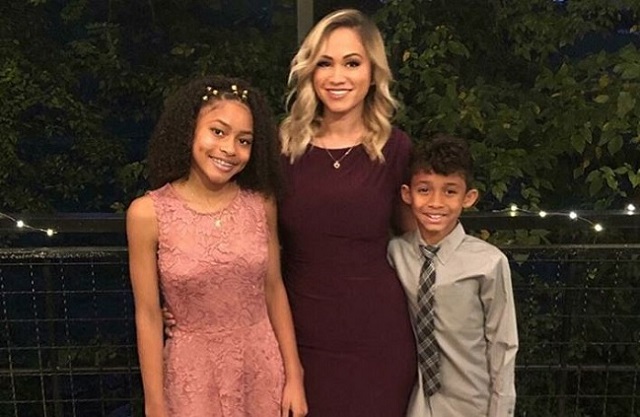 Fans have often asked how Sarah Vivan started her career and how she met Lil Wayne. We bring you all you need to know below.
Her Career
After graduating from university, Sarah Vivan landed a job as an intern at Clear Channel Outdoor Global, an Out of Home advertising company where she worked for 8 months. In 2012, she went on to work as a programming assistant at iHeartMedia, a mass media company which is the parent company of Clear Channel Outdoor Global.
The same year in 2012, Sarah began to gain some attention when she joined Streetz 94.5FM to work as an on-air personality. While with Streetz 94.5FM, she interviewed a lot of important personalities in the field of entertainment.
After working with Streetz 94.5FM for some years, she left and started working with Sirius XM Radio, a radio broadcasting company. Sarah now works as an on-air personality and account manager at Sirius XM Radio. She is also the host of Streetz Is Watching, a popular on the radio channel.
How She Met Lil Wayne
Sarah Vivan's story cannot be completely told without the mention of Lil Wayne in it. It was after she met him that she became one of the highly sought after personalities in America as everyone wanted to know more about her relationship with Lil Wayne.
Sarah first met Wayne on her birthday in Cincinnati. While she was once talking about how this happened, Sarah explained that she was celebrating her birthday at a club in Cincinnati and Lil Wayne was also throwing an after-party for a concert at the same venue when their paths crossed and they started liking each other. They soon started dating and this turned a lot of public attention on Sarah.
The couple continued dating for quite a while. They were so head-over-heels in love that they even got engaged and had a son called Dwayne Michael Carter III together. However, despite their hot romance, they did not eventually get married. Fans were shocked when they announced their breakup.
She Initially Didn't Want to be a Radio Personality
Despite having a natural flair for radio, Sarah Vivan initially didn't want to be a radio personality. She has often revealed that she wanted to become a stylist. She studied fashion at the University of Cincinnati because she wanted to pursue a career in styling. Apparently, she was in love with art.
However, she gave radio a shot after her friends convinced her that she is meant to be on air and that she was purely natural. She decided to give the radio a chance and today, she is very happy about making that move.
Read Also: Nicki Minaj – Net Worth, Height, and Boyfriend
How Much Money Does She Have?
Having worked in radio for some time, it is expected that Sarah Vivan has made quite a fortune for herself over the years. According to some reports which we are yet to confirm, on-air personalities at Sirius XM go home with salaries ranging from $85,937 to $93,812. Also, the reports say account managers at the company go home with salaries that range from $44k to $104k. Despite this, the exact net worth of Sarah at the moment is not known yet.