If you know the late American bodybuilder Richard Eugene Piana (popularly known as Rich Piana), then you'd be happy to learn more about his ex-wife Sara Piana. Before he died at the young age of 46, he had won numerous awards for his bodybuilding prowess. Sara happens to the second wife of the bodybuilder and they got separated just one year before his demise in 2017. While many folks out there can tell much about Rich Piana, not quite many can do same about Sara. So, here, you are served with details about her.
Sara Piana Biography
While Americans were celebrating their Independence on July 4, 1989, Sara was born in Reykjavik Iceland with the birth name Sara Heimisdóttir. Indeed, when her relationship with Rich Piana crashed, one of the accusations Rich leveled against her was that she used their marriage only to obtain American residence.
Back in Iceland, Sara is reported to have attended a gymnasium named Fjölbrautaskólinn í Breiðholti. Students at the gymnasium were allowed to take one of 27 educational 'paths' such as cosmetology, fine art, athletics, nursing and more. It is not clear which of the paths Sara took. She, however, traveled from her native country Iceland to the United States in 2010 when she was 21 years old. She traveled on F-1 students' visa and enrolled at the University of Central Florida where she studied Law and Psychology.
However, Rich spilled the beans in 2016 when the couple had a quarrel that ended their romance. He accused her of using him only to adjust her visa status to residential by filing Form I-485.
She is a Bodybuilder Like Her Ex-husband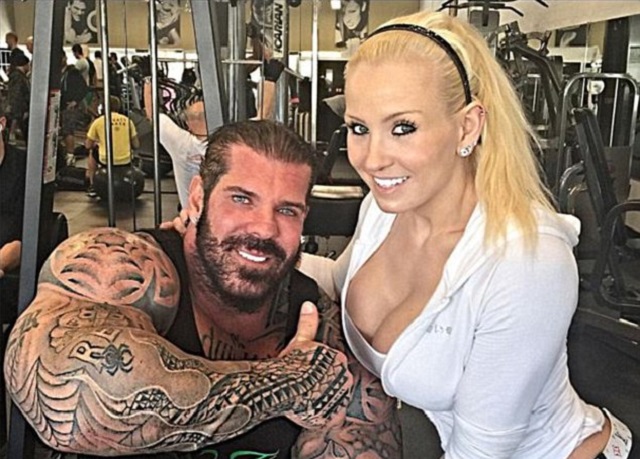 It was during her studies in the United States that Sara Piana met her future husband (now, ex-husband) Rich Piana. The occasion was in a gym where Rich Piana used to give motivational talks that often featured what he called 5%. By this, he means that only 5% of people are doing whatever it takes to achieve their life's aim and live the kind of life they desired. He eventually turned this pep talk to a line of products named Rich Piana 5% Nutrition. It is a line of the recommended menu for bodybuilders.
As a fitness model, Sara Piana used to frequent the gyms in their neighborhood. It was in one of those sessions that she met Rich Piana. Reports have it that Rich offered her the opportunity of being sponsored by his Rich Piana 5% Nutrition company. It was from there that romance developed between the duo and eventually blossomed into marriage.
Also Read: Dan Katz – Biography, Net Worth, Girlfriend or Wife If Married
She is the Third Woman Rich Piana Was Ever Known To Have Dated
As already hinted, Sara Piana is the second wife of the renowned bodybuilder. Now, you can also know she is the third woman in a row that Rich Piana was ever publicly known to have a romance with. Rich himself admitted in a RxMuscle's Youtube video that his first marriage with Emmy Wise had crashed because he began an extramarital affair with some other woman.
After that first marriage, Rich dated the fitness model Chanel Jansen for some years before he married Sara in 2015. After they separated in 2016, Rich reportedly went back to date Chanel Jansen once again. Indeed, it was Chanel who was around when Rich went into his week-long coma and finally died.
She Was Still Legally Married To Rich Until He Died
Although Rich claimed in a Youtube video that his marriage with Sara was annulled for having taken place under false pretenses, Sara says otherwise. On August 25, 2017, Sara Piana posted a picture of her and Rich Piana together on Instagram. In the post, she expressed sadness over the death of Rich. Then she added:
"Not many people know that me and him are STILL legally married till this day despite all rumors. I have NOTHING to gain by saying that but want everyone to know the truth. I know that people say stuff on social media but I truly am not the "bad" person people think I am. I actually saved Rich's life 1 time before, glad I was there for him at that time. Rich, I hope you feel better now in heaven and that you're up there healthy, smiling & telling everyone "how it is, being REAL & doing your thing". Rest In Peace, my dear husband". Well, a more certain proof that Sara is right is that she still bears Rich Piana's surname and uses it legally in the U.S. till date.
She Is Also Popularly Known As Sara Heimisdóttir
Although the fitness model has come to be known as Sara Piana following her marriage with Rich Piana, it was as Sara Heimisdóttir that she was born. Not just that, she is also known with that name in some sections of the media, particularly in her home country Iceland. But there are also some American media outfits that refer to her in that manner. So, in case you find her name rendered in this form anywhere, you don't need to be confused.
5. Physique
Sara Piana is of the white Caucasian ethnicity and is fair in complexion. She has a slim well-exercised body. Her listed height on Ryerson Rams web page is 5 feet 11 inches. From other sources, her weight is reported to be 56 kg. She has dark brown eyes and black hair.