Samantha Blake Cohen is a gorgeous model and sophisticated socialite who came to the spotlight as a result of her father's fame and reputation – being the former lawyer of President Donald Trump. Samantha and her father, Michael Cohen are very close, and she was photographed walking with him to court throughout his momentous trial even after she recently underwent hip surgery and had to walk with the support of crutches.
She suffered a lot of abuse and was regularly harassed by internet trolls who hated her father's actions and believed that she should also be punished for them even though she has no connection to his dealings beyond their relationship as father and daughter. Her father served as a fixer and attorney for Trump, and the offences he committed under that mantle led to him being sentenced to three years in prison.
The man was also asked to pay $50,000 as fine for lying about Trump's dealings in Russia when he appeared before Congress. Samantha stood by her father through the ordeal, despite the smoke and heat that came her way as a result. Here's all you need to know about Michael Cohen's loyal and beautiful daughter.
Samantha Blake Cohen Bio & Age
Samantha Blake Cohen was born in 1997, to Michael Cohen and Laura Shusterman. Her exact birth details are not known. She has a younger brother named Jake Cohen who currently studies at the University of Miami. Her mother was also implicated in her father's scandal, as there were some allegations that she was involved in his taxi fraud business, but she managed to avoid being sued.
The eldest child of Trump's former attorney is a brilliant young woman. Samantha was an A student throughout her high school years and she didn't slacken her efforts after she went on to the University of Pennsylvania, an Ivy League school to further her education. She graduated with honors in 2018 with a degree in Political Science. While at the school, she was a member of one of their non-Greek sororities called the Tabard Society.
Despite being so young, Samantha has lived a life full of adventures and accomplishments. When she was only 17 years old, she climbed the intimidating Mt. Kilimanjaro in order to help raise funds for St. Jude Children's Research Hospital. She later went on to intern at the organization, working closely with the children, and working hard to be there for them as much as she can. She speaks very fondly about the time she spent there, and how rewarding the experience was. Samantha has also spent time volunteering for organizations like the Gabrielle's Angel Foundation and Operation Smile.
When Samantha Blake Cohen was younger, she was a figure skater, jazz singer, and an avid ballet dancer. However, she decided against pursuing a career as a dancer exclusively even though she really enjoyed it. Apparently, knee problems didn't allow her to follow that dream. At the moment, Samantha is enjoying a flourishing modelling career and her striking facial features have ensured that she has an easy time landing well-paying gigs.
Facts About Michael Cohen's Daughter
1. Her Father Posted a Picture of Her In a Lingerie and It Caused A Lot of Controversies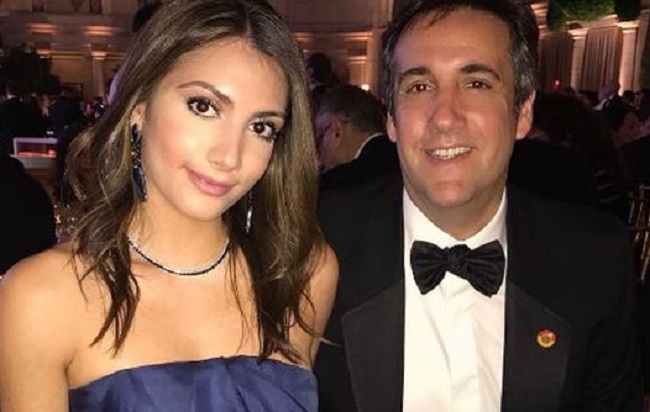 Samantha was involved in a photo shoot in which she recreated a famous photo of Edie Sedgwick taken by Andy Warhol and her father shared the picture on Instagram, leading to public backlash. People criticized him for sharing an intimate picture of his daughter, claiming it was creepy, but Samantha waved away their concerns as hateful and pretentious. According to her, her father was just being supportive and there was nothing inappropriate about the image, rather it was artistic and tasteful.
2. Samantha's Bat Mitzvah Was Attended By Donald Trump
One of the perks of having an influential father like Michael Cohen is always hanging around powerful and rich people like Trump. The President has attended a number of Cohen family functions including Samantha and her brother's Bat and Bar Mitzvahs.
See Also: Chiara Ferragni – Biography, Boyfriend, Net Worth
3. She Has Landed a Number of Plush Modelling Offers
Samantha Blake Cohen has enjoyed a thriving career as a model so far. She has been featured in Shape Magazine and also interned with the major beauty brand Victoria's Secret.
4. Her Instagram Account Helped Provide An Alibi For Her Father
After Michael Cohen was accused of travelling to the Czech Republic in August of 2016 to meet with Russian government representatives, he shared pictures of his passport claiming he had never been there in his life. He also shared a post from Samantha's Instagram page that showed him celebrating his birthday in Los Angeles around that time.